The University of Minnesota will host its first Gopher football game at the new TCF Bank stadium on Saturday and for some, the stadium has brought back memories of Big 10 football on crisp, fall days in Minnesota. For others, it's the beginning of a new era.
The nearly $300 million stadium marks the return of football to the U of M campus. For nearly 30 years, the Gophers have played their home games at the Metrodome a few miles away in downtown Minneapolis.
Take a peek at old films of the University of Minnesota's Memorial Stadium and you get an idea of the experience the school hopes to relive with its new open air 50,000 seat football stadium.
A black and white film from 1962 shows a sea of students and fans packed into Memorial Stadium, eager to watch the Gophers take on the University of Missouri in the season opener.
"To see everybody in the stands and so optimistic, it was great; and I can't wait to have that happen this year," Andrea Hjelm, a Gopher football cheerleader in 1962, said.
The U of M sophomore was even crowned homecoming queen in the fall of that year.
Hjelm fondly remembers the days of autumn football on campus, and can't hide her enthusiasm over its return. The new TCF stadium reminds Hjelm of the old Memorial Stadium.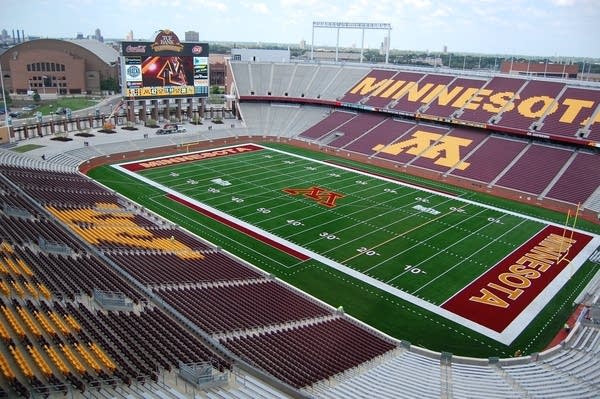 "It's the fresh air," she said. "It's the freedom of the outdoors. You just have a freedom, you don't have a confinement. That to me is the spirit, it's like your spirit is enlivened to be there."
As a past president of the U's alumni association, Hjelm helped with the lobbying and fund raising effort required to build the $288 million dollar facility.
Some expect the spirit of the entire campus to get a boost from the new stadium.
University of Minnesota biology graduate students Abbey McDonald and Melissa Ingram, both 23, have purchased season tickets for this year's home games.
Ingram attended the U of M as an undergrad and is sure the on-campus stadium will bring out more fans.
"I was here when we had to travel all the way to the Metrodome and go back and forth for games," Ingram said. "It was a pain and you never filled the stadium."
University of Minnesota officials hope the new stadium not only provides students with a memorable game day experience, but also impresses alumni and other visitors.
Phil Esten, the U's associate athletics director, said for nearly 30 years most of the alumni who returned for homecoming games have spent their time in downtown Minneapolis, never stepping foot on campus.
"It's not the experience we want our alumni to have," Esten said. "So we're excited about bringing them back to campus during homecoming, opening up our classrooms and laboratories on campus to showcase all the great things that are going on at the University of Minnesota and that's something we can do every Saturday that we've got a home football game."
Bringing alumni to campus Esten said, will mean an increase in charitable giving, something that helps the entire University.
Esten predicts that in its first year the stadium will bring in a profit of $2.5 million, mostly because of the sale of premium seats and suites.
He estimates that's about a $1 million less than what the stadium would've made if the University was allowed to sell alcohol in those premium seats. Lawmakers wouldn't allow that unless alcohol was available throughout the entire stadium.
It won't be hard though for fans to find a drink on game day near the stadium. Certain on-campus parking lots will be open for tail gaiting, and alcohol, before games. And there are plenty of bars nearby waiting to sell fans those pre-game, and post-game, drinks.