Charges dropped against Laotian Gen. Vang Pao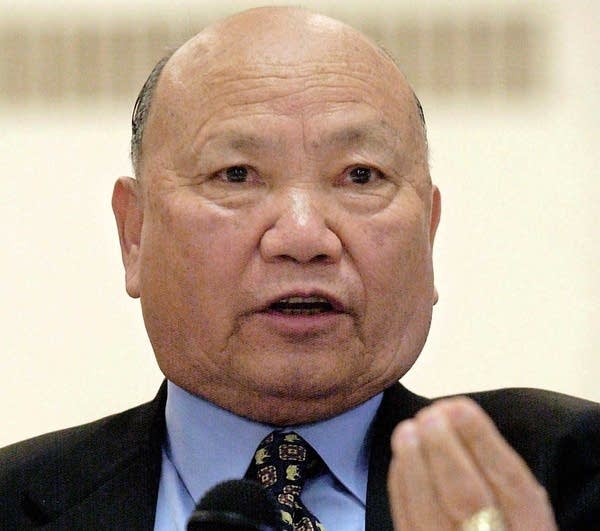 A federal grand jury in California investigating an alleged plot to overthrow the government of Laos has decided to drop charges against Gen. Vang Pao, a leading figure in the nation's Hmong community.
In an announcement Friday, U.S. Attorney Lawrence Brown said charges have been dropped against Pao, 79.
"In our measured judgment, and based on the totality of the evidence in the case and the circumstances regarding defendant Vang Pao, we believe that continued prosecution of this defendant is no longer warranted," Brown said in a statement.
Pao and eight other Hmong elders were arrested in June 2007 on charges that they tried to buy nearly $10 million worth of military weapons, and recruit mercenaries to unseat Laos's communist government.
A 10th defendant, retired California National Guard Lt. Col. Harrison Jack, was also charged in the case, accused of trying to arrange the coup through an arms broker who turned out to be an undercover federal agent.
Charges remain against Jack and the others, and two more people have been charged in the case.
Before you keep reading ...
MPR News is made by Members. Gifts from individuals fuel the programs that you and your neighbors rely on. Donate today to power news, analysis, and community conversations for all.
Pao is a former Laotian general who assisted American troops during the Vietnam War, and is considered a hero by many Hmong refugees living in the U.S.
When the U.S. pulled out of Vietnam, Pao became one of the first Hmong refugees to relocate to the United States in the mid-1970s. Thousands of people followed him, many of them settling in St. Paul, which has the largest population of Hmong in the United States.
Pao used to own a home in St. Paul. He has several sons who live in St. Paul, and visits the city frequently.
Chi Vang, Pao's youngest son, was with his father in California when he received the news. "Of course, he was overjoyed and excited," Vang said.
"In our measured judgment ... we believe that continued prosecution of this defendant is no longer warranted."
Vang said the charges against his father were "absurd and ridiculous."
"If he had these ill intentions, and if he really wanted to do something, he would've done it a long time ago, but it's never been the case for him," Vang said. "It's never been his policy."
Vang said his father is in good health, and plans to visit St. Paul for the Hmong New Year in November.
Pao has been in the United States for about 30 years, and even though he's no longer a military leader, he's still an important figure in the Hmong community in the U.S., and still influential.
At the time of Pao's arrest in 2007, Ilene Her, director of the Council on Asian-Pacific Minnesotans, likened him to the leader of a nation.
"For my parents' generation, he was the first political leader, as a George Washington or maybe a Julius Caesar, who is more of a military leader," said Her at the time. "I think he's really huge, that he has influence sort of over their lives and their destiny of coming to America."
Reached at her office today, Her said she expects members of the Twin Cities' large Hmong community will be relieved to learn that the government dropped the charges.
"They really hold the general in high esteem, and in their mind, he can do no wrong," Her said. "Now I think the dismissal just goes to validate their impressions and what they know about him."
Her said she last saw Pao at a Hmong soccer tournament in July, where she said he was greeted with adoration. "The community loves him," she said. "He's a hero. He stops traffic."
Pao is not an elected official, but he's sometimes treated like one. His appearances in St. Paul draw huge crowds. He gets reserved seating at community events, like the New Year festival.
Pao's followers remain devoted, including some of his former soldiers, even years later. For some, that loyalty translated into donations to an organization whose cause was to overthrow the Communist government of Laos.
Xang Vang, Pao's former ammunitions officer in Laos, said he believes the government was guilty of entrapment in the case. Vang said he had expected the charges would be dismissed.
"It was a set-up case, so why should I believe the judge should rule in favor of their indictment?" he said today.
Vang has worked as an interpreter for Pao, and now serves as the executive director of the Hmong American Mutual Assistance Organization in Minneapolis. Vang said the initial arrest frightened many people in the Hmong community.
"When we were called that he was arrested, many people who were close to him get scared and afraid and nervous, and do not know what to do," Vang said.
Pao has long spoken of returning to his homeland, although in 2003, he declared an end to his military efforts to reclaim Laos.
Authorities in California acted against Pao and the others in June 2007 because, they said, weapons shipments were set to begin that month to areas in Thailand along the Laotian border.
The buildup was in preparation for a coordinated set of mercenary attacks that investigators said were designed to kill communist officials and reduce government buildings to rubble, according to the criminal complaint filed in federal court in Sacramento at the time.
No actual weapons were in the pipeline, only the samples the undercover agent showed Pao and Harrison Jack, a 1968 West Point graduate and Vietnam War veteran, the complaint said.
The defendants acted through the Laos liberation movement known as Neo Hom, led in the U.S. by Vang Pao. It conducted extensive fundraising, directed surveillance operations and organized a force of insurgent troops within Laos, according to the complaint.
As recently as May 2007, people acting on behalf of the committee were gathering intelligence about military installations and government buildings in the Laotian capital of Vientiane, according to prosecutors.
The defendants had gone so far as to issue "an operations plan" to a contractor who was to conduct a military strike in the city and reduce government buildings to rubble, the complaint alleged.
Pao's attorney did not immediately return calls for comment.
(The Associated Press contributed to this report.)
Gallery
1 of 1