Minneapolis Mayor R.T. Rybak is expected to easily win his third term in office, but unlike previous election campaigns, this time Rybak has the support of the DFL machine as well as all 13 city council members.
Some say Rybak is not facing any real competition because he's done such a good job running the city. However, there are concerns that Rybak's influence and policies have upset the city's balance of power.
Politically speaking, Minneapolis is a one-party town. Aside from a smattering of Greens, Independents and Republicans, Minneapolis' elected officials are largely DFLers. No big-name Democrat is opposing R.T. Rybak's bid for a third term and that may be an indication of his growing popularity within the party.
State DFL chair Brian Melendez said Rybak's fiscal responsibility and focus on reducing crime have served the city well. Melendez said Rybak has had to be a skilled politician to achieve his agenda.
In Minneapolis, power is divided between the mayor, the council and a few semi-independent elected boards. Melendez said that has created a weak mayor, strong council system.
"So what that means for a mayor is you can't rely on your institutional power to get things done," Melendez said. "You have to rely on building good relationships with the people with whom you're sharing power.
"Mayor Rybak has done a wonderful job of reaching out to members of the city council, including people who are not members of his own party or people who have opposed him in the past, and building good relationships with them," he said.
"You have to rely on building good relationships with the people with whom you're sharing power."

Brian Melendez, DFL chair
Under Rybak, there have been changes to the city's power structure. A few years ago, Hennepin County took over the function of the library board. An attempt to eliminate the independent Park Board earlier this year failed, and a measure on this fall's ballot could do away with the Board of Estimate and Taxation, the body that sets maximum levy limits for various city tax funds.
Since the Park Board has a seat on the Board of Estimate and Taxation, its elimination worries former Mayor Don Fraser.
"If that amendment passes, then the Park Board no longer has a direct voice in setting the levy limits," Fraser said. "It'll be entirely up to city council."
Fraser, who supports Rybak's re-election, is a member of a group pushing for a completely independent Park Board with taxing authority. Rybak opposes that idea - as does the city council - which voted to keep the proposed charter amendment off the ballot this year. Some supporters of the amendment saw this as a blatant grab for power by the mayor and the council.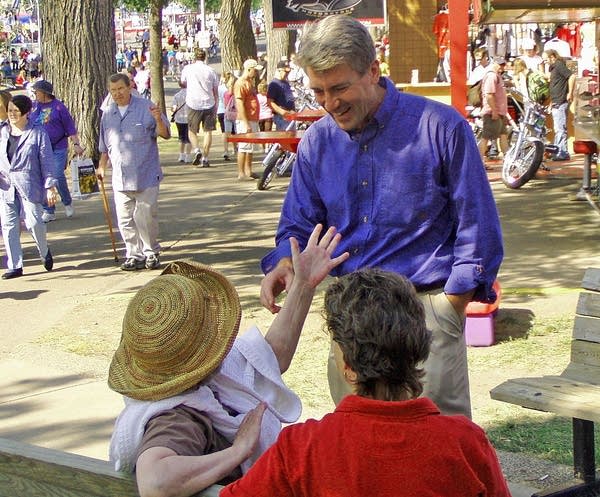 Fraser supports a strong mayor's office. In the 1980s, he championed changes to the charter to give the mayor the power to appoint department heads. Fraser said Rybak has made some good appointments which have served the city and the mayor well. He said it's inaccurate to characterize the mayor's office as "weak."
"The mayor, in effect, appoints all the department heads," Fraser said. "The mayor prepares the budget. He does need council support in approving the budget and approving department heads, but that's true in almost every city."
Rybak has also made decisions that rubbed some of his core supporters - neighborhood activists - the wrong way.
For 20 years, the Neighborhood Revitalization Program funded housing and public safety plans developed by neighborhood residents. When the program expired, Rybak replaced it with a new commission that will control the purse strings. Half the commission members are appointed by city officials.
Sara Linnes-Robinson, executive director of the Kingfield Neighborhood Association, said some see this as an attempt by Rybak and the city council to centralize power at City Hall.
"There's definitely a feeling by many that neighborhoods had too much freedom, too much money, too much discretion and that this is a backlash," Linnes-Robinson said.
Linnes-Robinson said the change is hard to accept.
"What I have seen is a mayor who came out of the grassroots, who I felt would have a better understanding of the work and time involved with organizing at the grassroots level," she said.
Orginally, Rybak's new neighborhood program was to receive $8 million next year. However, he's proposing to cut that to $6.5 million due to city budget woes.
In November, Mayor Rybak will face ten challengers - all of whom lack the name recognition and political experience of candidates Rybak has beaten in past elections.
His opponents are Dick Franson, John Charles Wilson, Tom Fiske, Joey Lombard, Bob Carney Jr., Al Flowers, Papa John Kolstad, James Everett, Bill McGaughey and Christopher Clarke.
Should he win, Mayor Rybak's third term could be cut short if he runs for governor next year.