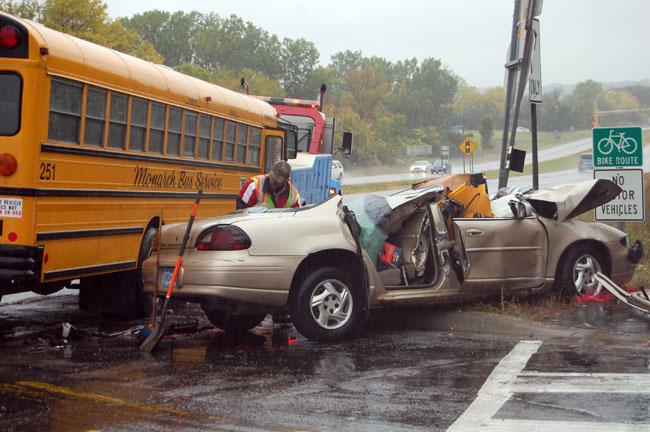 Six children suffered minor injuries when their school bus collided with another car Tuesday morning in Dakota County, authorities said.
About 30 students from Tarek ibn Ziyad Academy in Inver Grove Heights were on the bus when it crashed shortly before 9 a.m. at Highway 110 and Charlton Street.
The bus was traveling east on Highway 110 and was making a left-hand turn onto Charlton. It collided with a car headed west on the highway, the Minnesota State Patrol said.
The driver of the other vehicle, Justin Kalenberg, 24, of Oakdale, was transported to Regions Hospital in St. Paul where he was in stable condition, the patrol said.
Six children were also treated at Regions Hospital and have been released to their parents, a school spokesman said. The bus driver was not injured.
State Patrol spokesman Lt. Matt Langer said it appears the bus driver didn't see the other car. He said Kalenberg was alert and conscious after the crash.
A spokesman for the West St. Paul-Mendota Heights-Eagan school district said officials sent another bus to the scene to shelter students and others from the rain.
---
Editor's note: An earlier version of this story incorrectly said the intersection of Hwy 110 and Charlton Street is in Mendota Heights.