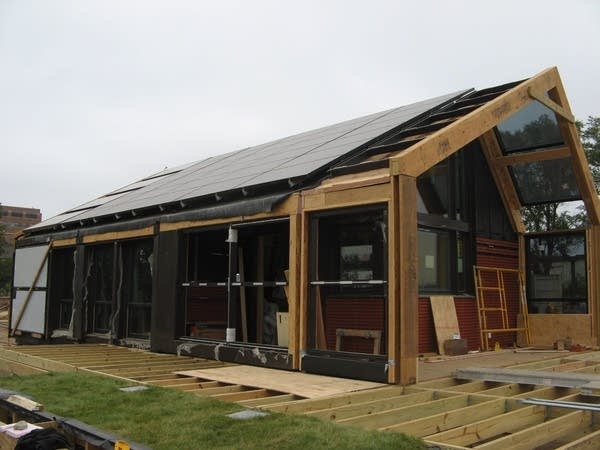 The University of Minnesota has finished fifth in a national competition between teams trying to build the most attractive and energy-efficient solar-powered house.
The University of Minnesota's team competed against 19 other colleges and universities from the U.S., Germany, Canada and Spain, with each team building a house on the National Mall in Washington, D.C.
The Solar Decathlon team from the U of M finished in fifth place, even after winning both the lighting design competition engineering competition.
The U.S. Department of Energy announced the final results of the overall competition on Friday morning. Team Germany was the winner, followed by the University of Illinois and Team California.
The U of M has yet to find out whether they won a people's choice award. Students and staff were busy this week trying to get people to send text messaged votes for the contest. A mass e-mail went out to everyone in the College of Design and Institute of Technology and postings were made on Facebook and Twitter.
Project manager Ann Johnson said there were a few hiccups for the U of M team along the way, including a broken shower head and the house being a day late in arriving to the mall. But Johnson was proud of the team and said everyone was excited to win the engineering competition.
"That's quite prestigious. We're competing against some of the best colleges in the nation if not the world," Johnson told MPR's Morning Edition.
Johnson said the team also hopes to get the people's choice award, which was to be announced later Friday. The team has received many comments from people saying they would want to live in the U of M's ICON house.
"Our team definitely chose to put value on comfort and tradition," Johnson said. "People really do love our house."
The Solar Decathlon included 10 different contests that were scored both subjectively -- such as architecture to market viability -- and by measuring efficiency and effectiveness, including appliances and hot water.
The solar homes will be open to visitors in Washington D.C. for the next few days.