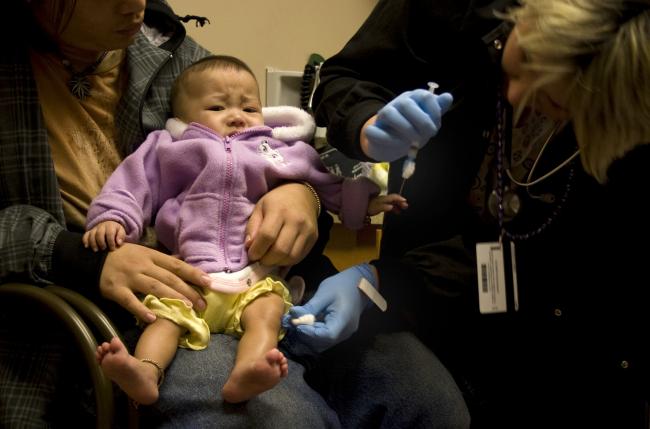 There has been a lot of pent-up demand for the H1N1 vaccine. But getting it has been a slow, frustrating process for many people these past few weeks. Far less vaccine is available than the 40 to 45 million doses that public health experts had predicted by this point.
But federal and local officials say the gap between supply and demand is starting to narrow.
"As of today there are 24.8 million doses of the H1N1 vaccine that are available," said Dr. Anne Schuchat, director of the National Center for Immunization and Respiratory Diseases at the Centers for Disease Control and Prevention.
That's a jump of 1.6 million doses since Wednesday, and 10 million more doses than a week ago.
Schuchat, who spoke during a CDC conference call with reporters, said she understands that it's hard to find vaccine in a lot of places. But she said she hopes that will change soon.
"Although we aren't where we want to be with vaccine availability, we are seeing forward progress with more and more doses becoming available regularly," said Schuchat.
The Minnesota Department of Health estimates that the state has received at least 200,000 doses of H1N1 vaccine. Most people only need one dose. Kids under the age of 10 need two doses.
By Friday, another 100,000 doses are expected to arrive in the state. At that point there would be enough vaccine to immunize almost half of the 718,000 people in the state's highest priority groups.
The high-risk groups include:
* Young children age 6 months to 4 years old;
* Kids age 5-18 with health conditions such as asthma, diabetes or cancer;
* Pregnant women;
* Health care providers and EMS personnel who provide direct patient care;
* Parents and primary care providers of infants under 6 months of age.
The Health Department is not publicizing the locations that receive vaccine, because the agency can't meet patient demand for the vaccine at this point. Officials want to target the distribution so that the doses go to the people who can benefit the most, and that has made finding vaccine a very frustrating process for many Minnesotans.
On Monday, Park Nicollet Health Services based in St. Louis Park was overwhelmed with callers who heard that the health care provider had the vaccine.
The clinic system received 120,000 calls in just a few hours. That jammed their phone system, and other patients with other medical issues were not able to get through to the provider.
Health Department epidemiologist Kris Ehresmann said Park Nicollet publicized its vaccine supply on its Web site, which got the word out to too many patients.
"What we've learned -- and I think it will be a lesson to other clinics -- is that is too public of a way to do things," said Ehresmann. "What ended up happening is one of the patients saw that on the web, started e-mailing people that they knew, who e-mailed more people that they knew, and it really just created this sort of perfect storm of pent-up demand."
Minnesota's vaccine campaign is different from campaigns in some other states. The Health Department says Minnesota is following vaccination guidelines that have been issued by the Advisory Committee on Immunization Practices.
That group came up with the recommendations for the priority groups, but some other states ignored those guidelines and set up school-based vaccination clinics targeting older children who are not in a top priority group.
Health officials say they have heard most counties in the state do plan to provide vaccine in school-based clinics. The clinics will not be scheduled until the second week of November at the earliest.
People who are not in a priority group might be able to get vaccinated by Thanksgiving.
On Wednesday, the Health Department confirmed two more deaths in the state from H1N1 influenza.
One was an older adult from south central Minnesota with no underlying health conditions. The other was an adolescent from the Twin Cities who did have underlying health problem.
There have now been 12 deaths in Minnesota related to H1N1 flu since April.