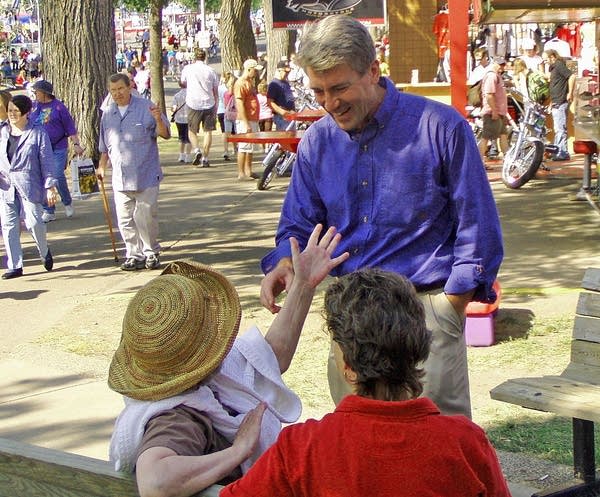 If Minneapolis Mayor R.T. Rybak decides to run for governor, he knows it wouldn't be easy to run the state's largest city at the same time.
Rybak acknowledged the prospect of having to juggle both roles in a debate Monday on MPR News.
"It's not going to be easy if I run for governor, at all," Rybak said.
But Rybak said it wouldn't be the first time he's done campaign work while fulfilling his mayoral duties. The most recent example, he said, is when he campaigned for Barack Obama.
"People didn't see any drop-off in my production," said Rybak, the DFL-endorsed candidate. "I will continue to work hard for the city."
Several of Rybak's opponents for mayor, most of whom have poor name recognition among Minneapolis residents, have made an issue out of the fact that Rybak is considering running for governor.
On Monday, the candidate endorsed by Minneapolis Republicans and Independence Party members continued questioning Rybak's plans, noting that Rybak had already appeared at several gubernatorial candidate forums while skipping some mayoral candidate events.
"I think it's very obvious," said Papa John Kolstad, a Minneapolis musician and small business owner. "I think the mayor should really make a choice. We have a lot of problems in Minneapolis. It's going to take a full-time mayor."
Among the issues discussed during the short debate Monday were property taxes, audits of city finances, crime, police misconduct and the business/jobs climate.
Kolstad said one of the main issues facing the city is a lack of friendliness toward small business owners, whom the city forces to pay high property taxes and fees. The taxes and fees Minneapolis charges means there's less money available for businesses to expand and continue their success in the city, Kolstad said.
"When you rob them of that capital...you're actually harming business," Kolstad said.
Rybak countered with several examples of businesses that have moved to Minneapolis or stayed in Minneapolis during his time as mayor, and he said the number of days it takes a small business to get permission from the city to open has been reduced from 37 days to nine days.
"That's one of the many things we've done to improve things for small business," he said.
Rybak and Kolstad's names will appear on Tuesday's ballot along with nine other candidates for mayor. The city this year is using ranked choice voting rather than holding a primary to narrow down the candidate field.