Petters guilty on all counts; attorneys plan appeal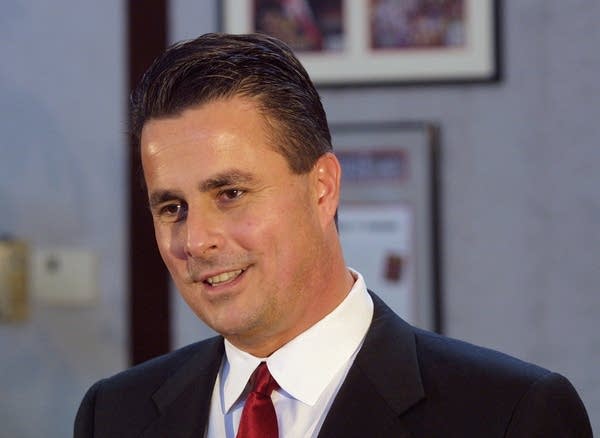 A jury that had deliberated for parts of five days delivered a sweeping verdict against Minnesota businessman Tom Petters on Wednesday, finding him guilty of all 20 counts in what prosecutors said was a $3.5 billion Ponzi scheme.
Petters' attorney, Jon Hopeman, said he plans to appeal the decision.
Petters, who had claimed that subordinates carried out the fraud without his knowledge, sat glumly as the verdicts were read in federal court. He was convicted of wire fraud, mail fraud, conspiracy and money laundering.
U.S. District Judge Richard Kyle did not immediately set a sentencing date.
Grow the Future of Public Media
MPR News is supported by Members. Gifts from individuals power everything you find here. Make a gift of any amount today to become a Member!
As jurors left the courthouse following the verdict, they described the experience as emotionally draining and intense. Jurors reported no significant disagreements during the deliberation process.
"We wanted to make sure that we got to all of the evidence," said jury forewoman Jolyne Cross. "We knew that what he did was going to affect his life and we wanted to make sure that when we did that, that we did the right thing."
Cross said the jury relied heavily on email evidence and viewed Petters' testimony with skepticism.
"I think that he is a very good salesman," Cross said. "I believe that it was a slippery slope for him and I don't think that he ever intended to hurt anybody. I don't think he woke up every morning thinking, 'Who am I going to take advantage of today?' I think he got into it and couldn't get out."
The verdicts completed a stunning fall for Petters, who before his arrest a year ago was seen as one of the state's most successful businessmen.
From early deals disposing of liquidated goods, Petters built a diversified company that held well-known names such as Polaroid, Sun Country Airlines and Fingerhut. He also was a philanthropist known for charitable work.
But prosecutors convinced jurors that Petters' empire was a sham, with evidence that included secret tape recordings and testimony from company officers who had earlier pleaded guilty.
Hopeman, Petters' attorney, handed reporters a printed statement after the verdict was announced.
"Though we disagree with today's outcome, we respect the jury and its decision," the statement said. "As much as anything, the trial showed how much good Mr. Petters has done in the world. This too is worthy of reflection."
Prosecutors had alleged that the scheme worked by using fraudulent documents such as purchase orders and bank statements forged by Petters Co. Inc. vice presidents Deanna Coleman and Bob White to trick investors into thinking they were financing purchases of TVs and other electronic goods that would be resold to discount retailers such as Sam's Club, Costco and BJ's Wholesale Club.
The government said two other defendants - Larry Reynolds and Michael Catain - helped launder billions of dollars by allowing PCI to run it through their own businesses' accounts to make it look like their companies were the source of the nonexistent merchandise.
Defense attorney Paul Engh agreed there had been a large fraud at PCI. But he said Petters was an innocent victim of it, and that Coleman, White, Reynolds and Catain carried it out behind Petters' back.
Engh said there was ample reason for jurors to distrust them: All four of them reached plea deals, then testified against Petters in hopes of getting lighter sentences.
Two other defendants also pleaded guilty. Sentencing hearings for the six have not been scheduled.
Assistant U.S. Attorney John Marti told jurors that evidence showed most of the investors' money went to pay off other investors, but that some $400 million went to PCI, where he said Petters used it to buy Fingerhut, Polaroid and Sun Country or subsidize money-losing companies in his Petters Group Worldwide empire.
He said the $400 million total also included $82 million that flowed into Petters' personal accounts, and that Petters used it to "live the life of a corporate tycoon."
(MPR reporter Madeleine Baran contributed to this report.)
Gallery
1 of 1