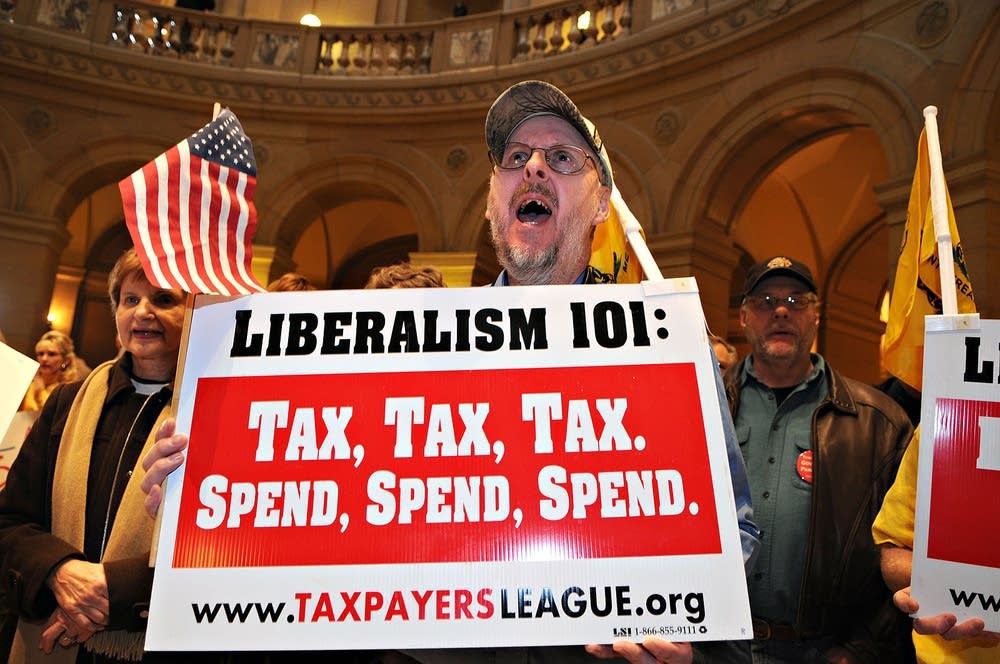 A Minnesota Senate committee Monday began examining a proposed constitutional amendment to cap state government spending.
Last month Gov. Tim Pawlenty unveiled his plan for scrapping the practice of creating a two-year budget based on projected future revenues.
Pawlenty wants to limit state spending in a given two-year budget cycle to the revenue collected in the previous two-years. The Republican governor wants voters to decide next fall whether to amend the constitution with the requirement.
The hearing came less than a week after a economic forecast showed a $1.2 billion deficit in the current state budget and a $5.4 billion shortfall in the next one.
DFL State Sen. Tom Bakk, DFL-Cook, chairman of the Senate Taxes Committee and a 2010 candidate for governor, said he doesn't like the proposal in its current form. But given the current budget situation, Bakk said all ideas should be on the table.
"Let's all admit it," he said. "We have some big challenges. Not only the $1.2 billion in this biennium, but moving forward the $5.4 billion problem. This is not going to be business as usual in Minnesota. So, I think it's a reasonable discussion to have."
Republican legislators have been lining up in support of the Pawlenty proposal. Sen. Amy Koch, R-Buffalo, plans to introduce the measure when the 2010 session begins in February.
Koch said the amendment would allow taxpayers to rein in state spending.
"Had the amendment been in place in 1960, general fund spending since then would have been reduced by about $22 billion, or 7.5 percent since 1960," she said. "We have experienced instead growth that is unsustainable. And it is also unfair to Minnesota taxpayers, who are the source of the state's bank account."
But critics of the proposed amendment say Koch's argument distorts reality. They say Minnesota is a much different state than it was 50 years ago, with 2 million more people, a different economy and higher expectations from government.
Dane Smith, president of the pro-tax research group Growth and Justice, told lawmakers that a spending cap would tie their hands and lock in a fiscal policy that's already stopped making needed public investments.
"This so-called spending accountability amendment is a profoundly wrong-headed concept, perhaps the worst of the budget alternatives that have been put before the Legislature," he said.
Representatives from the Association of Minnesota Counties, League of Minnesota Cities and Minnesota Budget Project also spoke against the proposal. The supporters included representatives of Americans for Tax Reform, National Taxpayers Union and Taxpayers League of Minnesota.
Before the hearing, supporters rallied in the Capitol rotunda. Rep. Michele Bachmann, R-Minn., told the crowd that she also wants the measure on the November 2010 ballot. Bachmann said government controls too much money.
"And it seems to me, does it to you, that the more money we give them the less they seem to know how to manage it and the more they tend to spend? This is their way of life," she said.
Bachmann, who's also seeking re-election in 2010, urged the crowd to contact their state legislators about getting the measure on the ballot.
Its chances still look slim in the DFL-controlled Legislature. Based on experiences with similar limits in other states like Colorado, House Speaker Margaret Anderson Kelliher, DFL-Minneapolis, had earlier called the proposal a formula for disaster. She is also a DFL candidate for governor.