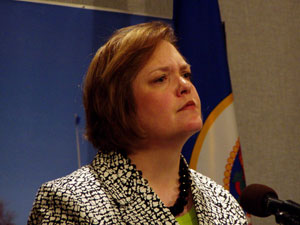 Democrat Margaret Anderson Kelliher's campaign for governor sent a letter to the Minnesota Campaign Finance Board Friday saying she may have violated campaign finance laws.
Kelliher took the action after other DFL candidates pointed out that her campaign was directing contributors to give money to the state DFL party for her use of a voter database, a move that appears to be against the law. The state Republican Party and at least one GOP candidate say they're not satisfied with Kelliher's response.
Kelliher said she's willing to accept any penalty that may come from the possible violation of law. She called the issue a "mistake" over how her campaign would pay for using a DFL voter database. Candidates use that database to contact possible supporters and donors but they have to pay the party $13,000 for it. Kelliher said instead of the campaign itself paying, her campaign manager asked a state party staffer whether they were allowed to direct donors to pay for the use of the database.
Kelliher said the staffer said it was OK to do so in August, but a party lawyer this month said it was illegal after another candidate asked for the same setup.
"Under the information that we had at the time that this was something permitted from the DFL," she said. "We have since corrected the mistake and I take responsibility for not going directly to an attorney from the beginning on this."
Kelliher said the DFL Party gave back $1,500 that three of her supporters contributed. She said two of the donors hadn't given to her campaign before. The third donor, Rich Ginsberg, gave the maximum contribution of $500 to her campaign and another $500 to pay for the database. That appears to violate campaign finance law, and Kelliher said she expects the Campaign Finance Board to rule on that. "They will do their due diligence on this issue and I respect the decisions of the campaign finance board and will," she said.
Minnesota Republican Party Chair Tony Sutton filed his own complaint with the Campaign Finance Board. Sutton said it's important that the Board investigate the matter and said Kelliher should have known better.
"This is the basic stuff that every candidate, every first time candidate, knows," Sutton said. "The speaker of the House is the number one legislator in the state. These guys make the rules."
At least one Republican candidate for governor said he doesn't think Kelliher should be Speaker of the Minnesota House anymore. State Rep. Tom Emmer of Delano said Friday that questions surrounding Kelliher and fundraising make it clear she can't be both the speaker and a candidate.
"When she decided to run for the governor's office she should have resigned as Speaker at that point," Emmer said. "Because no matter what she does, she clearly, in her position, has people in her position where they are either are friendly to her and her personal goals, or they don't potentially get their issue advanced in the House of Representatives."
Kelliher's campaign manager said Kelliher will not step down as Speaker. The news surrounding Kelliher is a speed bump in what has been two solid weeks for her. She racked up several union endorsements and won the backing of Emily's List, a national fundraising network for female candidates.
But now, she will be forced to explain the fundraising flap on the campaign trail and wait to hear what the campaign finance board has to say about it.