Police call on Somali community to help solve shooting
A vigil will be held this evening in the Seward neighborhood of Minneapolis, 24 hours after East African immigrants were gunned down at a corner market.
Police say they're looking for "cold-blooded killers" and they say they believe their suspects are also Somali.
Mayor R.T. Rybak and Police Chief Tim Dolan, who were both at the scene Wednesday night, had scheduled a news conference Thursday to talk about the city's low crime rate. The event instead focused on the shooting.
"We'll talk about trends another day. Today the entire community needs to be focused on what should be a manhunt to track down people who were involved in this," Rybak said.
Grow the Future of Public Media
MPR News is supported by Members. Gifts from individuals power everything you find here. Make a gift of any amount today to become a Member!
"We have a challenge right now that this entire community needs to come together around, which is to bring every possible piece of information forward."
Chief Dolan called the killings "a horrific, terribly tragic situation."
"These victims were doing nothing but running a very, very good store," Dolan said. "We have very little information at this time as far as what actually was the motive. We have some thought on that that we can't share with you."
Dolan said witnesses were cooperating and that the store had an extensive nine-camera video surveillance system. Dolan also said several agencies in addition to the Minneapolis Police Department are involved in the investigation.
Dolan acknowledged his department has had problems working with the Somali community, but said there has been cooperation in this case and he hopes it will continue.
"Their will be word within this community, a lot of things flying around as far as what happened here and who was involved and we very much need that information," he said.
The names of the three men who were killed at Seward Market have not yet been released by authorities, but a family member has said two of the victims were cousins Abdifatah and Mahad Warfa.
Investigators were still interviewing witnesses and had not yet released names or any other descriptions.
"These individuals who committed this act are very, very dangerous," Dolan said, adding that police believe there is a danger to the Somali community.
Neighbors and members of the Somali community were shocked and saddened by the incident on a typically quiet stretch of Franklin Avenue. It was the city's first triple homicide in nearly six years and the latest in a string of slayings among the city's Somali population.
"It's a terrible tragedy," said Peter Fleck, a Seward neighborhood resident who runs an online forum for the neighborhood.
Fleck was walking in an alley behind the market at the time of the shooting and heard at least one shot. He said he walked around to the front of the store, saw the bodies and called 911. He also saw one person running away, but he couldn't see much.
"It was dark. There was no way to see any details," Fleck said.
Police responded to Seward Market on East Franklin and 25th avenues just before 8 p.m. Wednesday on report of a robbery, but Dolan said he could not yet confirm the motive of the shooting or say whether a robbery took place. Several other people were in the store at the time.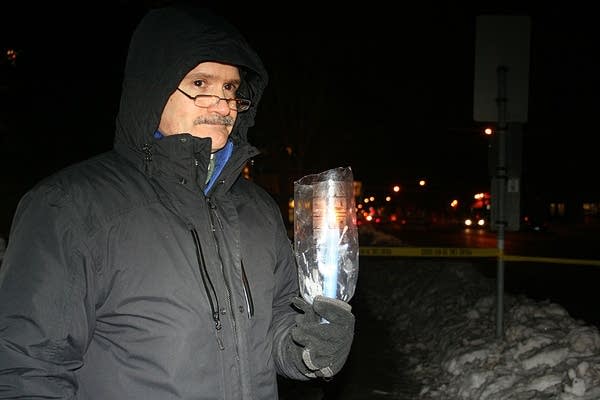 A woman at the scene, Shukri Farah, said she was buying some things at the market when she saw three men speaking Somali enter the store. According to local residents who translated, Farah said one of the workers suddenly grew shaky.
He told her he had suspicions about the men and went to talk to them. Farah said she left the store and only later learned about the shooting.
At the scene of the crime on Wednesday night, Abdirashid Abdi walked up to Mayor R.T. Rybak and urged him to make the case a priority because there were three shooting victims.
Rybak told Abdi that the city would do its best to solve the killing and asked him to go to the police if he found out any more information.
The Twin Cities has seen an uptick in recent years in Somali-on-Somali killings, but mostly related to street gangs or retribution. Hindia Ali's brother, an Augsburg College student, was gunned down two years ago while working as a youth mentor. The triple slaying, she said, is another hit for her community.
"Nobody wants to hear someone who has a business and gets killed in their business," Ali said. "So this is a very sad night for the Somali community and something we don't even need right now."
A candlelight vigil was planned for 7:45 p.m. Thursday at Seward Market.
The store is just one of several small East African businesses and independent merchants that have revived this stretch of Franklin Avenue. The Seward neighborhood is a diverse, middle-class area southeast of downtown known more for its food co-op than crime.
Many customers said Seward Market was clean and well-maintained, and the workers were friendly and always quick to help their patrons. Still, there have been signs of trouble at the Seward Market. The front door was repeatedly smashed and boarded up over the past few years.
On Wednesday night, just steps away from the news vans and the crowds, one man stood quietly holding a lit purple candle. John Wright lives just a few blocks away.
"I just wanted to, however small, express some gesture of support and prayer for peace and healing for the Somali community," Wright said. "It just seems like one tragedy on top of another for them lately. They bring a lot of vibrant culture and diversity to our area, and they're a real asset to our community, and it's heartbreaking to see what they're going through right now."
Numerous Somali community members told MPR News they'll try to help the police catch the killers.
(MPR's Elizabeth Dunbar, Tim Nelson and Laura Yuen contributed to this report)
Gallery
4 of 4
1 of 4
2 of 4