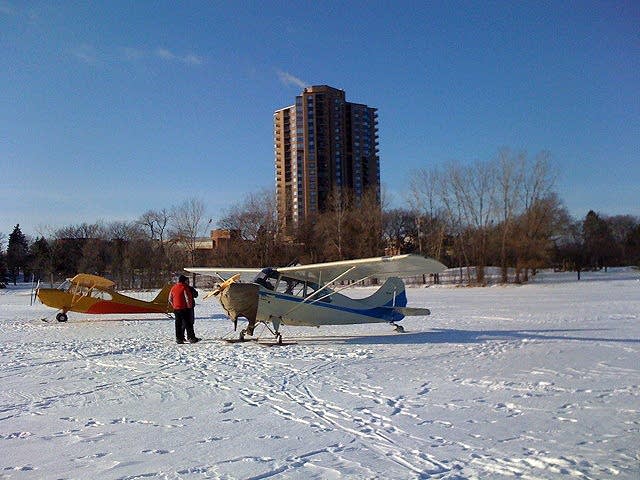 Two pilots used a south Minneapolis lake as a landing spot to grab a quick hamburger lunch on Monday, inadvertently attracting the attention of local residents, park police and federal officials.
The two small, single-engine airplanes -- rigged with skis on their landing gear -- touched down on Lake Calhoun around noon on Monday. The two pilots then left the makeshift runway and walked to a nearby restaurant.
A maintenance worker quickly noticed the empty airplanes and alerted Minneapolis Park Police officials.
"If they would've picked up the phone ahead of time and called and said, 'Hey, we're thinking about flying in for a lunch at Lake Calhoun. Can we do it?' we would've said no, and they probably would've had lunch somewhere else," said Robert Goodsell, captain of the Minneapolis Park Police Department. "It would've been a very uneventful day for them."
Instead, when the pilots returned from lunch, they were met by park police officials and issued misdemeanor citations for violating a park board ordinance.
The ordinance prohibits aircraft from landing on or taking off from water without a permit.
Two officials from the Federal Aviation Administration also arrived at the lake to conduct a mandatory investigation. The agency determined that the pilots did not violate FAA regulations.
"There's nothing wrong from our standpoint," said FAA spokesperson Elizabeth Isham Cory.
Goodsell said the pilots, both Minnesota residents, cooperated with the investigation and were apologetic and embarrassed. The pilots did not realize they needed a permit, he said.
The planes were cleared for take-off and left the lake around 3:30 p.m.
Goodsell said that the incident marks the first time an airplane has attempted to land on a Minneapolis lake since he joined the department 23 years ago.
He said a small plane landed on the Mississippi River about ten years ago, but clipped a wing on the Hennepin Avenue Bridge on the way down. The pilot tried unsuccessfully to hide the aircraft and was apprehended by local authorities.