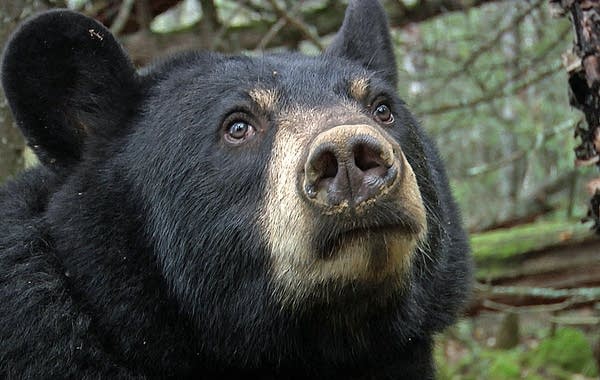 When bear researcher Lynn Rogers, a biologist with the North American Bear Center, installed a webcam in a mother black bear's den near Ely earlier this month, he bet today would be the day she would give birth.
It appears Rogers' prediction came true at 11:38 a.m. this morning.
Researchers posting to Lily's Facebook page announced the birth this morning and noted the high-pitched cries of a newly born bear cub on the center's webcam.
The imminent birth of Lily's cubs had attracted worldwide attention Friday, with tens of thousands of people streaming the North American Bear Center's webcam online.
Lily appeared to be going into labor starting Thursday afternoon when she was seen flexing the muscles on the top of her head as if she was clenching her teeth, Rogers told MPR's Morning Edition.
"We were seeing stuff we've never seen before," Rogers said, adding that later Lily was later seen slamming her hindquarters to the ground. "It was like she was having some contractions that were out of control."
Through Thursday night and into Friday morning, Rogers said he and his wife have been taking turns watching the screen.
"We're just on edge because we want to see everything, and I mean every bout of labor and time it, and how long between labor sessions. This is an opportunity I've not had in my 43 years of research," he said.
There are plenty of non-researchers who are watching, too. Lily has gained more than 50,000 Facebook fans in less than two weeks.
"I think people have just an interest in nature," Rogers said.
Rogers said the webcam has also changed biologists' ability to research bears. Before, Rogers and others would tranquilize bears and fit them with radio collars to map their whereabouts.
"There's only so much you can learn by measuring tranquilized bears and putting dots on maps. You have to be with them. To do that, we had to gain their trust," he said.
Rogers says webcams are also a great way to educate the public.
"The whole world can see how bears live now," he said.
(MPR News' Cathy Wurzer contributed to this report.)