Med students live with seniors in new U of M program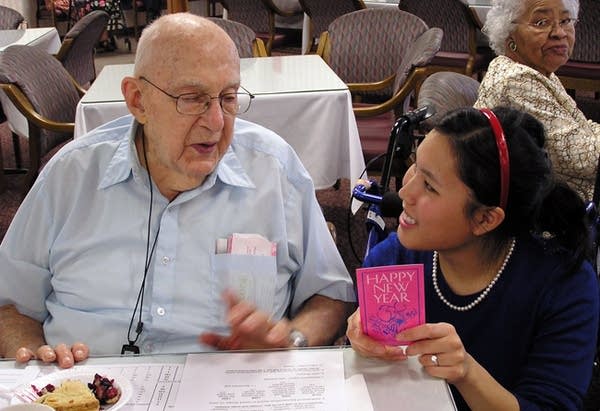 To better understand older patients, a University of Minnesota medical professor convinced some of his students to move in to senior housing.
The University's senior housing program may be one of the first experiments like this in the country.
"It's really nice being here because everyone is super quiet," said Lindy Watanaskul, 24, a U of M medical student.
Watanaskul jumped at the chance to trade her rowdy apartment building for the peaceful comfort of a senior citizen high rise. She's one of two U of M medical students who moved into Augustana Apartments in downtown Minneapolis last year. Watanaskul hasn't regretted her decision for a minute.
"I actually had neighbors come knocking on the door to welcome me, which is really sweet because that's never happened to me before," she said.
Watanaskul didn't grow up with grandparents in her life, so she didn't know what to expect from her new neighbors. But after a few months of living here, she's made quite a few friends.
MPR News is Reader Funded
Before you keep reading, take a moment to donate to MPR News. Your financial support ensures that factual and trusted news and context remain accessible to all.
On recent day, she spotted Fred Miller, 99, across Augustana's bustling dining room eating pie with a group of friends. When Miller saw Watanaskul, he reached for his shirt pocket and pulled out a pink slip of paper. It was a New Year's card.
Watanaskul thanked him for the card as she crouched down by the side of his chair to chat with her friend.
Watanaskul has learned a lot from these impromptu chats with Augustana residents. She's sure it will make her a better doctor someday.
"I feel like I have the inside look to a lot of things now, because a lot of people here don't drive," she said. "Now I can ask people, 'How can you get to the pharmacy? Or how are you getting your groceries and vegetables?' So those are things I feel like I wouldn't know as much as if I wasn't living here."
Her professor, Dr. Edward Ratner, couldn't be more pleased with Watanaskul's observations. He said doctors need to anticipate the issues that make it hard for their elderly patients to follow their medical advice.
But Ratner hopes Watanaskul's experience is about more than empathy. He wants his students to have a realistic and positive view of aging. He said it's disturbing to see how many of his medical students are amazed when they meet a healthy senior citizen.
"They express, 'You know she was really articulate.' Or, 'She was really active,'" Ratner said. "I'm going, so why are you surprised? And it's the fact that they start out surprised that I'm trying to overcome."
If he can overcome these stereotypes, Ratner thinks he'd have more success getting students to specialize in geriatrics. Research has shown that medical students who only see elderly patients in the hospital or nursing home are more likely to dislike treating seniors than medical students who have a more diverse range of experiences.
"There's plenty of opportunity to have challenging experiences," he said. "What we don't want is [a] health professional student to say, 'If I've got a choice, why would I want to see an older person when I can see someone who's young and healthy?'"
Many of the seniors at Augustana Apartments have welcomed Dr. Ratner's housing experiment. The project grew out of a weekly class he's been conducting at Augustana for several years.
Each Wednesday, June Englund, 83, opens up her apartment to Ratner's students. They peek into her refrigerator and ask her detailed questions about her health. She makes a point of telling them that she only takes one medication, and as they leave her home, Englund gives them some advice about treating older people.
"I suggest that no matter what, they listen to their patient," Englund said. "I tell them when you hear something from someone, believe them. They've lived with their body a long time, and if they're an older person, don't just write it off as being, 'she's old.'"
Dr. Ratner hopes to expand his student living course at Augustana Apartments. He said medical students have been a good group to start with, but they're often too busy to spend a lot of time with senior residents. And as doctors-in-training, they can't treat anybody.
Ratner said it might make even more sense to invite student pharmacists, nurses or physical therapists into the program.
Gallery
1 of 1