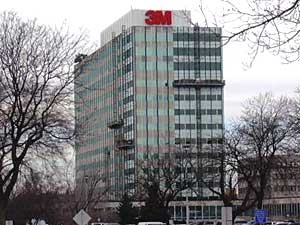 3M had its best fourth quarter ever in 2009, shoring up what has been a difficult year for the industrial giant, company officials reported Thursday.
3M closed 2009 with a 74 percent increase in fourth-quarter profit, and raised its expectations for the new year.
3M is considered a window into overall U.S. economic health, and the results could be seen as an encouraging sign for a U.S. recovery.
Strength in businesses that provide products to car companies and computer and television makers drove the results.
The company, based in Maplewood, Minn., also makes household names like Post-its and Scotch tape.
3M earned $935 million, or $1.30 per share in the last three months of 2008, compared with $536 million, or 77 cents per share a year earlier. Excluding some one-time in the year-ago period, fourth-quarter earnings per share rose 34 percent.
Revenue increased 11 percent to $6.12 billion.
During a call with investors Thursday morning, CEO George Buckley credited the company's health care business as one factor in the performance.
"Among the highlights in the quarter was continued strength in respiratory protection, and largely because of H1N1-related demand," said Buckley. "The fact is that we put the capacity in place early, following a thorough and balanced assessment of growth in that area. And when demand outstripped capacity in the middle of the crisis, we responded superbly and quickly with new capacity."
3M reported improved revenue in all of its six business segments. Revenue in the company's biggest segment, industrial and transportation, rose 10 percent. The results were driven by growth its automotive products and its renewable energy business.
The division makes over 1,000 products for cars, including abrasives and paint finishings. December was one of the best months of 2009 for auto sales in the U.S. and analysts predict automakers could sell as many as 2 million more cars and trucks in 2010.
Among its renewable energy products, 3M makes films for solar panels and windows as well as sealants and tapes for wind turbines.
Renewable energy companies have been expanding rapidly as the industry benefits from billions of dollars in government stimulus money. President Obama has advocated more investment in renewable energy as a way to create jobs.
For all of 2009, 3M's profit fell to $3.19 billion, or $4.52 per share, from $3.46 billion, or $4.89 per share in 2008.
(MPR's Tim Nelson contributed to this report)