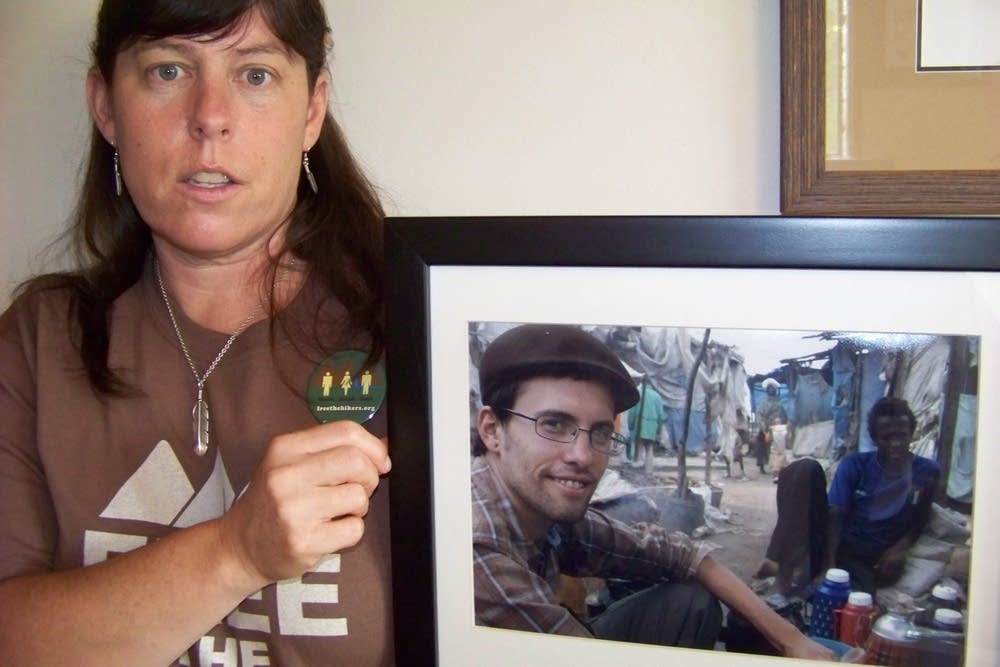 The mother of one of three American hikers detained in Iran says she remains hopeful that her son will be released, despite Secretary of State Hillary Clinton's statement that the U.S. government has ruled out a proposed prison exchange.
"Our case is a very humanitarian case," said Cindy Hickey, of Pine City, Minn. "We are not politicians. Our children are not politicians."
Iranian president Mahmoud Ahmadinejad had suggested on Tuesday that Iranians in U.S. prisons could be exchanged for Hickey's son, Shane Bauer, and his friends Sarah Shourd and Josh Fattal. Secretary Clinton ruled out that possibility in remarks made Wednesday.
Family members say the three Americans were hiking in Iraq's northern Kurdistan region along the Iran-Iraq border in late July when they were detained by Iranian officials.
Iranian government officials have said the Americans illegally crossed the border and would be tried for espionage.
Hickey said if her son and his friends did accidentally cross the border, they have served "more than enough time" and should be released.
But she added that she has had no contact with her son since his detention and does not know why he was detained.
"This has been a very extreme nightmare for us," she said.
Hickey has hired an Iranian lawyer to represent her son, but the Iranian government has not allowed him to visit with Bauer or view his case records, she said.
"We have no independent confirmation of their well being, which concerns me," Hickey said.
The three Americans have not had contact with any non-Iranian officials since the end of October, when Swiss diplomats were granted a short visit. At the time, the diplomats said the three were in good health.
The Swiss embassy represents U.S. interests in Iran, since the U.S. and Iran do not have formal diplomatic relations.
Hickey said she talks to State Department officials several times a week. "I feel like they're doing everything they can," she said.
Bauer grew up in Onamia, Minn., 90 miles north of Minneapolis. The former Minnesotan spent much of the last six years in the Middle East and North Africa working as a freelance journalist and photographer.
Bauer's work has been published in the L.A. Times, San Francisco Chronicle, New American Media, The Christian Science Monitor and other news services.
(The Associated Press contributed to this report)