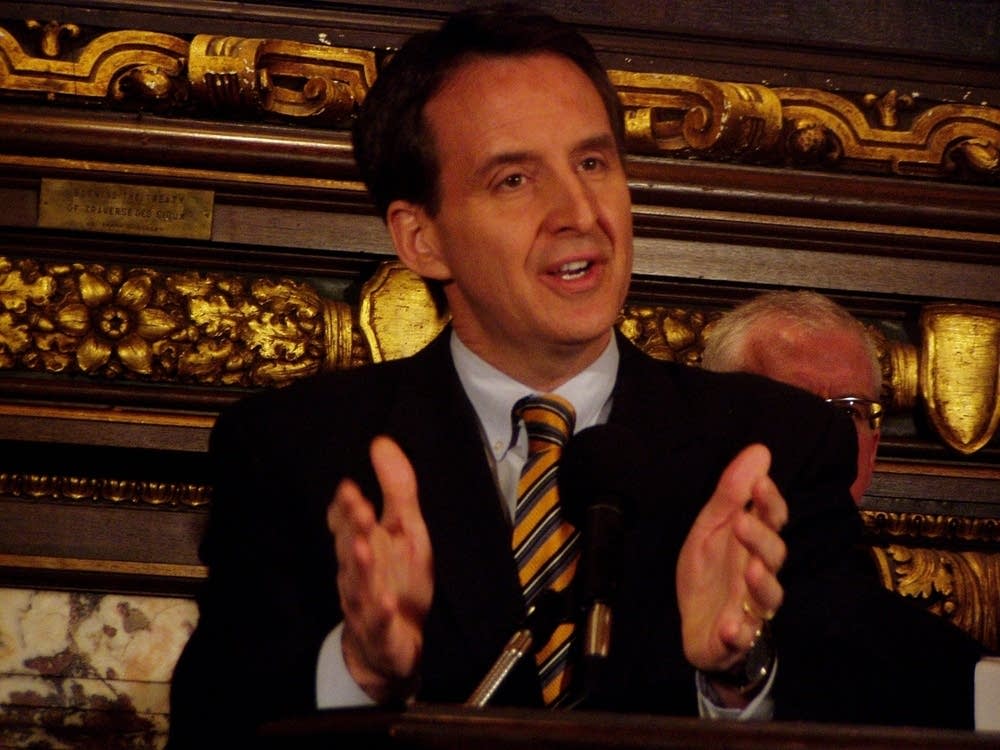 Gov. Tim Pawlenty says he wants to keep convicted sex offenders off the streets as long as possible, and he's proposing to more than double their time in prison.
Pawlenty outlined a proposal for longer sentences Tuesday, which he says will eventually save the state money. The Republican governor says it's significantly cheaper to house sex offenders in prison than it is to commit them to a treatment program.
Under current state law, most people convicted of first-degree criminal sexual conduct face up to 12 years in prison. Pawlenty proposes increasing that presumptive sentence to 25 years.
During a Capitol news conference Tuesday, Pawlenty described sex offenders as a scourge.
"Sex offenders in our state and across this country continue to present a very serious challenge to the safety of our fellow citizens, and to our communities and to our families," said Pawlenty. "They need to be kept off the streets for as long as possible, and Minnesota's laws in that regard can be even further improved."
Pawlenty says longer sentences for sex offenders would result in no additional costs for five years, and save money in the long term.
"I am not opposed to locking up the right people for the right reasons for the right durations."

Sen. Mee Moua, DFL-St. Paul
Many Minnesota sex offenders are moved into a treatment program, via civil commitment, once they've finished their prison time. But the Republican governor says that treatment costs $325 a day, compared to $63 a day in prison.
"It not only will help advance the cause of public safety. But it will also be a more economical approach relative to the offset that's available for civil commitment," he said.
Minnesota has toughened sex offender laws before, most recently in 2005 following the kidnapping and murder of Dru Sjodin. On a per-capita basis, the state now leads the nation in civil commitments.
Pawlenty says his proposal won't do much to slow the growth in civil commitments. That's why he's threatening to veto this year's bonding bill if it doesn't include an $89 million expansion of the sex offender treatment facility at Moose Lake.
The Senate passed its bonding bill Tuesday afternoon, with only $1 million set aside for that project. During the floor debate, Sen. Keith Langseth, DFL-Glyndon, who chairs the Senate Capital Investment Committee, said there were too many questions about it.
"I'm just saying that we should take some time here and look at some different options," said Langseth. "I fully expect that either this year or next year we are going to do something about this. But I really do think that instead of just doubling this capacity, we should look at some other options."
There are also some questions about the proposal for longer prison time. Sen. Mee Moua, DFL-St. Paul, chair of the Senate Judiciary Committee, said she wants to know more about the long-term costs.
But Moua welcomed the governor's proposal, which she said is in line with work already underway to reform sentencing guidelines.
"I am not opposed to locking up the right people for the right reasons for the right durations," said Moua. "That is what incarceration is for, to protect the public. And if that's how we properly use the tool, then we should do that."
Pawlenty also announced a new Internet safety education program aimed at warning children about the dangers of online sexual predators. The program, known as NetSmartz, is funded through a federal grant. State officials will distribute program materials to all public schools in the next two weeks.