Kids today seem to have a growing number of distractions for their attention, from cell phones to iPods to video games. Yet schools are finding the classic game of chess is helping to focus the minds of some of their students.
Over the weekend, the Minneapolis School District hosted a district-wide chess tournament, in hopes that the centuries-old game will teach kids some of the skills they'll need as adults.
In the cafeteria at Minneapolis North High School, 140 kids of all ages turn their attention to the plastic black and white chess pieces before them.
While these students compete for the top places at this chess tournament, they're playing under a fairly relaxed set of rules. They don't have to worry about the point systems that are used to rank players at many other chess tournaments.
Organizer Derek Emery said the idea at this tournament is to present a non-threatening environment, so that players of all levels feel welcome.
"It's just a great opportunity to inspire young people to play," said Emery. "It doesn't matter if you know only one or two moves to play, or if you are an advanced player. This is the place to be."
This tournament is just one of the ways the Minneapolis School District is trying to promote the game of chess among its students.
As activities coordinator for the district, Emery has helped to establish chess clubs at many of the schools. He says the game teaches students to focus and plan ahead, and to understand the consequences of their decisions.
More important, he says, the game teaches kids to connect with people from different cultures and backgrounds.
"It doesn't matter if you speak a foreign language, or are from another country. Chess is a universal game, and it can be played in Africa, Asia, Australia," said Emery. "For students to be successful, not only now but in the future, they're going to have to learn how to socialize and how to sit next to and communicate with someone who may look different than them."
Those kinds of interactions are more likely to happen in a school district as diverse as Minneapolis, where more than 70 percent of the kids are students of color.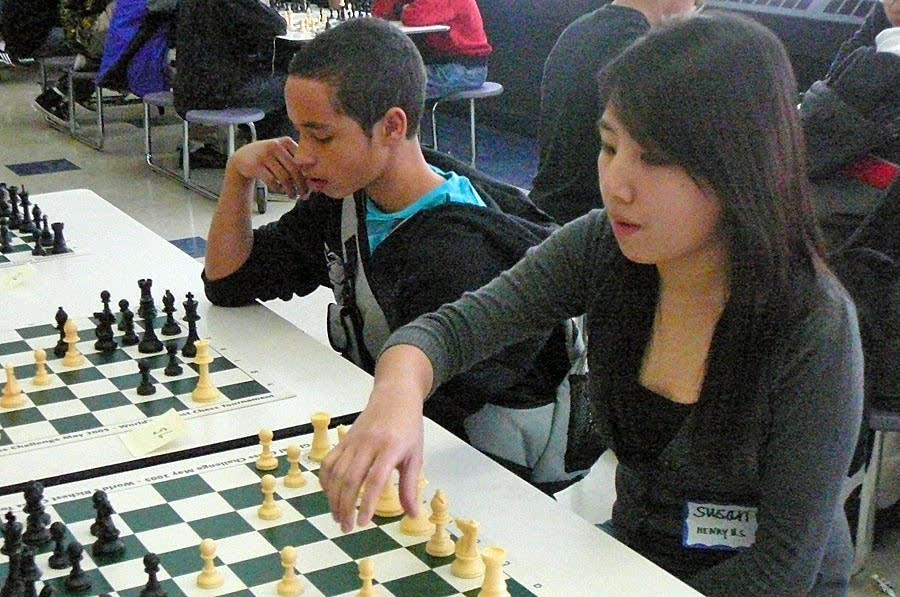 One of the students participating in the tournament, senior Susan Vang, said she enjoys playing chess, although she hasn't competed much in the past. But she said she likes the relaxed environment of this tournament and meeting new people.
"Everyone is really social. I like that everyone can just talk to each other. Everyone's nice," said Vang.
Another tournament player, sophomore Hector Santamaria said he wasn't really interested in chess before. But then he took a chess class as an elective three years ago, and was hooked.
"I like chess because it helps you think. It's part of life. It makes you make the right decisions," said Santamaria. "Think twice before you make a move. If you end up making a bad move in chess, you're like making a bad move in life."
Organizer Derek Emery estimates about 75 percent of the schools in the Minneapolis district have a chess club. While the students in those clubs represent only a fraction of the tens of thousands of students in the district, he says there is interest in promoting chess in the school curriculum, as one middle school has already done.
The city of Minneapolis will host the national chess championships for kindergarten through ninth graders in April. Many of the younger students playing chess at this weekend tournament said they plan on competing then.