State agencies have spent nearly half of $4.9 billion in federal stimulus funds Minnesota received through Dec. 31, according to the office that keeps track of it.
In Minnesota, most of the stimulus money has been used to help people through tough economic times with medical coverage, a nutritional program and additional unemployment insurance, said Michelle Weber, the state's American Recovery and Reinvestment Act coordinator. The funding should last through September 2011, she said.
Weber said more than 70 percent of the federal stimulus money Minnesota receives is being funneled through 18 state agencies, often to local programs. The federal government sends the rest to local governments and other organizations.
Most of the federal stimulus dollars are going directly to tax cuts and to states to help offset budget shortfalls, Weber said.
Much of the debate over the success or failure of the $862 billion federal stimulus program, however, has been about job creation, which is hard to track.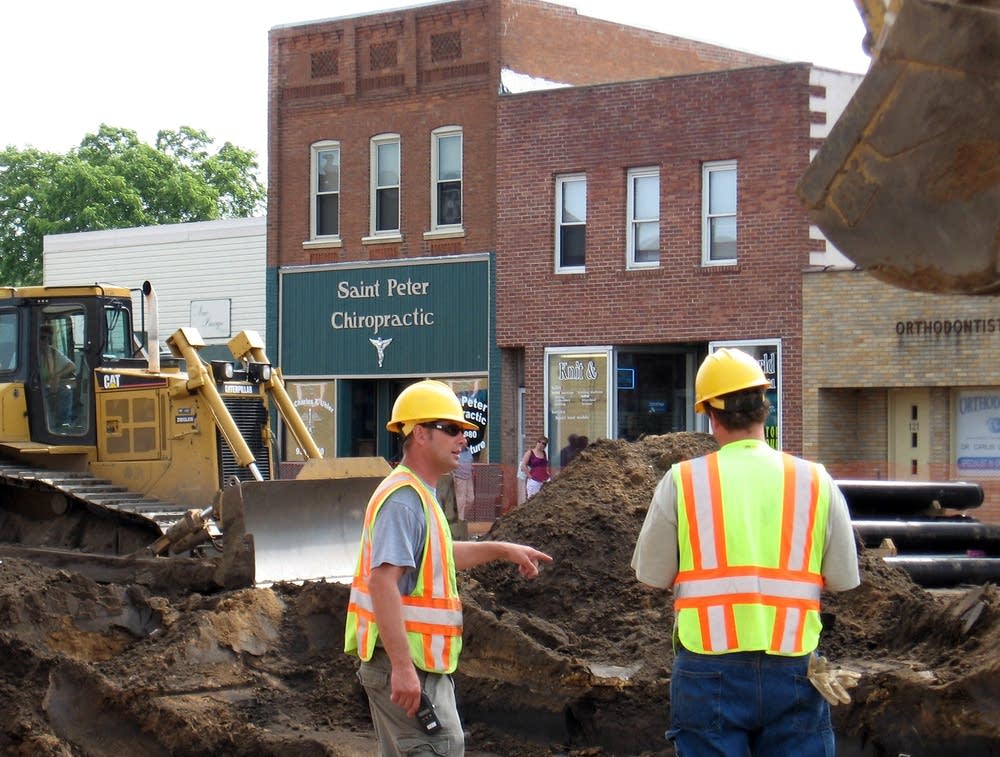 Minnesota officials are only beginning to determine how many jobs the money is creating, Weber said, noting that guidelines for tracking stimulus job creation and retention have been evolving since the recovery act became law last year.
Officials have settled on a way to tally the number of new or existing full-time-equivalent jobs on a quarterly basis. But Weber said they have only accomplished that for the last three months of 2009, when the stimulus paid for 10,303 jobs in Minnesota.
Going forward, the state has no plan to keep a running tally of stimulus-funded jobs. Instead, there will only be quarterly snapshots of how many jobs in a three-month period are funded with stimulus dollars.
In the last quarter, for example, most of the jobs came in the areas of education and health and human services.
There were also more than 550 "infrastructure" positions, including road construction jobs such as the ones created in St. Peter, Minn. Stimulus money paid for a newly redone main street, including modern water and sewer lines and other utilities.
"We got brand new downtown roads and sidewalks, from front of building to front of building on the other side of the street," City Administrator Todd Prafke said.
In addition to road and bridge construction, stimulus rebates for energy efficiency projects helped bring back laid-off workers at Andersen Windows in Bayport, Minn. Some contractors also reported increased business. Still, Minnesota's unemployment rate stands at 7.4 percent.
State economist Tom Stinson said there's no question the economy would be in much worse shape without the stimulus.
"You can not put that much money into the economy and on not make a difference," he said.
But critics say that in the long run, spending so much money will hurt the economy more than it helps.
Bill Blazar, senior vice president of the Minnesota Chamber of Commerce, sees the recovery act as more of an increase in government spending than a short-term boost to the economy.
Blazar said there's no question sectors like education, which are receiving large amounts of stimulus money, are better off than they would have been without it. Many small businesses also benefited from stimulus funded loans.
But Blazar thinks exports are largely driving the fledgling recovery. He applauds President Obama's recent call for a doubling of U.S. exports in five years.
"That export function, at least in terms of private, for-profit companies, may have more to do with their recovery than certainly anybody would have guessed a year and a half ago, and maybe even more to do with their recovery than the economic stimulus package," he said.
Minnesota's share of the stimulus will likely grow by the fall of next year as the state wins more competitive grants.