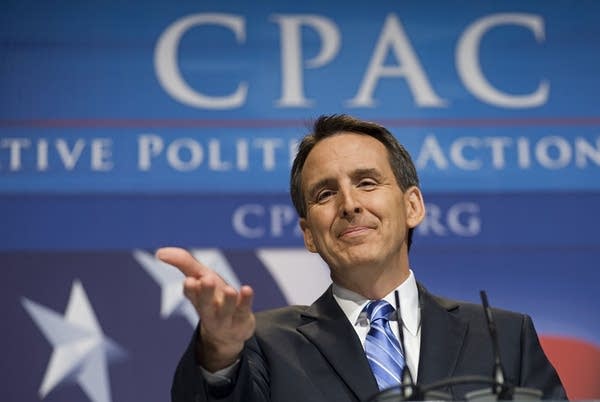 During a speech to conservatives in Washington D.C. Friday, Gov. Tim Pawlenty used colorful language, his upbringing, and even Tiger Woods to criticize what he called out-of-control spending by the federal government.
Pawlenty gave a speech to thousands of activists and streamed on the internet to thousands more.
Pawlenty didn't mention a possible White House run during the speech, but he touted his federal political action committee, told the audience that his first principle is that "God is in charge" and criticized President Obama several times.
He said when he was growing up in South St. Paul, his mother taught his family the value of living within its means.
"That perspective has been lost on too many of our federal officials," Pawlenty said. "That perspective is not reflected in the current administration. Barack Obama, President Obama does not share that commitment. If government spending were an Olympic sport he would be a repeat gold medalist."
Pawlenty spoke just an hour before professional golfer Tiger Woods apologized for his transgression and he invoked Woods during his speech. He suggested activists should take a tip from Woods' estranged wife.
"I think we should take a page out of her playbook and take a nine iron and smash the window out of big government in this country," he said.
Frank Benenati with the Democratic National Committee, said Pawlenty shouldn't be talking about fiscal responsibility given the plan he released this week to balance the state's budget.
"The only thing he did today was take a nine iron to his own credibility," Benenati said. "He talks about fiscal responsibility and tries to patch the Minnesota budget with gimmicks and one time fixes. He rails against the government for spending yet uses stimulus money to balance a third of the budget. This is all just despicable."
Pawlenty isn't the only White House hopeful who is speaking to the group. Former Massachusetts Gov. Mitt Romney and former Arkansas Gov. Mike Huckabee spoke to CPAC on Thursday. Former House Speaker Newt Gingrich is scheduled to speak on Saturday.
Pawlenty may also get a better idea of where he stands among conservative activists. CPAC is scheduled to release the results of a straw poll of the 2012 hopefuls on Saturday night.
Pawlenty is spending the weekend in Washington D.C. He's attending the National Governors Association's Winter Meetings and is scheduled to appear on NBC's Meet the Press on Sunday.
Pawlenty, who announced in June that he wasn't seeking a third term, has been ramping up his out-of-state travel schedule.