Pawlenty distances himself from stimulus, draws fire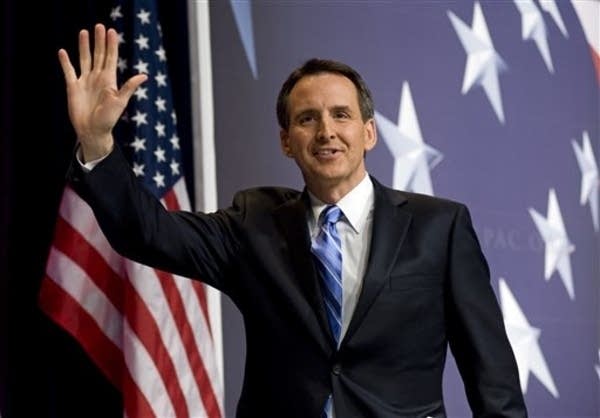 In a move drawing DFL fire, Gov. Tim Pawlenty refused Monday to sign a letter from the nation's governors calling on Congress to pass an extension of part of the federal stimulus, a bill that Pawlenty is counting on to balance Minnesota's budget.
Pawlenty refused to sign the letter from the National Governor's Association calling on Congress to extend stimulus funds for Medicaid for six more months. 47 of the 55 governors of states and territories signed the letter.
The governor, who appears to be gearing up a run for president in 2012, has long criticized President Barack Obama's stimulus package for being poorly targeted and running up the national debt. His refusal to sign the letter came a day after Pawlenty turned his criticism up a notch on NBC's Meet the Press.
"We could have gotten much more bang for the buck for much less money if they would have focused those things that would grow small business and jobs," he said on NBC. "It was incoherent, largely a waste of money that is now sustaining government."
But Pawlenty's criticism of the stimulus doesn't square up with his efforts to balance the state's budget. The governor didn't mention on the show that he's relying on federal money that hasn't even become law yet to erase a third of the state's $1.2 billion budget deficit.
Pawlenty's spokesman Brian McClung declined to comment. Before the letter was issued, McClung said that the funds were not an extension of the stimulus and defended Pawlenty's decision to use the money to balance the budget.
MPR News is Reader Funded
Before you keep reading, take a moment to donate to MPR News. Your financial support ensures that factual and trusted news and context remain accessible to all.
"No state is indicating that they're going to get out of Medicaid," McClung said. "And this is the federal government saying we're going to pick up the tab. The Obama Administration and others have never said that that money was stimulative or designed to provide jobs because that money would get spent either way."
That's not how DFL House Majority Leader Tony Sertich sees it.
"This is hypocrisy at its finest," Sertich said.
Sertich noted Pawlenty also relied on $2.6 billion dollars in stimulus funds to balance the state's budget last year. Most of that money is paying for health care for low income Minnesotans. But it also helped pay for K-12 schools, higher education and public safety.
Without that money, Pawlenty would have been forced to make even deeper spending cuts or give in to DFL-backed tax hikes to erase the state's budget gap. In July, the governor unilaterally cut $2.7 billion to balance the state budget after he failed to reach a budget deal with the Legislature.
Sertich says Pawlenty is saying one thing and doing another.
"It's certainly disingenuous when you're the governor of the state accepting the paychecks and then you're the candidate for president running around the nation bashing it," he said.
In the past, Pawlenty defended his position on accepting stimulus money by arguing Minnesota gives more in tax money to the federal government than it gets back. He also said the stimulus funds would have been better spent if they were geared towards cutting payroll taxes and taxes paid by small businesses.
But State Economist Tom Stinson noted the federal stimulus included $231 billion in tax cuts. That includes a $400 credit for low and middle income workers, a $250 one-time payment to Social Security recipients and disabled veterans, and a break for businesses that purchase capital equipment.
Gallery
1 of 1