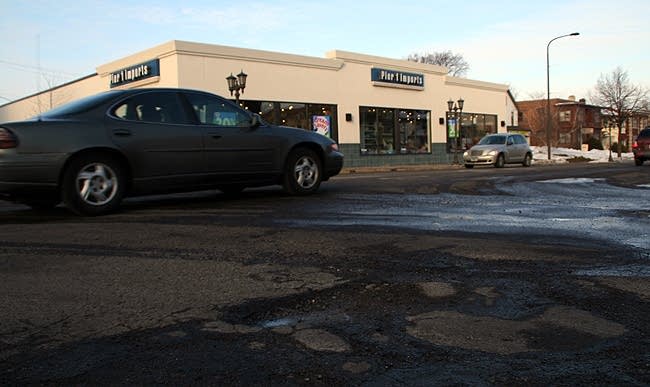 Potholes in the Twin Cities are a problem -- just ask Stephen Olson, who works at a non-profit in the Midway neighborhood of St. Paul.
Olson said he and his boss were driving back to the office from an evening meeting when they came face to face with a crater on University Avenue. 
"I saw it at the last second and I didn't have time to get out of the way and I hit it and it was just this extremely loud noise," Olson said.
  Olson initially thought the street cavity blew out his tire. It didn't, but he still had damage. 
"The tire had deflated about half-way because of the rim of the tire was bent in about an inch on both sides. And then I just had to change it out, put the donut on in the parking lot and get a new rim, which was about $35 bucks," he said.
Remember the unseasonable rain southern Minnesota saw in December? Public works officials across the metro area say that got the pothole season started a few weeks early this year and Kevin Nelson, an engineer in the St. Paul Public Works Department, said it's already bad. 
"We're seeing this is one of the worst pothole seasons that we've seen in a number of years, mostly because of the rains and snow that we've had and the freeze-thaw cycles that we've had over the last couple of weeks," Nelson said.
The freeze-and-thaw cycles are what spawn potholes. When days are warmer, snow melts and creeps into cracks in the streets. But at night, when temperatures drop, that water freezes -- and expands -- allowing the cracks to grow into potholes. 
St. Paul has crews working nearly around the clock to fill the holes -- five crews during the day, two at night and a couple on the weekends. MnDOT has four or five crews working day and night and Ramsey County has had two full-time crews out for the past two weeks. Hennepin County has seven crews, and Minneapolis has three crews working day and night. At times, these crews may feel like they're spinning their wheels. 
"Patches in the winter time may stick for a few weeks or they might stick for a few hours -- literally," said Mike Kennedy, director of Transportation, Maintenance and Repair for Minneapolis.  "And so, sometimes when the weather conditions are really poor, we've got a lot of moisture, crews may have to go back to the same place day after day or week after week, which really slows down the process as well."
Many jurisdictions have pothole hotlines to help them keep up with where repairs are needed. Public works officials say the worst areas are usually older roadways, those that were already in need of repair and streets that have lots of shade. As they plot out how to fill the gaps on those thoroughfares, some public works officials are concerned not just about the growing number of potholes, but also the shrinking supply of the materials they use to fill them. 
"We're running low on our cold mix right now," said Ramsey County's Mark Rauchbauer. "We have enough for probably another week and then we're probably going to be out, and that's all due to having to get the season started earlier than normal this year."
Rauchbauer and his metro area colleagues are waiting for the "hot mix" to become available. It sticks better and stays longer. The "hot mix" usually isn't available until mid-March, but the city of St. Paul, which owns the plant that makes the mixture, says it's aiming to start production next week.
Gallery
1 of 1