Twin Cities Arab Film Festival keeps building
With snow melt pouring off the marquee, the Heights Theater doesn't look very Arabic, but Mohannad Ghawanmeh says it's where the theater stands that's important.
"It happens to be located very much in the heart of the concentration of the Arab contingent in the Twin Cities," he says.
The Heights stands on Central Avenue in Columbia Heights where there are Arab businesses and homes in the neighborhoods on either side of the street running from Northeast Minneapolis up into the suburbs.
Ghawanmeh is curator of this year's Twin Cities Arab Film festival, and event he helped create back in 2004.
Grow the Future of Public Media
MPR News is Member supported public media. Show your support today, donate, and ensure access to local news and in-depth conversations for everyone.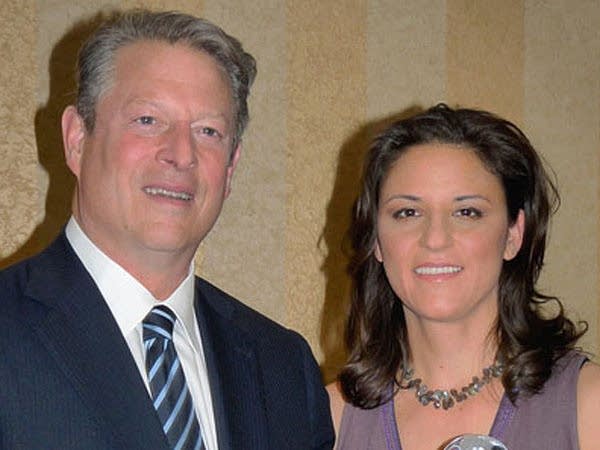 In the office of Mizna, the Arab cultural organization which sponsors the festival, Ghawanmeh says an Arab film isn't necessarily a movie made by someone of a particular ethnicity.
"Our festival is more interested in films about Arabs, about Arabness, than we are in pursuing titles by Arab film makers," he says.
Ghawanmeh says artistic merit is vital. He points to the Festival's opening film "Garbage Dreams." It's a documentary made by Egyptian-American director Mai Iskander, about a group of 60,000 Christian Arabs in Cairo. He says they're called the Zeballeen.
"Or the Garbage People, who inhabit a district of Cairo's which is essentially a garbage city," he says.
One of the largest cities in Africa, Cairo has no official waste disposal system. The Zeballeen collect it all, and recycle about 80 percent, pretty much by hand.
Ghawanmeh says it's a very human story, but the film has a higher purpose in the way it makes audiences consider how they deal their own trash. "To empower it's audiences to behave in a more responsible fashion, to become better human beings, truthfully," he says.
The Twin Cities Arab Film Festival will show documentaries, features, shorts and children's movies. Some of the films are by the nature of the stories they tell political.
Najwa Najjar's film "Pomegranates and Myrrh" grew out of the second Palestinian uprising on the West Bank. Speaking from Ramallah, she says she was imprisoned, but upon release found solace in a dance group.
"Suddenly we would close the doors, close the windows, there is shooting outside, and people would start to dance," she says. "And then it was an escape from the reality that we were in. So the idea started from there about how do you continue life when you live under such incredibly difficult circumstances."
In "Pomegranates and Myrrh" Najjar tells the story of a young woman whose husband is imprisoned after a confrontation with Israeli troops.
As she struggles for his release she also throws herself into her dance troupe. There she develops feelings for one of the other dancers. \Najjar says it's important that this is a Palestinian production.
"And it tells very much a Palestinian story, and usually our stories are not told by us. They are told by everyone else," she says. "It's not a story that talks about Israelis and Palestinians, it talks about us and our ways to survive."
Najjar complains the image of Arabs in news coverage often amounts to stereotype, and she sees events like the Twin Cities Arab Film Festival as a way to break that.
Back in the Mizna office, Ghawanmeh says word is getting out about the festival, and this year they were offered so many great films they had to turn some away.
"It seems that we are asserting ourselves with every edition that passes," he says. "I think it's only expected. I mean we are getting better at what we do. We should, otherwise we shouldn't do it."
With that he returns to working on the final details of bringing cinematic reflections of the Arab world to Columbia Heights.
Gallery
1 of 1