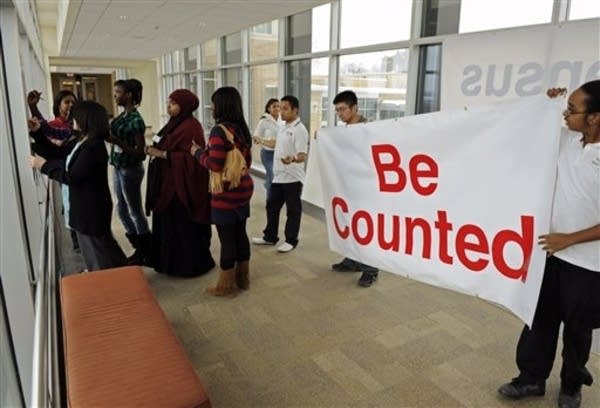 The immediate effect of this year's census will be adding or subtracting congressional seats in certain states and determining funding levels for cities and towns.
But those interested in tracing back their family roots look to census data to find out where their ancestors lived, when they were born and in some cases, how they made their living.
Most genealogists won't be around when the 2010 census data becomes public. While the aggregated data becomes available soon, the actual census forms with people's names, addresses and other demographic information is kept sealed for 72 years.
Brigid Shields, a librarian at the Minnesota Historical Society, said there was a dispute between public officials about when census data should become public. Some said never, some wanted it available after 100 years, and others said 50 years was enough time to quell privacy concerns, she said.
"Seventy-two was a compromise," Shields told MPR's Morning Edition.
The next available census data, from the 1940 census, will become public in 2012. Despite the lag time, Shields said she and other genealogists encourage census participation.
"Think of your grandchildren or great-grandchildren doing their family history. You want to be there," she said. "We all have our story and you want to be remembered for that."
All the census data before 1940 is available to genealogists except for the 1890 census -- that data was lost in a fire in Washington, D.C., during the 1920s.
Shields said the questions that are asked in the census have changed over the years. The way the census is taken has also changed.
It used to be that government workers would gather data exclusively by knocking on doors and asking questions. The data collection later became mail-based, with census workers only being sent out for follow-up if households don't respond.
Shields said in the late 1800s the census forms would ask a person if they had disabilities. In the early 1900s, as a large number of immigrants were arriving to the U.S., the census asked for immigration status and language spoken.
Shields said as technology became more prevalent, the U.S. Census Bureau wanted to know who was using it. In 1930, they asked people if they owned a radio.
Genealogists in the future might not have as much information when the current census becomes open to the public, Shields said.
"When they're going to be looking at these later census, there's not going to be that level of detail," she said.
Still, even tracing where a person has lived through the years can be interesting to a family historian, Shields said.
"I think we're a mobile society now, but people are often really surprised how much people did move years ago," she said.