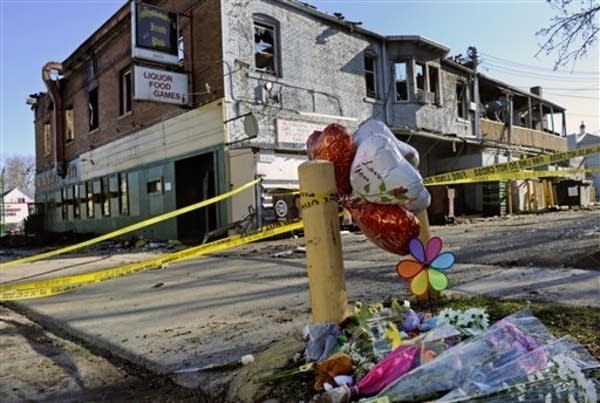 A fire swept through a two-story Minneapolis building that housed several apartments and an Irish pub Friday, killing six people - including three children - who friends and family feared were a bartender and several of his girlfriend's relatives.
Minneapolis fire officials said the body of a child was found in the gutted building Friday evening. The bodies of a woman, two men and two other children were found hours earlier.
The blaze broke out early Friday in one of six apartments above McMahon's Pub, Assistant Minneapolis Fire Chief John Fruetel said. Firefighters arrived shortly after 6 a.m. to find heavy flames and smoke pouring from the two-story building, where the roof eventually collapsed.
The residential portion of the building was due for an inspection, Fire Marshal Bryan Tyner said.
Authorities found eight violations during a fire code inspection March 15 on the building's commercial part. Among them, the pub's fire alarm system hadn't been tested in more than a year and there weren't enough fire extinguishers, Tyner said.
The owners were given until March 30 to fix the violations. Tyner said his office hadn't yet gone back to see if changes had been made.
The names of the victims have not been released.
"Our firefighters have been working aggressively and heroically this morning and have now contained the fire," Minneapolis Mayor R.T. Rybak said Friday afternoon. "We'll go through what will be a long process, the full scope of what is clearly a horrible tragedy here today."
Officials say they don't believe anyone else died in the fire.
Firefighters were trying to find out if more people were inside the apartment building when it became engulfed in flames early Friday morning, but crews won't be able to fully search the building until later because it was unsafe, Minneapolis Fire Chief Alex Jackson said.
The building had apartments on the second floor and McMahon's Pub on the first. The fire was reported shortly before 6 a.m., and authorities said it started on the second floor.
"Flames were coming out of, I guess that would be the northwest window," said Jesse Bork, who lives two houses down from McMahon's Pub. Bork could see reflections of the flames through his window.
"Firefighters have had an incredibly tough job even getting it under control," Bork said.
The fire was intense, and it took several hours for crews to contain the flames. One firefighter had to be rescued from a window after a flashover, which happens when a fire reignites causing a structure to burst into flames, Jackson said.
The explosion was so powerful that it knocked the helmet off one firefighter, he said.
"And if any of you have ever seen that in a movie, it is literally what it sounds like," Jackson said of the flashover. "We went into a defensive mode because it was too dangerous to put them inside."
Firefighters doused the building with water for hours, but most of them packed up and left around noon. Jackson said the excess water made it difficult for firefighters to search for additional victims or investigate the cause of the fire.
"The basement's full of water. Part of why the second floor collapsed was because of the weight of the water and the fire. So there's a lot of water that's still in that building," Jackson said.
The State Fire Marshal's Office is helping Minneapolis authorities investigate. Authorities had little to say about the victims or the missing.
"There could be more. We don't fully know everyone who was in the building and we're trying to gather as much information as we can on that right now," Rybak said.
Denise Schmidt of Long Prairie said her son, Ryan Richner, was among the missing.
Richner, 25, worked as a bartender at McMahon's and lived in one of the apartments above the bar. Schmidt said she got a call from Richner's girlfriend Friday morning. His girlfriend's family was supposed to be staying with Richner, but she couldn't reach anyone by phone, Schmidt said.
Schmidt said her son would never let his mother worry like this. She said she saw on media Web sites pictures of his car parked in back of the building.
"He would have called by now because he knows what a worrywart I am about him living in the Twin Cities," she said.
Minneapolis Fire Marshal Bryan Tyner said the department found eight code violations for McMahon's Pub, including that the fire alarm system hadn't been tested in over a year. There were also missing fire extinguishers a dirty ventilation hood and missing emergency lights and lighted exits.
But officials said they believe the fire started on the second floor, so the fire code violations at the bar might not have been a factor.
The fire department ordered the bar to correct the violations by March 30, but Tyner said officials hadn't been back to look at it.
(MPR's Jayne Solinger, Madeleine Baran and The Associated Press contributed to this report.)