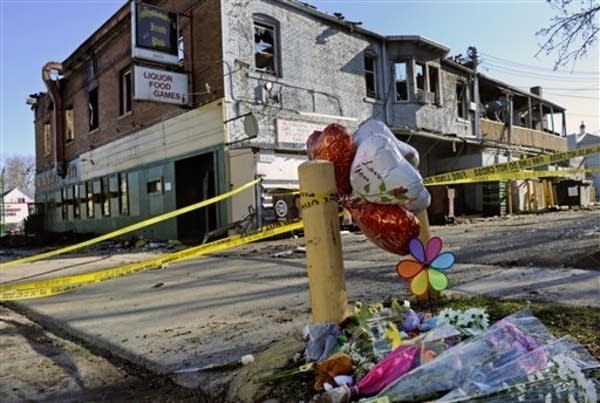 A fundraiser is scheduled Friday night for some of the surviving family members of a Minneapolis fire two weeks ago. The flames killed six people, including three children.
Two weeks ago Savannah Hjellming lost her three children, Colten, who was 2, and twins Austin and Aliciah, who were 3 years old. The children died along with their father Andrew Gervais, his mother Anne Gervais and family friend Ryan Richner.
In the aftermath of the fire, Hjellming needs emotional and financial help, according to V.J. Smith of the nonprofit group MAD DADS, which is sponsoring the fundraiser.
"This family is struggling and trying to make it, and it's very hard with three kids all at once missing from their lives," Smith said. "I think it's a great time for them to come together, and have the community show their support for the loss of these three children."
All the victims of the fire were staying in Ryan Richner's apartment, on the second floor of a building that also housed McMahon's Pub. Fire officials believe the fire began in Richner's apartment.
City officials say the upper floor of the nearly 100-year-old building hadn't been inspected in 16 years. Fire inspectors are tackling a backlog of Minneapolis properties overdue for inspection.
Some city property owners, like Bill McGaughey, say that's not a surprise. McGaughey says fire inspectors, like those who inspect his nine-unit apartment building in north Minneapolis, have a lot on their plates. He says the firefighters have to look for a wide range of housing code violations.
"I don't know about the particular situation with Lake Street, but it's possible that resources were just stretched too thin. Rather than have fire department people check for torn or missing screens, it would be better for them to stick with what they know," said McGaughey.
Five years ago, city firefighters took over the inspection of buildings with four or more housing units. The move was designed to bring in more revenue to the department and avoid firefighter layoffs.
City officials say firefighters are trained to spot a range of code violations. However, Bill McGaughey says he was troubled to read a Star Tribune report which quoted unnamed fire personnel saying they only received four hours of training.
There were signs of potential fire hazards at the building on Lake Street that burned down. A tenant had complained of exposed wiring, but didn't follow up when inspectors tried to verify the complaints. MPR has made several calls to building owner Harold Blumenthal, but he has not returned calls.
There are other ways to inspect apartment units that don't involve city personnel. Saleha Erdman is qualified to perform Housing Quality Standards inspections for government subsidized housing.
"It's different from the kind of fire department inspections that the city does," said Erdman. "I'm looking for things like if there are electrical hazards and if the windows lock, if there's water damage."
Erdman says the landlord has to agree to the inspection, and pass it, before a renter can use government money to pay for rent. She says those properties are inspected on an annual basis.
Minneapolis city officials say the fire department is close to catching up on the backlog of inspections. They say all but 259 of the nearly 3,000 properties it was assigned have been inspected.
Friday's fundraiser for the surviving fire victims is at Urban Ventures in Minneapolis from 5 p.m. to 7 p.m. There is another fundraiser Saturday at noon at the Fort Snelling Club.