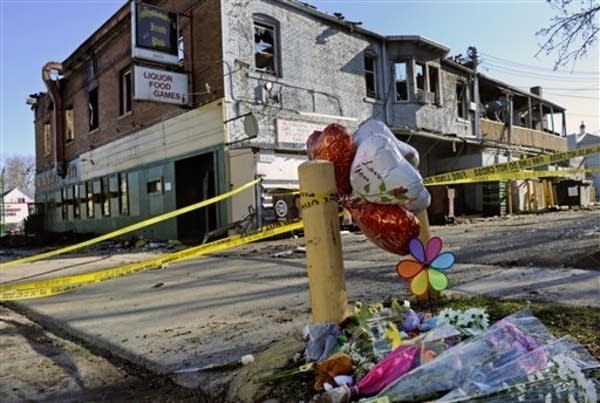 The state fire marshal has completed a review of fire inspection reports for a Minneapolis building that burned earlier this month. The fire killed six people.
The marshal's report makes several recommendations including some changes that are apparently already in the works.
The fire marshal reviewed records for inspections done on the building on Lake Street that burned. The first floor was a restaurant and bar with apartment units on the second floor. Inspectors were in the building in 1998, 2005 and 2010. However, older inspection records show that between 1966 and 1990 the main floor restaurant and bar had been inspected 20 times.
But the records show inspectors were only there to look at the main floor, not the upper floor apartments.
The fire marshal recommends that in the case of mixed-use buildings like this one, both the commercial and residential floors be inspected at the same time.
"Well when we schedule and they're for those type of buildings, that's the way it's structured. So that was already in place," said Minneapolis Fire Chief Alex Jackson. He says fire inspectors have been conducting all inspections of mixed-use buildings since last year.
The upper floor of the building on Lake Street, which hadn't been inspected in 16 years, was scheduled for an inspection this summer, Jackson said.
The state fire marshal also recommends that the city inspect buildings with a history of violations more frequently. The city's regulatory services department is already working on a tiered system that would put troubled buildings on a tighter cycle. The system should be ready next year.
Inspectors found several violations in McMahon's Irish Pub located on the building's main floor just a month before the fire, but the bar's owners have said they had corrected the violations. Chief Jackson said the fire marshal's report mentions that the city gave the bar just two weeks to make the changes
"And in this particular case the timeframe that we gave, they actually found that in this particular case that we ran a tighter time frame than what they do," Jackson said.
The state fire marshal says usually violators are given 30 days to comply with an inspector's request.
The report also mentions that Minneapolis has a slightly higher rate of apartment fires than the national average, possibly because the city has a higher number of apartments per capita than other cities. The report also says that while the city's fire death rate is lower than that of other Midwest states, it is about 20 percent higher than in the rest of the state.
The cause of the Lake Street fire is still under investigation.
In the meantime, a funeral service for fire victims will be held in Minneapolis later today.