More than 1,300 DFL delegates are gathered in Duluth today for the start of the party's state political convention and tomorrow's endorsement of a candidate for governor.
Saturday's endorsement will narrow the field significantly, because five candidates have pledged to drop out of the race if they aren't picked.
The competition between House Speaker Margaret Anderson Kelliher and Minneapolis Mayor R.T. Rybak heated up last week when the two front runners began making tit-for-tat announcements about notable politicians endorsing their campaigns for governor.
Kelliher has said she has the most delegates heading into the convention, but Rybak said in an interview last week that he's in second place and surging.
"We've put together, I think, the strongest base of delegates. We, I think, have the clearest statewide message. I come in with significantly better name ID and approval ratings around the state," Rybak said. "And in general, I'm the person who is, I believe, the only person in the field who can win the endorsement, win the primary and win the general election."
Rybak officially entered the race late, waiting until he won a third term as mayor last fall. He stresses his executive experience outside of the Capitol, while Kelliher highlights her leadership within.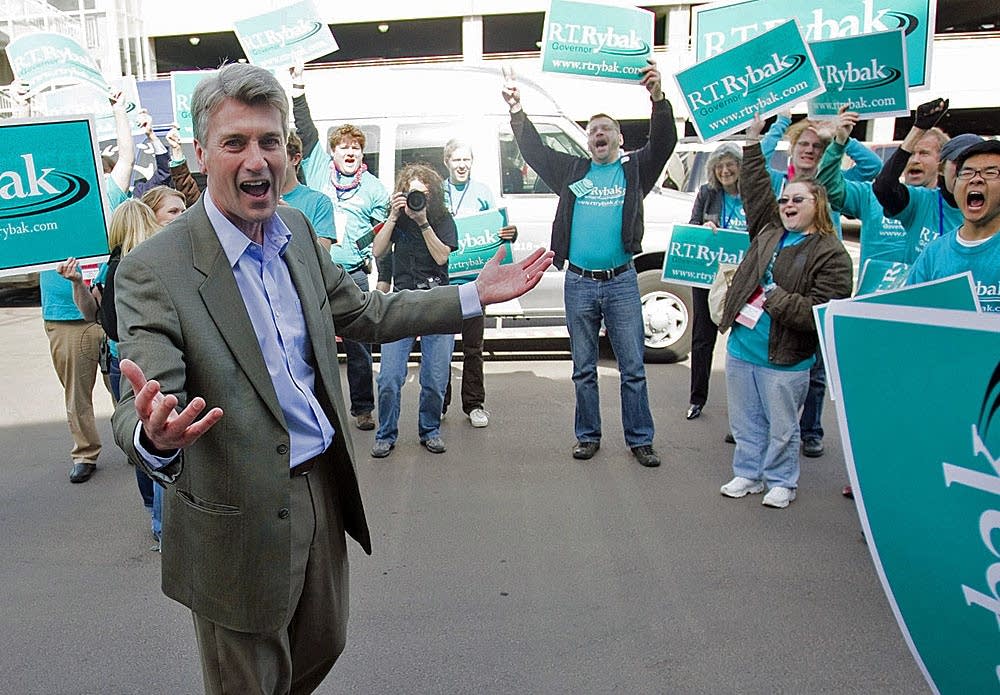 Kelliher, who's in her fourth year as speaker, said DFL delegates are telling her that they're excited about the prospect of electing Minnesota's first female governor. She's embracing the idea too.
"I am the most qualified person to be the governor of the state," Kelliher said. "I happen to be a woman, and they like the idea that maybe after an era where we've had a lot of big personalities and big ambitions that a different style would really help Minnesota surge forward as a state, and the focus would be on Minnesota."
Other DFL candidates say they're optimistic about their changes against Kelliher and Rybak because many delegates are still undecided. State Rep. Tom Rukavina, of Virginia, a 12-term legislator and chair of the House higher education committee, said he believes the party endorsement is up for grabs.
"I don't think anybody has got 30 percent in this race, and you need 60 percent to win," he said. "Anything can happen as those different votes are tallied on the floor of the convention. If somebody shows some movement, I think a lot of people might follow. I hope that I'm the person that shows that movement."
Rukavina is the only DFL candidate for governor from outside of the Twin Cities area, even including the candidates who aren't seeking the party endorsement.
Four candidates live in Minneapolis, including state Rep. Paul Thissen. He's spent eight years in the Minnesota House and serves as chairman of a key policy committee, but in his bid for governor, Thissen describes himself as the non-establishment, alternative candidate.
"We need to do things differently in Minnesota. We need to orient our party and our state toward the future instead of looking to the past," Thissen said. "And we need to go with something different than what we've done in the past as a party, which is the establishment face of the party candidate."
Thissen says he is currently running a strong third. State Sen. John Marty, of Roseville, makes the same claim. Marty was the DFL candidate for governor in 1994, losing to incumbent Republican Arne Carlson.
The longtime legislator and advocate of universal health care was the first DFL candidate this year to announce a running mate, state Sen. Patricia Torres Ray. Marty says he would benefit from another important distinction.
"You look at the districts they represent or the cities they represent, and I'm the only one who's ever won a single political race in a suburban, Republican-leaning district," he said. "All those other districts are two-to-one DFL. I've got one that's Republican-leaning and I've been able to win by solid margins in it."
Former state Rep. Matt Entenza is also seeking the DFL endorsement, but he also plans to run in the primary election on August 10. Mark Dayton and Susan Gaertner are also running in the DFL primary.