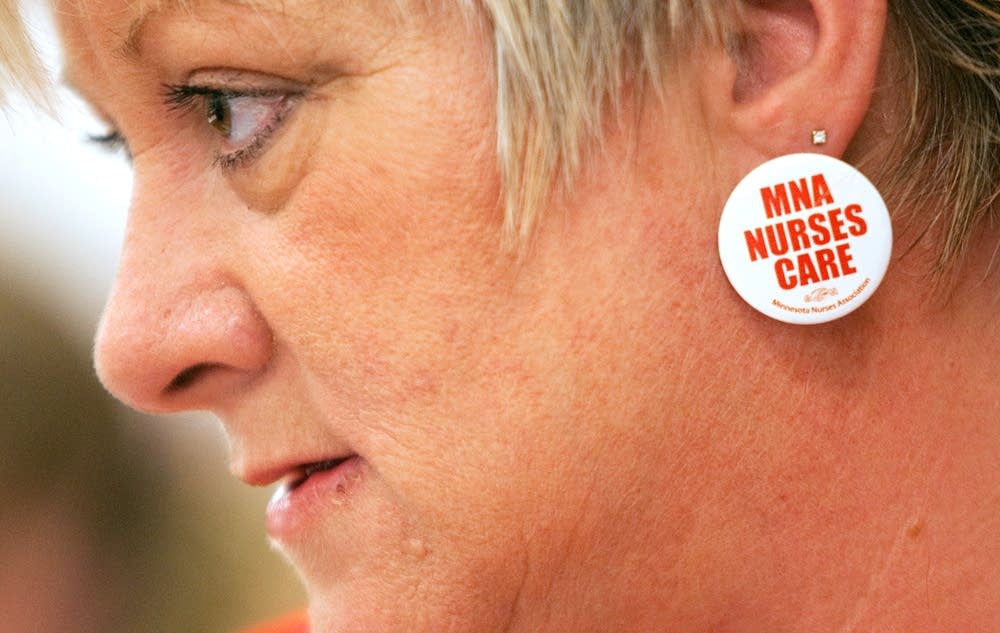 As many as 12,000 Minnesota nurses are voting today on new labor contracts offered by six Twin Cities hospital systems.
The proposals cut some benefits, including the nurses' pension plan, while offering slight wage increases in the second and third years of the contract. Nurses say those issues aren't deal-breakers, but they say hospitals ignored their top priority: better staffing.
All six nurse bargaining units are recommending that nurses reject the new contract terms and authorize a one-day strike.
Voting began at 6 a.m. and will continue throughout the day.
According to the nurses union, a one-day strike would have the maximum impact on hospitals because they would still have the expense of hiring replacement workers and presumably operating with a reduced patient volume, but the impact on nurses would be minimal in terms of lost pay.
John Nemo, spokesman for the Minnesota Nurses Association, said a one-day strike would also demonstrate to patients that nurses are not abandoning them.
"We hope that at least our patients can hear that and know that," he said, "that nurses are trying to do what they need to do in order to get a fair contract to take care of patients. But at the same time they want to do it with the minimal amount of disruption to their patients and the community."
Twin Cities Hospitals, the group representing the six hospital systems, says it's misleading to tell nurses that they will only be out of work for one day.
Spokeswoman Maureen Schriner said hospitals can't just ramp back up to full speed after a one-day strike. She said hospitals will have to honor contracts with their replacement nurses, and she says patient volume could be down significantly if patients decide to go to other hospitals that are not affected by a strike.
"The nurses need to be aware that when they walk off the job, when they return to work is determined by a number of complex factors," Schriner said. "And it doesn't occur just on one day."
The hospitals won't say exactly how many replacement nurses they've recruited so far, but it's unlikely that they will be able to replace all 12,000 nurses if they go out on strike.
The Minnesota Board of Nursing has received 1,039 applications during the month of May for licensure by endorsement -- the process that a nurse licensed in another state must complete to get approval to work in Minnesota.
"An average month is 200," said Executive Director Shirley Brekken.
Those 800 additional nurses are probably replacement workers. Brekken says there was also a slight uptick in licensure by endorsement applications in April, but she estimates there were only 100 more applications than usual last month.
While the numbers do not appear substantial at this point, they don't tell the whole story. Hospitals can supplement their ranks with non-union nurses from Minnesota. Many of those workers may already be licensed in the state, making an estimate of their numbers difficult.
Twin Cities Hospitals has said that their members will focus on providing emergency services during a strike. Staffing situations will vary from hospital to hospital, but it's likely that many elective procedures will not be scheduled during a strike or in the days following a strike.
Both sides say it's still possible to avoid a strike, even if nurses reject their contract offer. Negotiations can resume at any time. Nurses can't walk off the job before June 1.
Six Twin Cities hospitals are not involved in the nurse negotiations because they either don't have union nurses or they're contracts are not up for renegotiation at this time. They include Hennepin County Medical Center in Minneapolis, Region's Hospital in St. Paul, Woodwinds Hospital in Woodbury, the Maple Grove Hospital, Fairview Ridges Hospital in Burnsville, and the university campus of the University of Minnesota Medical Center, Fairview.