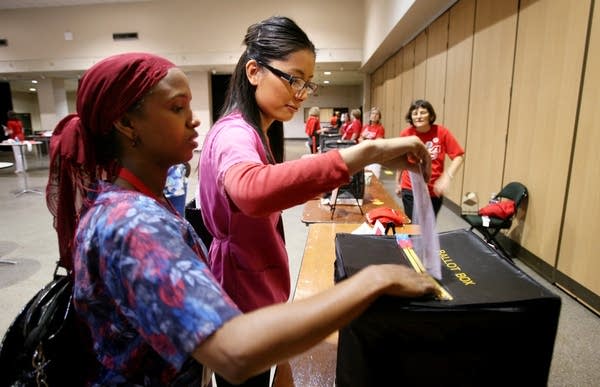 Minnesota nurses have voted overwhelmingly to reject their contract offers from six Twin Cities hospital systems, meaning they can go on strike as soon as June first, unless they settle their differences with the hospitals before then.
Nurses are demanding that the hospitals improve nurse staffing, as well as oppose cuts to their pension plan. Union leaders have called for a one-day strike, but date hasn't been announced yet.
In order to authorize a strike, nurses needed 66 percent of their members to reject their contract or pension offers. Nurse negotiator, Cindy Olson, announced the results shortly after voting ended at 10 p.m.
"Ninety percent, over 90 percent, at each facility have authorized a one-day strike for patient care," Olson said.
Over 90 percent of nurses also rejected their pension offer.
More than ,9000 out of 12,000 eligible nurses cast votes at RiverCentre in St. Paul. President of the Minnesota Nurses Association, Linda Hamilton was thrilled with the turnout and with the result.
"I'm so proud of our nurses because they really took a huge amount of effort to make sure our employers know we want to negotiate and we want to negotiate patient care," Hamilton said. "And obviously it isn't just the leaders. It is the nurses. We have spoke."
Outside of the raucous auditorium, some nurses were a little more subdued.
Kay Ortscheid works at Abbott Northwestern Hospital in Minneapolis. She voted to reject her contract and her pension offer, but she wasn't celebrating.
"I feel sad; none of us would want to do this," Ortscheid said. "I think our hand has really been forced on this. None of us would like to see this for our patients. I feel bad for the nurses who will be working the night of the strike. I know how difficult that would be to leave, especially the intensive care patients and high-risk patients. And to leave them, it's going to be extremely difficult."
Michelle Nelson, who works at Methodist Hospital in St. Louis Park, almost didn't cast her vote. She said she didn't want to strike, but when the union floated the one-day strike option, she decided that was a compromise she could support.
"I think a one day is going to get the message across to the hospital that we're serious, but yet hopefully not make it such an 'all about us' type of thing," Nelson said. "We really do value the patients and put them first, and if we are willing to strike for however long it takes then we're really not helping those patients because they're still coming and we're not taking care of them."
Twin Cities Hospitals says it's disappointed that the nurses union urged a strike. Spokeswoman Maureen Schriner said the union has been rigid in contract negotiations and has put forward a staffing proposal that would allow hospitals to only use 90 percent of their patient beds.
"Well how is that helping patient care?" Schriner said. "What if we do have some influx for whatever reason that we need to go past 90 percent? Even if it is for just like a few hours or a day, there are some times when we're going to need to do that. The union proposal essentially takes 10 percent of the beds out of the Twin Cities hospital capacity."
Still, Schriner said the hospitals are optimistic that they can reach a settlement with nurses and avert a strike.
"There have been strikes by nurses in the Twin Cities certainly, but there have been many more settled contracts," she said. "So the hospitals are hopeful that we're going to move in that direction."
Hospitals are moving forward with contingency plans, in case nurses do go out on strike. Schriner said the plans vary a lot from hospital to hospital. Some are expecting only minimal changes, while others could be forced to scale back more.
Schriner said the hospitals will announce more details about their contingency plans next week.