Graduation test scores in Minn. show modest gains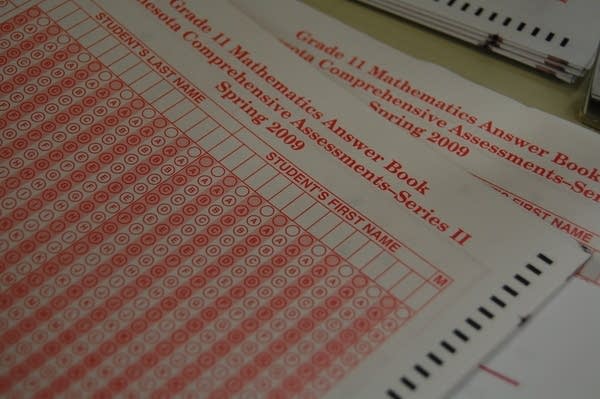 New data from the state show more high schoolers are meeting Minnesota's graduation requirements for math, reading and writing. But those gains are modest, and there's still a wide gap between how well white students do, compared to students of color.
Thousands of Minnesota high schoolers took the MCA standardized tests this spring in three subjects: Ninth-grade writing, 10th-grade reading and 11th-grade math. Those students had to get minimum scores for each test to meet the state's requirement for graduation.
On the writing test, 90 percent of students reached that benchmark; 78 percent did so in reading; and 58 percent did so in math.
Education Commissioner Alice Seagren says those three numbers range from flat to slightly better, compared to how many students met those marks last year.
"There's nothing alarming here. We're not seeing dramatic declines in achievement at all. We're seeing steady progress," said Seagren. "Is this enough for us to be throwing a party? No. Does the commissioner want to see more progress, more quickly? Yes."
Seagren also says the scores again show how wide the achievement gap is. That's the gap between how well students of color do, compared to white students.
In reading, for example, 84 percent of white students met graduation requirements, compared to 50 percent of African-American students. In math, just 23 percent of African-American students met graduation requirements, which is less than half of the mark for white students.
Students cannot graduate from high school unless they pass the reading and writing tests. But the consequences aren't as great with the math test because of a change in the law last year. The change allows students who fail the test to still graduate, if they accomplish several other measures.
Those measures start with a remediation class, followed by taking the test over. But even if students fail those re-takes, they can graduate -- as long as they've met all of their school's other graduation requirements.
State Sen. Chuck Wiger, DFL-Maplewood wrote that change in the law last year. He says this year's scores show students still took the test seriously, even though it's no longer as high-stakes as it once was.
"Sure some students aren't going to take tests that seriously. But the majority of them that are planning to go to college -- and most do -- why blow off a test now if it means you're going to have to take an entire semester of remediation later? That's just absolutely foolish," he said.
Wiger and others tried this year to change the entire graduation requirement system in Minnesota.
Instead of requiring students to pass one test in each subject to graduate, there were proposals at the Capitol this year to change the system to require what are called "end of course" exams.
So in math, for example, instead of taking a test that measures 11 years of math knowledge, students would have to pass a test at the end of algebra, for example, before they could move on to the next subject.
Legislation to make that change did not pass this spring.
Gallery
1 of 1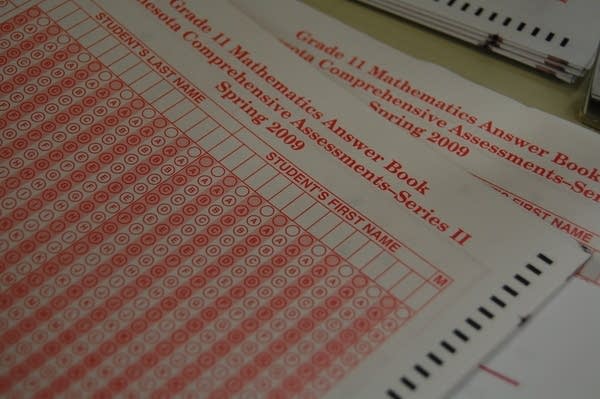 Your support matters.
You make MPR News possible. Individual donations are behind the clarity in coverage from our reporters across the state, stories that connect us, and conversations that provide perspectives. Help ensure MPR remains a resource that brings Minnesotans together.