Hospital officials say they plan to fully staff emergency rooms and childbirth wards at all 14 hospitals where nurses are expected to strike Thursday.
Emergency responders say they are also ready, and that the 24-hour strike should not affect emergency care for patients at all.
"Fire and medical emergency. Sir, go ahead. Can I help you?," the operator asks. St. Paul Deputy Chief of Emergency Medical Services Matt Simpson plays a recording of a typical 911 emergency call.
On an average shift, St Paul's 13 medic rigs respond to as many as 20 emergency calls like this one, and his crews work closely with hospital emergency staff around the metro. Simpson expects nothing different tomorrow, even with about 12,000 nurses out on strike.
"As far as what we are expecting," he says, "Thursday is business as usual."
"Business as usual" is a phrase you hear a lot from emergency officials when they're asked what they expect during a strike.
Simpson says that's because being ready for emergencies comes with the job. He says ambulance crews will follow the state law requiring them to come to a stop before entering hospital grounds to respect picket lines and ensure no one gets hit. He is confident the hospitals will be ready for any patients they bring in, just like on any other day.
"When ambulances arrive at the hospital, we walk in the doors and we'll go to the charge nurse who is basically the director of or the air traffic controller of the emergency room," he says. "It really works very smooth."
But nurse Nellie Munn, one of the union's negotiators, says those nurse air traffic controllers will be walking the picket line if there's a strike -- and, she says, that will leave a vacuum that replacement nurses will have a hard time filling.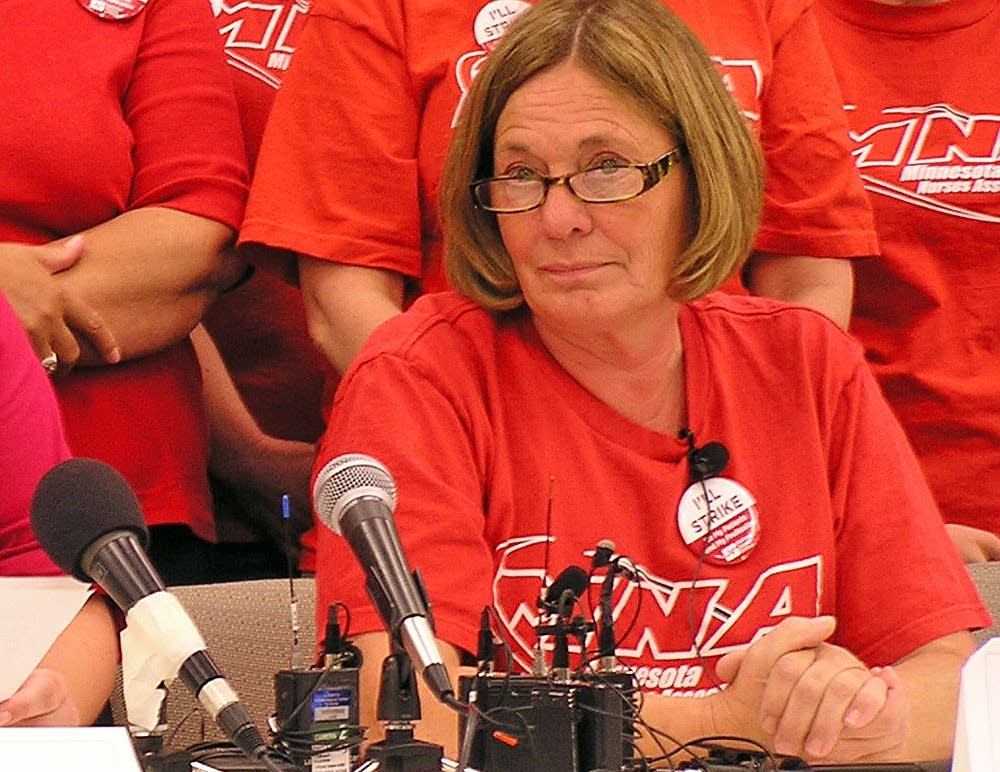 Charge nurses decide which patients go where and how to staff the other RNs on a unit. The charge nurse keeps track of each patient's condition and is also the point person for paramedics and other hospital staff.
"This is a role that requires a significant amount of experience, critical thinking and skills to be able to manage the patients as they are coming in and ensuring they are getting the care that they need," she says.
Munn says regardless of their training, replacement nurses unfamiliar with a hospital will simply not be able to manage all of the action on their unit.
"I don't trust that these hospitals have really put what's really necessary into these contingency plans. They are not listening to us and I am gravely concerned about it," she said. "And I would not, absolutely not go in for any type of elective procedure in any hospital during this labor action and if there was any other need I would really attempt to go to another hospital that is not part of the strike."
Hospital officials held a news conference yesterday to rebut the union's message.
"We are here for one purpose and one purpose only really."
Dr. Penny Wheeler, chief clinical officer for Allina Hospitals and Clinics, told reporters that all emergency rooms and obstetrics units at striking hospitals will be fully staffed. Twin Cities Hospitals officials say they also plan to have fill-ins for all nursing roles subject to the walkout.
As part of the plan, they will deploy 2,800 replacement nurses to the 14 affected hospitals. Wheeler maintains the replacements are all experienced and trained in the specialties where they will be working, and existing hospital staff will also help out.
"We want to reassure our patients and our community that safety and quality of care are always our top priority," Wheeler said.
The replacements represent less than one-fourth of the 12,000 registered nurses expected to strike, but hospital officials say most of the regular nurses work part-time and are not all scheduled to work on any given day.
Talks between the two sides have stalemated over benefits and staffing levels.
The California Nurses Association had planned to join with colleagues in Minnesota hospitals in the one-day strike, but a San Francisco judge on Tuesday barred University of California medical center nurses from walking off the job.
Ron Robinson was a North Memorial Hospital paramedic during the big 1984 nurses strike. Now he is Regional EMS Coordinator, involved in strike contingency planning.
Robinson says EMS and the hospitals got through the weeks-long 1984 strike, and they'll get through tomorrow's one-day job action.
"It should be just a blip on the radar screen. We will just get through it," he said. "And if it gets serious, we just coordinate more, that's all."
Hospitals not affected by the strike, like Hennepin County Medical Center in Minneapolis and Regions Hospital in St. Paul are gearing up for possible surges in patient loads. Officials at both hospitals say if that happens they'll be ready.