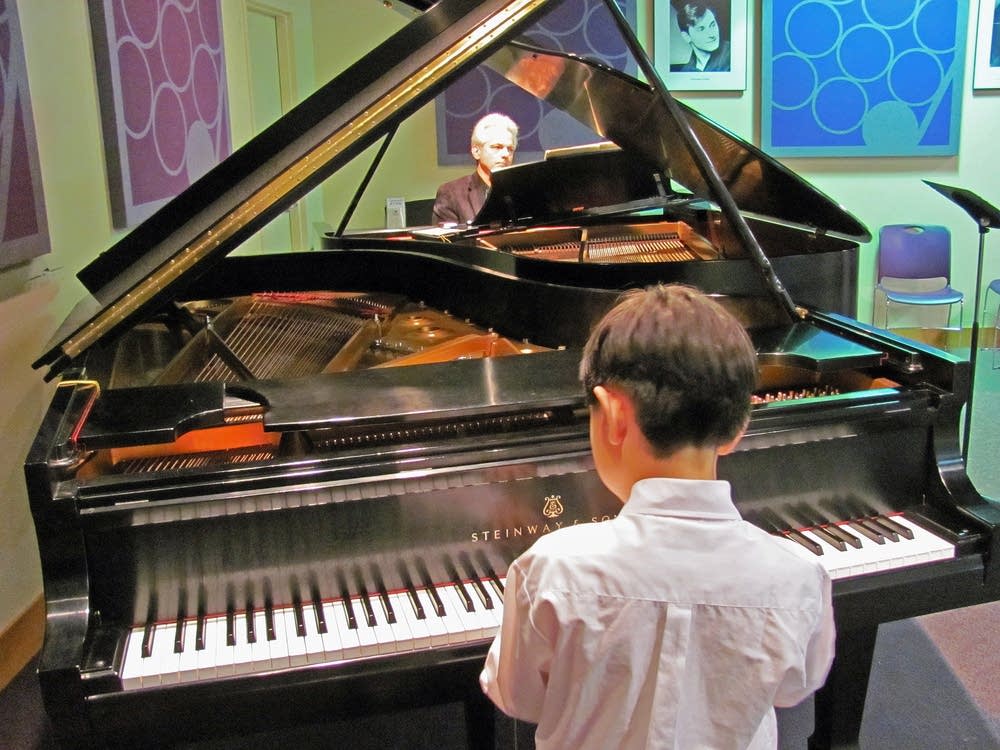 Six-year-old Joseph Caswell loves his piano instructor Paul Wirth.
"He's funny and he's a really good teacher."
Joseph's got a cherubic face and hands barely bigger than a cabbage patch doll's. But he can play a Beethoven sonata or a Chopin minute waltz with the facility and feel of a musician four times his age. And Joseph loves to practice, up to three hours a day. His favorite exercise is marathon scales.
"It's where you play all twelve majors and all twelve minors, four octaves, twice," he explains.
This is Wirth's life's work, serving as teacher, cheerleader and playmate to musical wunderkinds like Joseph. For the select few of young musicians who rise to the level of "extremely gifted" and are in need of a top-notch teacher, Paul Wirth is their go-to teacher.
"He's very advanced for his age, as you can tell, and plays his scales because those are the building blocks of music," Wirth said of Caswell. "No telling where he's going to end up. It's like you plant seeds like this and they just grow, and pretty soon there's the tree. And it's very exciting work."
Wirth didn't always see teaching as his destiny. The New Jersey native was on a very focused piano performance track until he was thrust into teaching as a grad student requirement. He found it enjoyable and satisfying, and ultimately realized he was more in demand as an instructor than a player.
"So I looked at my life and said 'well, here is my performing and here's my teaching. What am I making the most impact with?' And it was a no brainer," he said.
Wirth, who lives in St. Joseph, founded the Wirth Center for Performing Arts in St. Cloud, which has forged partnerships with school districts around Minnesota. His teaching takes him all over the state.
Wirth's base in the Twin Cities is Schmidt's Music in Roseville, where he meets students from across the metro, including William Yang. William appears to be a slight, sheepish, soft-spoken nine-year-old until he attacks the Grieg Piano Concerto.
In the piano teaching world, Paul Wirth is an icon. Talk to any parent of a student or fellow colleague and the superlatives start to flow.
"Paul is just one-of-a-kind," said Susan Freeman-Dopp, the former president of the Minnesota Music Teachers Association who's known Wirth for more than 30 years. Freeman-Dopp said there's a real niche for teachers like Wirth, who reach prodigiously gifted musicians still too young to start establishing careers.
"He's a fabulous, fabulous teacher and I would say he's one of the best in the country if not the world at teaching and developing these talented talented young artists," she said.
What's harder for her to nail down is Wirth's ability to connect with these kids.
"They come out of their lessons and they go home to practice for hours and it's something that you can't quantify in Paul," she said. "It's a charisma."
"I do seem to work well with young people," Wirth said."That's because I have no ego. It's because I don't consider them any less than I am or any different than I am. I consider them peers."
One of those peers is 17-year-old Leo Wexler-Mann, first-prize winner in a Schubert Club high school piano competition earlier this year. Wirth's students often make it on to winners lists when they go up against other young pianists, and Wirth is excited for them.
"But I've never ever ever even once said to any student I want you to win a competition, or I want you to be a professional musician," he said. "This is a calling."
For the last 20 years, Wirth's performing arts school has hosted a camp at Bethel University in Arden Hills for young pianists from across the country. This year's Young Artist World Piano Festival happens July 5th through the 15th and will feature guest artist Andre Watts, plus a taping of NPR's youth-oriented classical music show, "From the Top."