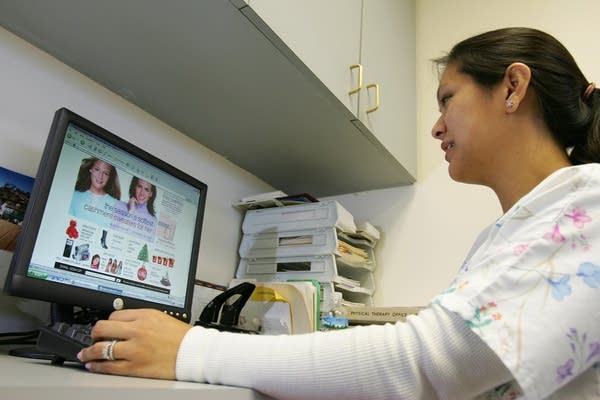 The attorney representing a Minnesota man accused of using neighbors' e-mail addresses to send threats said for now he won't challenge a judge's order that his client stay off the Internet while he awaits trial.
But as the Internet becomes a more vital part of everyday life, those charged with crimes are seeing their Internet rights taken away more often -- and some of them are fighting it.
U.S. District Judge Donovan Frank earlier this week ordered Barry Ardolf of Blaine to not use the Internet, and authorities removed all computers and wireless devices with Internet capabilities from the home he shares with his three teenagers.
Ardolf's attorney, Seamus Mahoney, said he sees the Internet restriction as a tradeoff to Ardolf avoiding jail as he awaits trial on charges of aggravated identity theft and making threats.
"If there was going to be some long term ban, or if I thought it wasn't relevant to what he was being charged with, then I might challenge it," Mahoney said. "But in this case it's pretty relevant to what he's being charged with."
Law experts said that while Ardolf's case has yet to make its way through court, others accused of identity theft, child pornography and other Internet-related crimes are being subject to more restrictions on their Internet use.
"You're probably seeing increasing use of the restriction, and you're also seeing a lot more people appealing it," said Bill McGeveran, a law professor at the University of Minnesota.
A man in Chicago convicted of transporting child pornography who was ordered off the Internet after his release from prison appealed a judge's decision. But a federal appeals court said the Internet restriction was justified, given his crimes.
On the other hand, a decision by a judge in Pennsylvania to ban someone from the Internet for life was struck down by a higher court.
In the coming years, McGeveran predicts the courts will have to figure out a way to prevent someone from committing more crimes using the Internet without taking away their ability to do things like apply for jobs or pay taxes.
"As more and more of our daily life moves online, I wonder if it's going to become more and more difficult to impose these restrictions, or at least blanket bans," McGeveran said. "But I think you're still going to see courts impose restrictions, they might just craft them more narrowly."
While the judge in Ardolf's case threatened in court to send him to jail if he was found using the Internet, Mahoney said the judge has agreed to allow Ardolf to use the Internet for work purposes while he's at work. And Mahoney said it's possible the court would also grant Ardolf permission to use the Internet in other circumstances, such as to pay his bills.
But as a court starts making exceptions to a broader Internet ban, more monitoring might be needed to make sure a defendant is following the conditions of his or her bail or probation. And even if someone is ordered to wear a GPS monitoring device like the one Ardolf has, it isn't likely that authorities are going to always be able to know the person isn't on the Internet.
"They can search the house and make sure they can't get access to it there, but they can't track if they go to Dunn Bros (coffee shop) and get on the computer there," said Brad Colbert, a public defender and professor at William Mitchell College of Law.
Colbert said it's common for sex offenders and others to be banned from using the Internet during their probation, but he said it can hinder a person's ability to reenter society and become a productive citizen again.
"That's the most problematic part of it. Applying for jobs is almost impossible nowadays without the Internet for all kinds of different reasons, including that a lot of jobs only take online applications," he said.
As for Ardolf, he remains free on bail until his trial after refusing to accept a plea deal that would have sent him to prison for two years. His attorney said Ardolf didn't want to plead guilty to something he didn't do.
Prosecutors say Ardolf used neighbors' e-mail addresses to threaten Vice President Joe Biden and other elected officials. He's also accused of posting inappropriate information, including child pornography, on someone else's MySpace page.