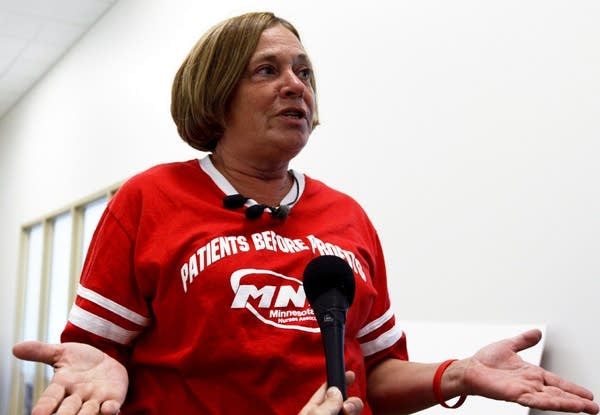 After months of talks, a tentative agreement has been announced between the Minnesota Nurses Association and 14 Twin Cities hospitals.
The deal averts an open-ended strike by 12,000 union nurses who had planned to walk out Tuesday unless the two sides reached an agreement.
The nurses' union successfully fought off pension cuts, but the hospitals won out on the dispute over salary increases. The agreement does not resolve the disagreement over staffing ratios.
Nurses will still need to vote to approve the contract, but union officials say they have agreed to "favorably recommend" it for ratification. A vote is planned for Tuesday, July 6. The union needs more than 50 percent of its voting members to approve to formally ratify the contract.
Union negotiator Nellie Munn said she's pleased with the agreement.
"We have lost nothing," she said. "All concessions were removed, and so we're going to be maintaining our strong position moving forward and continue advocating for patient care."
Twin Cities Hospitals' spokesperson Maureen Schriner said negotiators for both sides reached agreement on the outlines of the deal during talks Wednesday night. Nurses' union negotiators signed off on the framework Thursday after consulting with the union's various bargaining units.
"It was hard work on both sides," Schriner said. "The most important thing that changed was that we agreed that we're going to work together because it's in the best interests of the patients in our community, but that's always been at the front and center. It's just that how we were going to do this. We found a way."
The union and the hospitals have been in negotiations since March. The nurses went out on a one-day strike on June 10.
KEY CONTRACT ISSUES
-- The agreement would adopt the salary increases proposed by the hospitals, including a zero percent salary increase for the first year, one percent the second year, and two percent the third year. The union had called for a 4.5 percent salary increase for each of the next three years.
-- The hospitals had proposed cutting the nurses' defined benefit pension fund. The agreement does not include any changes to pensions or health benefits.
-- Staffing issues had been a major sticking point throughout negotiations, but the agreement does not include any concrete solutions. Schriner said the hospitals "have a renewed commitment to working through both party's staffing issues." Schriner said staffing concerns will be addressed through "existing committee structures" at the hospitals.
The union had wanted hospitals to set aside more money to pay for more nurses. They also called for the hospitals to budget all units at no less than 115 percent of capacity, and jointly develop a staffing plan that takes into account the severity of a patient's illness and the nursing resources needed to care for that patient. In some cases, they had asked hospitals to set nurse to patient ratios for certain units.
Munn, the union negotiator, said nurses will continue to fight for better staffing.
"We started out hoping that we would be able to make some significant changes to our current contracts, and that wasn't possible obviously in these circumstances," she said. "But that's not going to prevent any of our future action, and we've really mobilized our membership around these issues, and that's going to put us in a very strong position to be able to advocate more effectively in the future."
Cindy Olson, a St. Joseph's Hospital nurse who sits on the bargaining committee, said she's glad the nurses avoided another strike.
"I guess when you really look at it, everybody won," she said. "When you go on strike, nobody wins. You ruin relationships. The patients suffer. The community suffers. The hospital suffers and the nurses suffer. So I don't think you can look at it as a loss."
Gary Chaison, a professor of labor relations at Clark University in Worchester, Mass., said the deal could convince nurses in other states to go out on strike.
"They'll look at this settlement and they'll look at what's being promoted in collective bargaining by their employers and say, 'If we can threaten to strike, at least we can fight off a wage cut or wage freeze ... and we can protect our pensions,'" he said.
(MPR reporters Rupa Shenoy, Jess Mador, and Lorna Benson contributed to this report.)