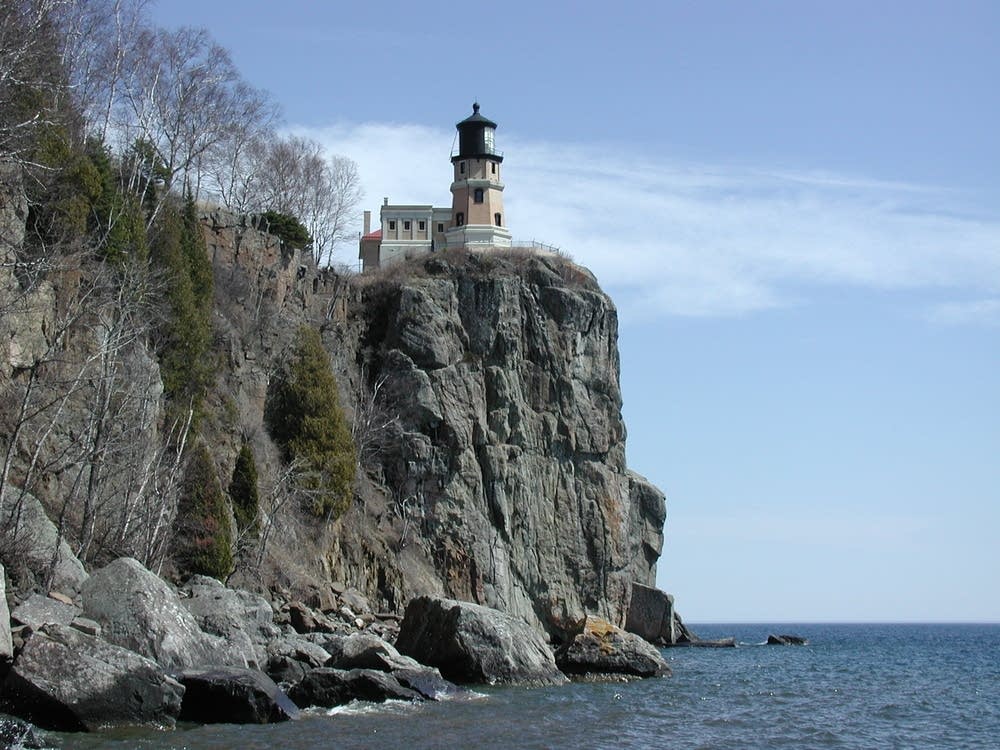 By Danielle Cintron, The St. Cloud Times
St. Cloud, Minn. (AP) -- Mike Roberts was the last U.S. Coast Guard officer on duty at Split Rock Lighthouse, the Minnesota tourist destination near Two Harbors that draws more than 100,000 visitors a year.
The St. Cloud-area resident has the distinction of being the person who extinguished the landmark's light for the last official time when it was decommissioned in 1969 by the Coast Guard.
Evolving technology had made the landmark obsolete.
More than 40 years later, Roberts will return to the lighthouse, which is relit occasionally for special events, to celebrate its 100th year Saturday and to promote his memoir, "The Last Keeper at Split Rock."
"The book chronicles my four-year enlistment in the U.S. Coast Guard from 1966-1970, most of which was spent on Lake Superior as a search-and-rescue crew member and as a lighthouse keeper," Roberts said. "There are tons of books written about lighthouse keepers, but very few actually written by lighthouse keepers."
Roberts began telling his life stories to his children and grandchildren as they grew up. It was at the suggestion of his wife, Mary, and their three sons that he started writing the stories down.
WORDS OF ENCOURAGEMENT
The idea for the book came from suggestions and discussions among family members, and came together after he attended a "How to Get Your Book Published" seminar done by Seal Dwyer of North Star Press of St. Cloud.
"I started the actual writing for the editor September 29, 2009," Roberts said. "I'd been writing stories for years. I already knew most of the things I wanted to put in it."
But the process of translating oral stories into written stories was a bit more difficult than Roberts expected.
"Getting the pictures together was a hoot," he said. "Lots of pictures didn't make it though."
Roberts' book feels like a scrapbook of memories from his 27 months at Split Rock. The memoir is full of short stories meant to invoke laughter, portray sadness and instill a respect for the military and its long history.
"I'd never planned on being in the service. During Vietnam, they were drafting people like crazy," Roberts said. "I opted for the Coast Guard to avoid being sent into the Army or the Marines."
It was the luck of the draw that he got into the Coast Guard.
"A guy didn't show up, and I took his spot," Roberts said. "It's just stuff like that, and you just happen to be there."
Roberts signed up to serve four years during the Vietnam War. He was never shipped out. Instead, he worked as a search-and-rescue crew member on Lake Superior.
"In the military, there aren't choices. They tell you where to go," he said.
"When I received my orders to Split Rock, I was the only married seaman in Group Duluth at the time. The requirement for the position was that you had to be married," Roberts said. "It was just one of those things again."
ISOLATED IN WINTER
In the 1960s, Split Rock was a pretty secluded area that received frequent tourists during the summer months. The closest town at the time was Beaver Bay, and the Roberts' only neighbors were the officer-in-charge and his family.
"During the summer, it was like living in a fishbowl," Roberts said. "In the winter, there wasn't anyone for days. Going to town was like a treat for us. We ended up making our own entertainment a lot of the time. Playing cards, picking agates and making jewelry. We looked for pop bottles, and we would turn them in for burger money. We just kept busy."
Roberts and his wife believed they would finish their service there.
"A guy called up one day and said that Split Rock was closed. I told him yeah, we normally shut down during the winter and didn't run the light," Roberts said. "He corrected me, told me the place had been decommissioned."
Mike and Mary Roberts had no warning and no idea.
"So it was like getting evicted from your home," Mike Roberts said.
REGULAR VISITORS
Roberts was moved to Grand Marais and was part of the crew that helped board up the Split Rock base after it was decommissioned. Forty years later, he and his family still visit the old lighthouse once every few years.
"We show the grandkids where we used to live. Of course, the house doesn't look anything like it did when we were there," Roberts said. "They've restored it to the original 1910 look."
He and Mary were invited back for the centennial event.
"I'm going to try to do a book signing while I'm there," he said. "Over 120,000 people go through Split Rock (some years). If one-tenth of the people buy my book, I'd be set."
The centennial celebration Saturday will include a ceremonial lighting of the beacon and tours of the park.
---
Information from: The St. Cloud Times
(Copyright 2010 by The Associated Press. All Rights Reserved.)