St. Cloud's history of friction with outsiders
Jean Haley understands why some of her neighbors feel uncomfortable about the recent wave of new immigrants to St. Cloud, among them Somalis who practice Islam.
While Muslims have the constitutional right to practice their religion, Haley, 62, said the combination of their race and different faith makes some people uneasy.
"Skin color has a lot to do with it, too," said Haley, who coordinates the dining program at the Whitney Senior Center. "But I think it's one thing to see people come in and they're one color, but then when that color is pushing on their ways, including their Muslim religion, then that makes it a double-whammy."
That unaccustomed blend of a different race and religion has been problematic for St. Cloud, a largely white city that has struggled with high-profile cases of harassment for years.
Grow the Future of Public Media
MPR News is supported by Members. Gifts from individuals power everything you find here. Make a gift of any amount today to become a Member!
From the posting of racist graffiti at St. Cloud State University a couple of years ago to more recent incidents that appeared to target Muslim and Somali residents, the city is grappling with increased tensions.
I understand that the United States is built by people like me who came from other countries. That's what makes the United States unique.
In recent months, Muslim and Somalis have reported anti-Islamic cartoons and death threats. Vandals have broken windows at the city's only mosque, and spray-painted graffiti at a Somali-owned grocery store.
Observers say racial and religious tensions are embedded in the city's history. St. Cloud is rapidly becoming more diverse, but it has long been an insular community closed to outsiders.
The alienation is also felt by whites. At the senior center, Mike Raleigh, who has lived in St. Cloud for 15 years, said he has grown to love his adoptive home and feels so welcome there that he composed a song in its honor. But Raleigh, a volunteer who plays piano at the center, didn't always feel welcome.
As a newcomer, adjusting to St. Cloud was rough at first, because local people weren't friendly, he said.
"I tried to talk to them, communicate with them, visit with them," Raleigh said. "They don't like that. They don't like to be visited with. If they don't know you, they don't want to talk to you ... they're busy with each other."
Raleigh is not alone. Many people who have moved to St. Cloud say fitting in isn't easy -- regardless of one's race, ethnicity, or religion. Others will say the tendency to stick to cliques is not unique to the Midwest.
But given their different appearance, culture and faith, Somalis and Muslims have had a particularly difficult time.
Haley, whose family moved to St. Cloud from Montana when she was a teenager, said some people in St. Cloud think Somalis receive preferential treatment and government benefits, and they resent Somalis for that. The misperceptions were evident during a call-in program on a local radio station.
"I don't think they should be washing body parts in the bathroom sinks and their feet and whatever," one caller said. "That just goes over and beyond decency."
A second asked: "When the Somalians come, how are they given a car and do they have a drivers license?"
Another followed with a frequent complaint: "They don't know how to speak American language -- English!"
A representative with Lutheran Social Services, who was a guest on the call-in show, clarified that refugees do not receive free cars from the government.
Some worry that such misperceptions have fueled recent incidents targeting Muslims and Somalis.
Last month, someone spray-painted "GO HOME" in large red letters across a Somali-owned grocery store. A Muslim civil rights organization has asked the FBI to investigate the vandalism as a hate crime.
The "go home" message confused many African immigrants, including Mohamed Ashur, a naturalized U.S. citizen originally from Somalia who has lived in St. Cloud for the past 10 years.
"I understand that the United States is built by people like me who came from other countries," Ashur said. "That's what makes the United States unique. It's a collection of people from all over the world. That's why America is America."
Ashur said he's grateful to call St. Cloud his home, despite the recent flurry of anti-Muslim activity.
The most high-profile incidents have taken place at the city's two public high schools. The U.S. Department of Education is investigating the St. Cloud school district over allegations that administrators ignored complaints of racial harassment toward Somali students.
The current ethnic and religious tensions in St. Cloud are embedded in the history of Stearns County, and date back to World War I, when the United States was at war with Germany, said Annette Atkins, a history professor at the College of St. Benedict in nearby St. Joseph.
During that era, German Americans became the target of persecution and resentment, Atkins said. Stearns County had been predominantly German since the 1880s, and when the Legislature established a safety commission to ensure Minnesotans were loyal to the United States, it turned its attention to Stearns County.
Atkins said the environment in Stearns County at the time was hostile. The state government wanted to eliminate German culture, and ban German in schools and churches. The Legislature required a censor to read all German-language newspapers to make sure the content didn't carry disloyal messages. Atkins said the actions pitted German-Americans against their families who were still in Germany.
"So I think one effect of that was that Germans in this area really turned inwards," she said. "They turned to each other for safety, for acceptance, and to defend themselves against those outside attacks and that question of their loyalty ... making this a more closed community."
Atkins said people in St. Cloud today still connect based on what they share in common: the same church or long-standing family ties in the county. She said that's one reason why newcomers, including Somalis, struggle for acceptance in the wider community.
"There's not an ethnic bond that people that people can draw on. There's not a family bond. There's not a religious bond," she said. "And I think those are the ways in this county that people have traditionally connected."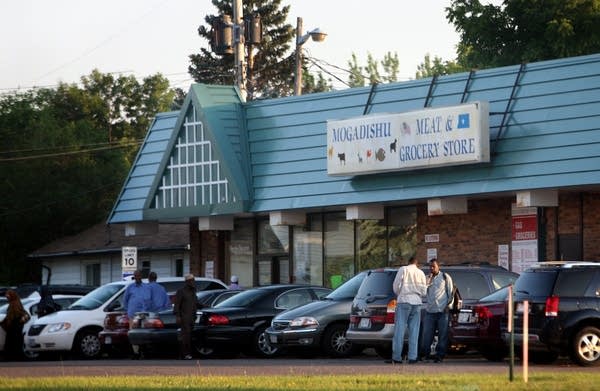 The experience of Somalis and Muslims in St. Cloud has perhaps been made more difficult by the lack of a large African-American community. Although blacks have been in St. Cloud for a century and a half, a backlash against African-Americans in the years before 1920 and Jim Crow laws legalizing segregation limited the community's growth.
But the most-difficult image for some longtime residents may be of the newcomers practicing their religion.
A few dozen of men of all ages walk in and out of a wash room at the Islamic Center of St. Cloud -- the city's first and only mosque. Faucets line the wall, and men sit on wooden stools as they scrub their feet and wash their hands, preparing to pray. The Qur'an requires Muslims to be clean when they pray.
An imam recites a call to prayer through speakers throughout the mosque.
The men pray in one room and the women pray in another. Among those praying is Mohammad Mahroof-Tahir, from Pakistan. Tahir, a chemistry professor at St. Cloud State University, moved to the city from Colorado in 1999. Only about a dozen Muslim families lived in St. Cloud then, said Mahroof-Tahir, who moved away for a year, and returned in 2001 to find that the number of Muslim families had grown to hundreds.
"When I left, I didn't even think of or imagine that we will have a center of our own or will have that many Muslim community members over here," he said. "After just one year, I mean, there was a huge difference, huge change in the population, in the number of Muslims over here."
Mahroof-Tahir and other Muslims say many people in the St. Cloud area were caught off guard by this rapid demographic shift. While an accurate count of the area's African population won't be available until census data are released early next year, local Muslim leaders estimate the number has grown to as many as 10,000 in the last decade.
The mosque is open to anyone who wants to visit, said Mahroof-Tahir, who serves on the board of the Islamic Center. He said the more people get to know Muslims and understand Islam, the less they'll fear them.
Experts say the current resentment of newcomers likely is connected to tough economic times -- periods when race relations often become difficult.
It's no coincidence that race relations flare up during a slumping economy, said Benjamin Friedman, a political economy professor at Harvard University. Friedman has written extensively about social and political attitudes and behavior during periods of economic prosperity, decline, and stagnation in the United States.
"It's race relations. It's religious prejudice. It's ethnic tensions," Friedman said. "It's attitudes toward immigrants. It's generosity toward the poor."
Unemployment in Stearns and Benton counties rose from 6.2 percent in May to 6.7 percent in June, according to the Minnesota Department of Employment and Economic Development.
St. Cloud Mayor Dave Kleis believes that the changing face of the city has positively affected the city, which benefits from growing diversity and an economy that thrives in part on a new immigrant labor force. But he acknowledges that the recent tensions are a negative response to demographic changes.
"Race issues, whether it's cultural issues, race issues, or religion issues, there's not a city in the world that doesn't have a challenges in that respect, and there's no city that's mastered it," he said. "But we work constantly to make sure that we are a welcoming community and continue to do better in that area. And that starts with each individual."
EDITOR'S NOTE: An earlier version of this story spelled Mohammad Mahroof-Tahir's name incorrectly. This has since been corrected and we apologize for any confusion this may have caused.
Gallery
1 of 1