St. Cloud school board elections feature Somali candidates
St. Cloud residents will vote in two elections Tuesday to narrow down candidates for school board seats.
For the first time in St. Cloud history, two of the candidates are Somali. One is running in a primary election that will narrow down the candidates from seven to six to get in the general election in November, while the other is running in a special election (that will narrow the candidates from three to two to replace a resigning school board member.
Hassan Yussuf has been living in St. Cloud since 2001. He has been closely following the problems that the St. Cloud school district has faced in recent months. The U.S. Department of Education is investigating allegations that school administrators ignored complaints of racial harassment. And in June, the superintendent resigned with one year remaining on his contract. The superintendent said he couldn't deal with the school district politics anymore. Yussuf said he's concerned about what he sees in the district.
"All that seems to me that the school board is not managing real well what's happening in the school and they don't have a good connection with the superintendent," Yussuf said. "That's why you see someone quitting or you have to have some other one being replaced."
Yussuf said, if elected as a school board member, he will work to help improve the relationship between the school board and the superintendent. He also wants to bridge cultural and religious misunderstandings among everyone at the school district by promoting more integration.
Yussuf said a recent event that focused on student achievements for students of color underscores the challenge. He said highlighting their gains was good, but holding separate events reinforce cultural barriers.
"They are brother and sisters who live together and go to the same school, so I don't know why they should have different meetings," he said. "So the management should foster integration where they bring students together of different race, different color, different background, different status, where the students feel they are in the same group."
Mohamed Yusuf, no relation to Hassan, also shares those goals. He's running in a special election to replace a resigning school board member. He said he wants to see more transparency about how the school district is using money for equity and integration programs, and he wants to help Somali parents with limited English stay abreast of school district issues.
"There are a lot of community members who normally attend school board meetings," Yusuf said. "Some of the people are actually people who do not speak English. They would like to know what's going on with their kids. Those are the people who I'd like to represent in the school board."
The two candidates said they are running to represent all students and families of St. Cloud, not just those who are Somali and Muslim.
At a community center, other members of the Somali community feel confident that the candidates will be able to help address the issues in the school district. Abdirahman Muhumed is a family coordinator with Catholic Charities.
"People don't understand each other," Muhumed said. "There's a lot of mistakes. There's a lot of problems between the children and the teachers, between the family and the teachers, or between the district and the families. And I think if they get this position, they may cover that gap and help both of the sides."
Muhumed said both candidates are well known and well respected among Somalis. He said more African and Muslim residents would feel comfortable approaching a diverse school board.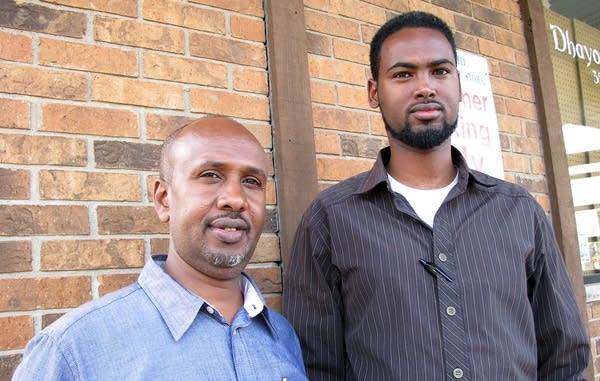 Mohamed Ukash, a cultural navigator for the school district, said the fact this is the first time Somalis are running for the school board is a big deal. He said it will be disappointing if neither wins, but it won't mark the end of Somali involvement in St. Cloud politics.
"If they do not make it, we will just fight to the end," Ukash said. "In next election, we will be there again, fighting for the same position until we reach the higher positions. Maybe one day we'll see a Somali mayor in this city."
Both candidates said they feel pretty good about their chances, and that they are ready to run again during the next election cycle if they don't make it.