Slideshow: Photos from the Hormel strike in Austin
In the '80s, Hormel felt pressure to remain competitive in the meatpacking industry. When the company demanded a 23 percent wage cut, on August 17, 1985, about 1,500 workers with the United Food and Commercial Workers Union, Local P-9, in Austin walked off the job. The 10-month strike made national headlines and devastated the city. Families stopped talking. National Guard soldiers patrolled the streets to keep the peace. Red-faced screaming matches happened almost daily on the picket line. Check out the complete series "Austin at a Crossroads, 25 Years after the Hormel Strike"
Gallery
11 of 11
1 of 11
2 of 11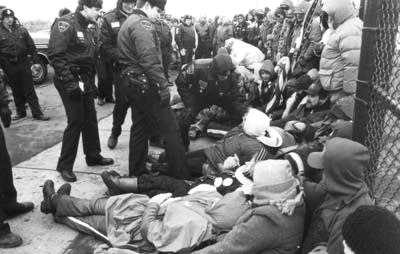 Gain a Better Understanding of Today
MPR News is not just a listener supported source of information, it's a resource where listeners are supported. We take you beyond the headlines to the world we share in Minnesota. Become a sustainer today to fuel MPR News all year long.