For those with rare skin disease, U of M treatment gives first-ever relief
Payton Thornton, 5, knows he is going to the hospital soon for a big procedure.
But for moment he is more interested in selling his dad some wooden pretzels from a miniature store in the playroom at the Ronald McDonald House.
"Eat it," he tells his father, Reid Thornton.
"Eat it? Nah, I don't know if I like that. Put some ketchup on it and then I might eat it," Reid Thornton said.
Grow the Future of Public Media
MPR News is Member supported public media. Show your support today, donate, and ensure access to local news and in-depth conversations for everyone.
Payton, who's from Alabama, sorts through his toys with tiny fingers that are separated from one another by protective layers of gauze.
If he didn't wear the wrappings, the mere friction caused by his fingers rubbing together would tear his skin. His body would try to heal the wound, but it wouldn't have the right materials to do so.
Payton's condition is called epidermolysis bullosa, or E.B. for short. Kids with this disease are missing a key protein that fixes skin. The absence of the protein causes his body to overcompensate, leading to scarring that would eventually fuse his fingers together. Children who are born with the disease usually die before reaching adulthood.
Researchers at the University of Minnesota say for the first time they have successfully treated the rare, but fatal skin disease using stem cells. Payton's feet are already so scarred that the spaces between his toes are now gone. The wounds and scarring can occur anywhere on his body.
Joy Thornton, Payton's mother, said the worst areas are around his neck, the backs of his shoulders and the tops of his arms
"You know when he gets those wounds like that, it just looks like you've poured a bucket of hot water. I mean, it's just raw skin," she said.
The Thorntons have traveled to Minneapolis in the hopes of healing Payton's wounded skin. They know it won't be an easy process. The U of M's new treatment is very promising -- ten children so far have had their sores improve, but two others died from complications.
Dr. John Wagner, the lead investigator on the project, said the main challenge for his young patients is surviving the heavy doses of chemotherapy that wipe out their immune system, so they can receive bone marrow stem cells from a donor.
"It's not an easy procedure and it's very risky," Wagner said. "That's one of the things that I think people are going to question -- trying something so new and risky in these young children."
Without the treatment though, patients could still die early from infections and an aggressive skin cancer that usually develops by their teens.
"This is a horrendous disease," Wagner said. "If we can do anything that impacts upon that quality of life, it's a good thing."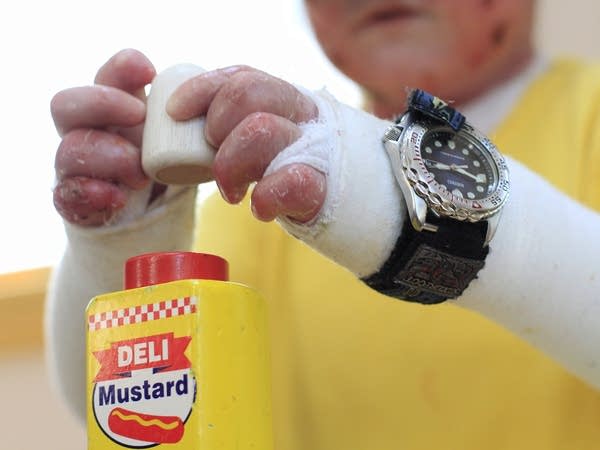 Payton's odds of having a successful bone marrow transplant have been improved greatly by his perfect donor match -- his 8-month-old brother, Paxton.
Payton's older brother wasn't a good donor match. So the Thorntons used in vitro fertilization and genetic testing to select an embryo that would be suitable. Joy Thornton said her son Paxton won't remember the discomfort of having some of his bone marrow removed.
"We wanted to be able to give Payton the best chance at life," she said.
There's still a lot that researchers don't understand about their novel therapy. They know the bone marrow stem cells they've selected produce large amounts of collagen 7, a sort of glue that helps holds the skin together. But they're not sure which particular stem cells are the most important in the process and if they are actually making new skin or some other substance.
The results from their first clinical trial of seven kids showed improvements in each of the five children who survived. The same is true for the five additional kids they've treated since that trial closed. But Dr. Jakub Tolar, who is in charge of the laboratory research on the project, said none of the children have been cured.
"In every single child we've treated, there is a sore somewhere that has not been treated well," Tolar said.
But Tolar thinks it may just take more time for that level of healing to happen. Right now, he is feeling hopeful that the stem cells he's using are actually producing skin. He just has to prove it.
"If that's what's happening ... I'm very cautious though, then this is it! I'm very excited about it," Tolar said.
Krista Boyd is the mother of an E.B. patient who received treatment at the U of M almost two years ago. Boyd, who's from Nixon, Missouri, said she'll never forget the first time she was able to get rid of the bandages on her son Keric's hands.
"I remember we were walking down the hallway and he kept clapping," Boyd said. "And I said, 'What are you doing?' And he said, 'I can hear myself clap.'"
Wagner and Tolar are planning to train transplant doctors in Canada and England in their techniques, so more kids are able to receive the therapy. Currently, most insurance plans in the U.S. don't cover the experimental procedure, which costs hundreds of thousands of dollars.
The results of the University's clinical trial are published in the latest issue of the New England Journal of Medicine.
Gallery
6 of 6
1 of 6
2 of 6