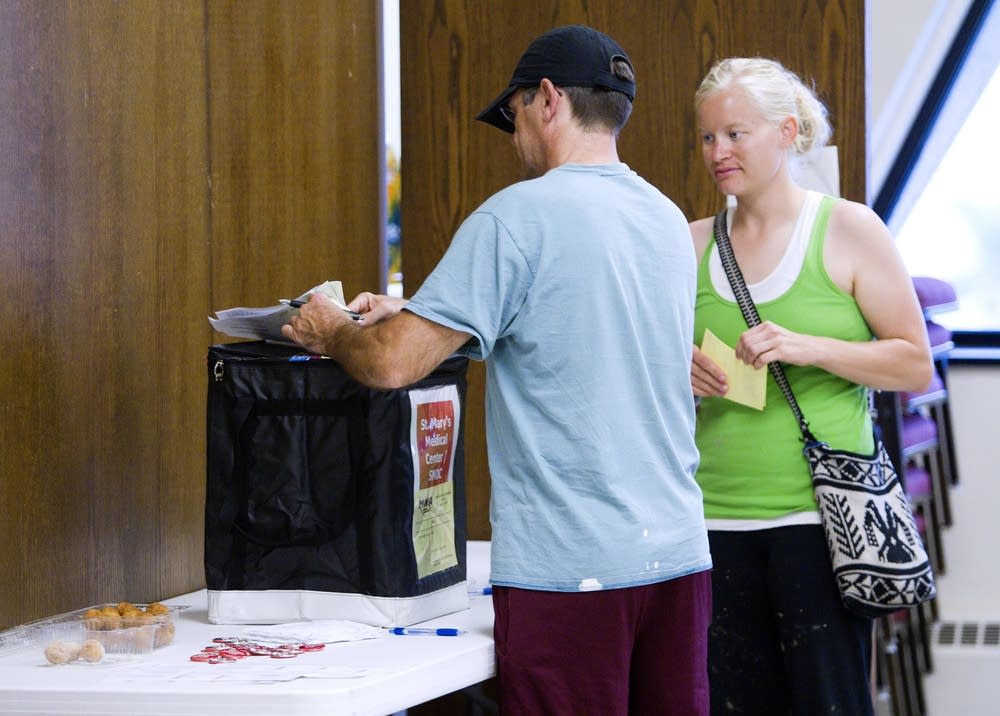 More than 1,300 Duluth nurses are voting today on final contract offers from the city's two hospital groups.
Union organizer Dan Engelhart said a "steady stream" of nurses were voting at Duluth's United Methodist Church, which overlooks downtown.
Red-shirted union negotiators were on hand to field questions from nurses before they voted, and the atmosphere was festive, with people talking over baked goods and coffee.
The union has urged nurses to vote "no" on the contract and authorize a one-day strike, similar to the action that was taken by 12,000 Twin Cities nurses this summer.
Emily Opacich, a nurse at St. Mary's Medical Center, said she voted against the contract because she doesn't think the contract proposal addresses staffing shortages. Those shortages lead to problems at work every day, she said.
"I think if we don't deal with it now, when are we going to deal with it?" Opacich asked. "Let's take care of it, and take care of our patients."
Nurses want specific contract language to give them the authority to add staff on busy days.
Laurie Olesiak, a St. Luke's nurse who also voted against the contract, said low staffing levels make her job stressful.
"You're scared to death while you're working and when you leave you're thankful that a patient didn't pass away on you," she said.
The contract offer from Duluth's SMDC Health system, which includes St. Mary's Medical Center, and St. Luke's Hospital affects about 1,350 nurses.
Hospital officials have said they are putting forth their best offer and that they hope the nurses will consider it carefully before voting to authorize a strike.
But none of the dozen or so nurses MPR News talked to at the voting site said they voted to accept the contract. Several said they were overworked because of inadequate staffing levels.
If at least two thirds of the ballots cast are "no" votes, that gives negotiators the green light to call a one-day strike, although no strike date has been set. Voting continues until 8 p.m.
(MPR reporter Elizabeth Dunbar contributed to this report.)