Planning for newest light rail line enters new phase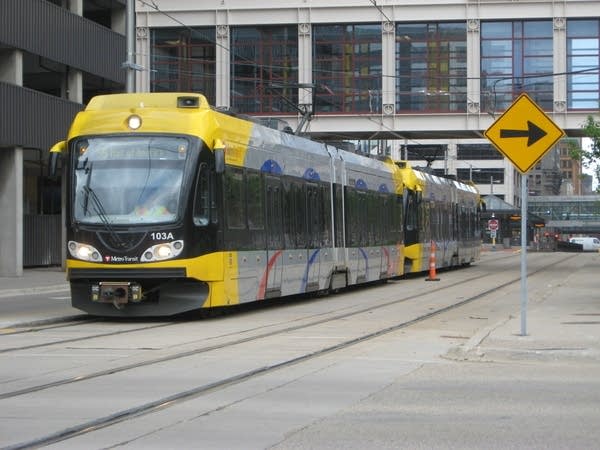 The heavy equipment is just revving up in preparation for building the Central Corridor light rail line in the Twin Cities metro area, and already transit planners have their eyes set on the next project, the Southwest Corridor LRT.
Local planners Friday sent federal officials projections for Southwest Corridor cost and ridership. And soon they'll submit a formal application for federal money to help pay for the project.
Construction crews are working in downtown St. Paul beginning what will be several years of work to build the Central Corridor light rail line between St. Paul and downtown Minneapolis.
If planners can get federal transit dollars, they predict that as soon as the workers here finish building Central Corridor, they can move right over to building the Southwest Corridor project from downtown Minneapolis to Eden Prairie.
Grow the Future of Public Media
MPR News is supported by Members. Gifts from individuals power everything you find here. Make a gift of any amount today to become a Member!
This week, the Metropolitan Council sent the Federal Transit Administration their estimates for ridership, and the price tag, for the Southwest Corridor line.
Ridership is expected to be about 29,000 passengers per weekday, which is lower than the Central Corridor estimates and the numbers on the existing Hiawatha LRT line.
The cost is estimated at $1.2 billion, which is also higher than the other projects because it's 15 miles long, compared to 11 miles for Hiawatha and Central Corridor.
The Hiawatha line cost about $800 million to build, and the pricetag for Central Corridor is $957 million.
Some of the other numbers compare more favorably.
The total trip time on the southwest line is 35 minutes, which is shorter than the other routes.
The faster ride, and the number of people who switch from cars to the train are big selling points for the southwest project, according to the Met Council's Mark Fuhrmann.
"What the FTA calls 'user benefits,' travel time saved by people who ride the train who otherwise would have driven or ridden a bus, is 2.6 million hours a year," he said.
The Metropolitan Council will ask the Federal Transit Administration to supply up to half the funds for the Southwest light rail project, or about $600 million.
But competition for federal transit dollars is intense.
Including Central Corridor, there are 42 projects around the country that have won approval or are likely to win Federal Transit Administration dollars.
Then, there are up to 100 other projects, including the Southwest Corridor, that are in various stages of planning but haven't yet put in an application.
The next step happens in September, when preliminary engineering plans need to be approved, according to Fuhrmann.
Then there'll be months of consultation on planning and environmental questions, permission to enter final design, and, finally, some years down the road, a "full funding grant agreement" -- the promise by the FTA to supply the $600 million.
The projection is trains could be rolling by 2017, three years after trains roll on Central Corridor tracks.
The rush to build Southwest light rail just as major construction is about to start on Central Corridor could create a cash flow problem.
One option is to call on the Counties Transit Improvement Board, or CTIB, to bridge any gap.
Every year, CTIB collects revenue from a quarter-cent sales tax on residents of Hennepin, Ramsey, Dakota, Washington and Anoka counties. All the money goes to fund transit projects.
CTIB board chair Peter McLaughlin, a Hennepin County commissioner, says he's confident the board can borrow money to keep the funds flowing.
"In order to cash-flow Central Corridor, we're going to need to issue bonds and then pay them back over time," said McLaughlin. "Southwest would come after that, and we'd start moving to build that as well. We've got the capacity to build both those lines and have the Counties Transit Improvement Board make its contribution to both of those lines, and get them up and running."
Ten years ago, the Twin Cities was relatively transit starved, compared to peer cities around the country. A decade, and hundreds of millions of dollars in spending, have changed that.
By 2017, planners predict, Twin Cities residents will have three light rail lines up and running -- Hiawatha, Central and Southwest -- in addition to Northstar commuter rail and several bus rapid transit services.
Gallery
1 of 1