Monday was the first day of school for more than 16,000 students in southwestern Minnesota. That might sound odd to most Minnesotans, because state law prevents most schools from starting before Labor Day.
This group of 25 districts got special permission to do so, saying the goal of their plan is to raise test scores.
In most of the schools involved, it was a pretty normal first day of classes.
"The kids' reactions don't really change whether it's before Labor Day or after Labor Day. It's anxiety for a few, but overwhelmingly quite positive," said Klint Willert, superintendent of the Marshall school district.
The early start now underway gives all 25 districts the same calendar -- not just the same starting date, but also the same days off.
Supporters like Willert say that will allow them to pool money, so they can afford more robust professional development for teachers across the region.
Other benefits being touted include the fact that kids will finish their first semester before the winter break, so there'll be no final exams right after those two weeks off. And 10 more school days will fall before the springtime state standardized tests. Willert can't promise higher scores in Marshall, but he comes close.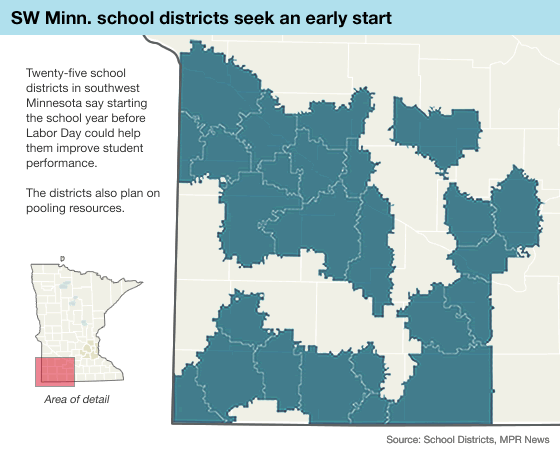 "When you factor in what 10 days equates to in the amount of instructional time for students, I think it can make a significant difference," said Willert. "When you factor in that Minnesota as a state has fewer instructional days, we need to maximize the time we have, and we feel this plan does that."
For some schools, it was a steamy day. In Mountain Lake, the town's old school building is brick and does not have air conditioning.
Activities were limited during P.E. class and after-school sports.
Superintendent Bill Strom says that might give ammunition to critics of the early start, but he says it was the right move.
"We know the context in which this whole thing is operating. Some people would rather be on vacation right now," he said. "Put that together with the fact that we've had an unusually hot day, it can create the momentum that 'Gee, you should have done something different.'
"But I haven't heard any of that today."
Starting early is not as simple as just showing up on a different day. With the Minnesota State Fair starting Thursday, some were concerned that if students started classes early,they wouldn't be able to participate in fair activities like 4-H. District leaders say that's not the case, and every affected student will get an excused absence.
But families still have to maneuver. Both Ben and Bryan Doeden of Worthington will show goats this week at the fair.
Ben just started high school, and his parents, both teachers, didn't want him missing too many days this week. So he'll only miss school on Friday to show his goat at the fair. Brother Bryan, a seventh-grader, will miss three days of school and take care of both goats until Ben arrives at the fair.
Doeden family members say they still would have preferred a later school start, but they've managed to work it out. Logistics aside, Bryan notes the early start means less summer.
"Everyone's kind of disappointed," he said. "They're taking some of your summer away and the kids all enjoy summer."
State 4-H officials say they've been able to accomodate the early start kids, largely because they scheduled non-livestock events for them over a weekend.
The early start only affects about 2 percent of all students in Minnesota, and the schools involved admit there'll be no test scores to measure success until next summer.
Even so, the idea is spreading. A second group of 15 to 20 school districts in the Mankato area is discussing it as well.
"I think 'kicking the tires' is a good way to put it," said Jeff Olson, superintendent of the St. Peter school district. "We're checking the car out and deciding if we want to take it for a test drive."
But Dave Siegel doesn't like the fact that more districts are considering an earlier start to school. Siegel is executive director of Hospitality Minnesota, a leading lobby group for the state's tourism industry.
He says the early start isn't a proven way to raise scores, and it skirts the Labor Day rule that lawmakers established 25 years ago. The tourism industry contends the Labor Day law helps the economy by giving families one last opportunity for a vacation.
That's why Siegel says no other school should be allowed to start early until this first group of 25 districts has a few years' of test scores in hand to show whether there's been an impact.
"Once you allow one set of districts to coalesce and guide them through the process, then you could end up essentially with 20, 30, 40 different coalitions of districts that have gone through this process, and effectively you have circumvented the will of the Legislature," said Siegel.
The Labor Day law has come up in recent years at the state Capitol, where both supporters and opponents have tried to bolster their position. So far, none of their proposals have passed.