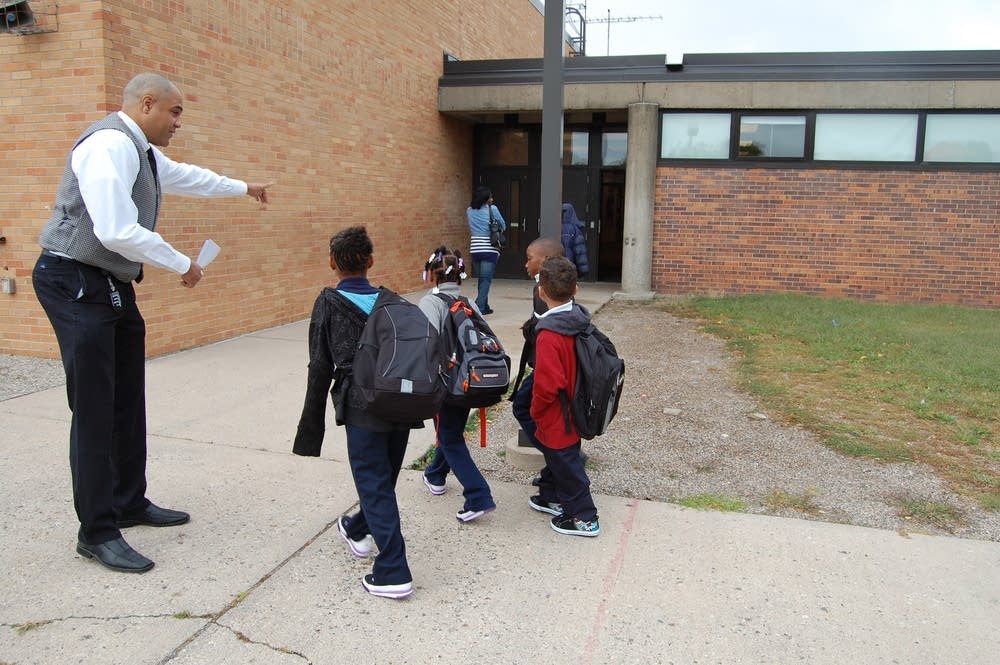 Today was the first day of school in most districts across Minnesota.
For 30 schools that were identified earlier this year as the state's worst performers, it also marks the start of a three-year effort aimed at turning themselves around.
One of those schools is Maxfield, which is located in St. Paul's historically black Rondo neighborhood. Principal Nancy Stachel says there probably wasn't the same shock at her school that other communities felt when they showed up on what many now refer to as "the list."
Stachel says Maxfield's test scores and reputation had been low long before the state's list of worst-performing schools came out this year.
"I don't know that showing up on the list was any worse than the things that were already being said about what was going on here," she said. "There was a lot of frustration in the community about the way things were being handled."
Most Maxfield students live in poverty, and Stachel says the schools has had a lot of turnover in the past, especially with principals. She also says teachers in the past were sometimes there because they had to be, not because they wanted to be.
Stachel says that's all changed. Students showing up Tuesday for the first day of the school year probably didn't notice many physical changes to the building, but Stachel says it's a completely different school in ways you can't see.
"There's an urgency about it, and I don't think that's been there before. There's a sense of 'we've got to get this done,' and there's a sense that we're going to get this done," said Stachel.
Being on the list doesn't seem to have affected parents' decisions to send their kids Maxfield. Projected enrollment at Maxfield about 10 more students than last year.
But none of the leaders of any of the schools on the list will be able to tell if they really did improve achievement until next summer. That's when the state releases the next round of standardized test scores.
While the halls of Maxfield were alive with first-day excitement, the halls at another school on the list, Brooklyn Center High, were silent.
The first day of school at Brooklyn Center High is being delayed until next Monday to give teachers and staff more time for professional development. One such group met Tuesday morning in the school library.
Social worker Micki Mandell says the extra staff development time is important, considering that all eyes will be on Brooklyn Center, and all the other schools on the list, to see how they do.
"People have a lot on their plate, and so there's still that pressure," said Mandell. "It feels like people are energized and ready to take on the challenge."
Brooklyn Center and Maxfield are each getting more than $1 million to spend just on their turnaround efforts. Both schools' plans include more staff development, as well more instructional time -- which is a requirement from the federal governement to get the money. The school day will be longer at Brooklyn Center High this year and at Maxfield next year.
Critics have targeted the federal requirements behind the turnaround effort, saying they don't account for each school's unique circumstances.
Critics especially bemoaned the requirement that principals be fired at turnaround schools, even if it wasn't that principal's fault for being on the list.
State officials did not respond to requests for an interview for this story, but they have defended their work in the past, saying the end result will be drastically different schools in three years.
They've also said this is a one-time list funded with one-time money, but that a long-lasting goal is to take what works at these schools over the next three years and replicate it statewide.