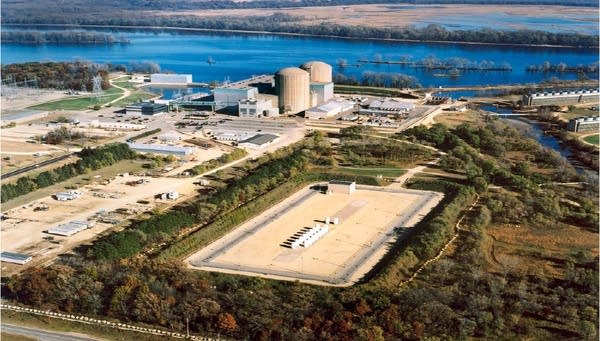 The Prairie Island nuclear power plant is working on a backlog of hundreds of small problems, at least one of which has lingered for nine years.
Xcel Energy's efforts to fix those problems and recover from criticism from the federal government comes as the company is asking to extend the life of the plant another 20 years.
Xcel says it will have the problems resolved soon, but that doesn't satisfy some people living nearby.
Prairie Island is one of a handful of nuclear power plants flagged by the Nuclear Regulatory Commission as having a pattern of human errors.
The agency also placed the plant in a category called "regulatory response" -- meaning extra inspections are required to make sure it operates safely.
Xcel's site vice president for Prairie Island, Mark Schimmel, says too many people had become complacent.
"The complacency is what got us where we are, that's why we're finding ourselves in a recovery plan, that's why we're digging ourselves out of this hole," he said
One mistake happened three times over a period of nine years before it was fixed. A pipe became blocked, which triggered safety features that forced the reactor to shut down.
The first time it happened, the Nuclear Regulatory Commission told Xcel to fix it. But the NRC didn't check to make sure it was fixed. That's because the incident didn't affect the safety of the reactor.
Power plants around the country file dozens of reports with the NRC every day. They can be as simple as a burned-out light bulb, or much more serious. The agency just doesn't have enough staff to check on all of them.
As part of Xcel's recovery plan, workers are whittling down a list of nearly a thousand items to attend to -- down from 1,500 a year ago.
Schimmel said small or large, every unusual incident should be documented and fixed.
"If I see people not writing up issues, I start to worry," Schimmel said. When you operate a machine as complex as this, you want people to identify everything, every little thing that doesn't look right, you want somebody to tell you."
Xcel's other nuclear plant at Monticello doesn't have a comparable history of problems.
Prairie Island has been operating since 1973, and its license will expire in 2013. Xcel relies on the plant for one-fifth of the electricity it sells. The company's application for a license extension is under review by the NRC. There's no requirement that Xcel clear its safety record before the license is granted.
David Lochbaum, a nuclear engineer and safety expert with the Union of Concerned Scientists, a non-profit watchdog group, said problems at nuclear plants typically happen when a plant is new and the bugs are being worked out, and again when it gets old and equipment becomes brittle.
"Complacency and aging are a bad combo, because at a time when risk may be going up, letting your guard down is the wrong way to handle that reality," Lochbaum said.
That's certainly the opinion of the plant's nearest neighbors, the Prairie Island Indian Community. Some members live just a few blocks away from the plant and its casks of radioactive waste, stored on a concrete pad nearby.
The tribe claims Xcel hasn't shown it can manage the aging equipment at the plant safely enough to justify having its license extended.
"I think they need to really explore that more thoroughly, and to reassure not only the tribe but the state and the whole country with what we're facing with this administration now and the shutdown of nuclear waste that's piling up there," said Ron Johnson, the tribe's assistant secretary-treasurer. "There's 27 casks that are continually growing as years go by as nuclear waste is stored out on the pad there."
Xcel says it expects the NRC to give the plant a clean bill of health and approve the license extension by the end of the year.