Buyer beware: Consumers shouldn't assume recalled food is no longer sold
Consumers should not rely on inspectors to make sure that expired or recalled foods, like the 500 million eggs recalled last month, are no longer being sold, public health experts said. 
In most cases, inspectors rarely check grocery shelves for recalled products, and instead rely on the producers of the tainted product to make sure that the recall was effective. 
No regulations exist to prevent stores from selling expired food, which inspectors view as a food quality issue rather than a food safety concern. Agencies only intervene when the expired product has been found to cause illness, which public health specialists say is rare. 
Food recalls sound official, but actually they are voluntary.  Removing the tainted food is up to the stores and restaurants after they receive the recall notice from the company that produced it. Government agencies try to monitor to make sure the recall is happening but they have limited authority or resources to intervene. 
If a company refuses, the FDA and the Department of Agriculture's Food Safety and Inspection Service can seize the tainted products and seek an injunction to prevent the items from being sold. But by that point, in many cases, the recalled product has already made its way into restaurants and household kitchens. 
A bill that would grant the FDA the authority to impose mandatory recalls and would provide more resources for inspections has stalled in the U.S. Senate.
"It's really a tragedy that each year, we have these big outbreaks, and we talk about why it's important to [strengthen the FDA], and it never gets done," said Michael Osterholm, director of the Center for Infectious Disease Research and Policy at the University of Minnesota.
Despite gaps in the recall system, Osterholm said that consumers have a low risk of contracting a severe food borne illness. Most stores voluntarily comply with food recalls, and in many cases, most of the food has already been sold before the product is recalled. But there are some exceptions where more oversight is needed, he said, like last year's recall of hundreds of products tainted by salmonella-contaminated peanuts. That outbreak killed nine people and sickened hundreds.   
"All recalls are surely not created - in the eyes of the food borne disease gods - equally," he said.
TRACKING THE EGG RECALL IN MINNESOTA
Wright County Egg and Hillandale Farms issued voluntary recalls in mid-August, after salmonella-tainted eggs sickened hundreds of people. The two Iowa-based food producers sent recall letters to distributors, who then notified the owners of individual stores, agriculture inspectors said.
"All of that process is essentially voluntary," said Ben Miller, a manager for the dairy and food inspection division of the state's Department of Agriculture. 
Miller said that during a recall, the Department of Agriculture calls about 25 to 30 percent of grocery stores, gas stations, and convenience stores to make sure that the recalled product has been discarded. The Department of Health handles communication with restaurants.
By the end of August, agriculture inspectors had called about 400 stores. Of those, about three percent were still selling the recalled product, Miller said. 
In most cases, agriculture inspectors do not travel to individual stores specifically to check for recalled food, but they do check for those items as part of a regularly scheduled inspection, he said. Inspectors who find stores that sell recalled food ask the store's owner or employees to dispose of the product.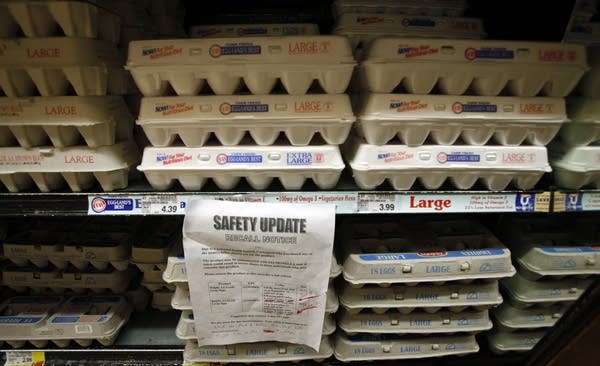 The state rarely penalizes a store for accidentally selling recalled food, Miller said. However, if a store refuses to dispose of recalled products, the state can seek an injunction to embargo the items. The agency could also impose a fine or pursue criminal charges against the store's owner for selling adulterated food, but Miller said that all of these scenarios are rare. 
The Department of Health has slightly different strategy to make sure that the restaurants it licenses are aware of the recall. The department uses an automated phone system to call each restaurant. 
"It's kind of like a reverse 911 where we can actually record a message and then send that out," said health department spokesman Doug Schultz.
Schultz said that inspectors also visit restaurants if they get a complaint or find a recalled product during a routine inspection. He estimates that, like stores, about three percent of restaurants had not discarded the recalled eggs.
Dave Read, a dairy and food inspection manager with the Department of Agriculture, said that inspectors investigate stores if they notice a pattern or receive customer complaints. He said that owners of smaller stores might be less likely to understand recall notices, but he said that no data exists to show that a small store or gas station is more likely to sell recalled food. 
"We do find that firms for one reason or another haven't heard about [a recall]," Read said. "Maybe they received a letter and didn't open it. There could be any one of a number of ways that they may not get the notification."
A ROLE FOR CONSUMERS
Consumers can play an important role in food safety, but they often neglect to follow basic precautions, said Craig Hedberg, a professor at the University of Minnesota's School of Public Health who specializes in the study of food borne illness. 
Part of the problem, he said, is that consumers focus too much attention on food quality and expiration dates.
A recent trip to six gas stations in the Twin Cities found that two were selling expired or rotting products - including expired milk and sausage, and a tomato covered in mold and packaged in cellophane. 
But Hedberg said that these items and most expired foods are unlikely to cause serious illness. If anything, he said, mold might reduce the risk of food borne illness because it can destroy dangerous bacteria like salmonella. 
"Moldy tomatoes would certainly be disgusting to eat," he said. "But (the mold) wouldn't really tell you whether it was safe to eat or not."
Instead, he recommends that consumers follow a few basic rules: Cook red meat, poultry, and eggs thoroughly. Follow guidelines about which foods to refrigerate. Discard recalled food. Eat sliced deli meats and other sliced foods promptly, as those foods are at greater risk for listeria, a potentially deadly bacteria that can multiple to dangerous levels while sitting on a refrigerator shelf for several weeks.  
And, he added, "When in doubt, throw it out."
Gallery
1 of 1