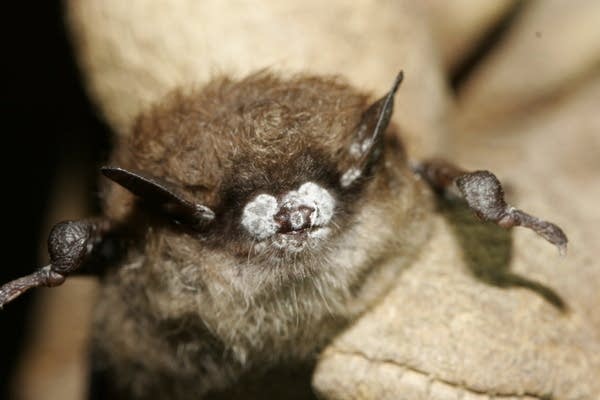 A contagious disease killing bats in more than a dozen states hasn't reached Minnesota yet, but wildlife researchers know it can spread fast and are watching for it.
The Minnesota Department of Natural Resources stepped up its summer bat monitoring program this year to target the two caves in the state with large bat populations -- Soudan Mine in northern Minnesota and Mystery Cave in southeastern Minnesota.
And tourists visiting those two caves who have visited other caves are being asked to take certain steps that could prevent the spread of white-nose syndrome -- the disease that has spread to 14 states and two Canadian provinces and killed more than 1 million bats.
"It's pretty hard to tell exactly when it could get here, but it does travel rather quickly," said Lori Naumann, public information officer for the DNR's Nongame Wildlife Program.
Besides helping limit the mosquito population, bats feed on moths and other insects that can be agricultural pests. If pest populations go up, crops could be hurt -- or farmers might have to apply more pesticides, which can cost them more and further harm the environment.
The disease was discovered by a caver in 2006 in New York. It has reached as far west as Oklahoma, as far south as Tennessee and as far north as Ontario and Quebec.
It hasn't been detected in the Upper Midwest, but the disease traveled more than 500 miles in about two years -- perhaps spread by bats but also possibly spread by humans who have visited caves.
The disease is a fungus that genetically matches one found in Europe, said T.J. Miller, chief for endangered species for the U.S. Fish and Wildlife Service's regional office that includes Minnesota and seven other states.
"It looks to be a large threat that we're very concerned about," Miller said. "It has the potential to be devastating."
If the disease kills a large number of bats in Minnesota, it could take years for the populations to recover, Miller said.
"Some species have very limited reproductive rates, so the loss of adults is extremely hard on the populations," he said.
Minnesota has seven bat species. Two of them -- the big brown bat and the little brown myotis -- are considered species of special concern in Minnesota, meaning they are already threatened.
Wildlife officials in Wisconsin have begun an aggressive bat survey to determine whether populations have been affected by white nose syndrome yet. So far it hasn't been confirmed there, Naumann said.
In Minnesota, Naumann said DNR officials had already been monitoring bats through the Minnesota County Biological Survey. But DNR researchers decided this summer to also implement acoustic monitoring near the Soudan Mine and Mystery Cave to count bats and determine their species.
Those numbers will be analyzed this fall, and DNR researchers will also visit the caves in the winter to watch for signs of the disease, which researchers are still trying to understand.
And cave visitors will continue to be asked about their visits to other caves and whether they have changed clothes and washed their shoes since then.
Naumann said the fact that white-nose has already been confirmed in Oklahoma and Canada means researchers must look throughout Minnesota for signs of the disease.
"It's very possible that either one of our major hibernacula could be hit first," she said.