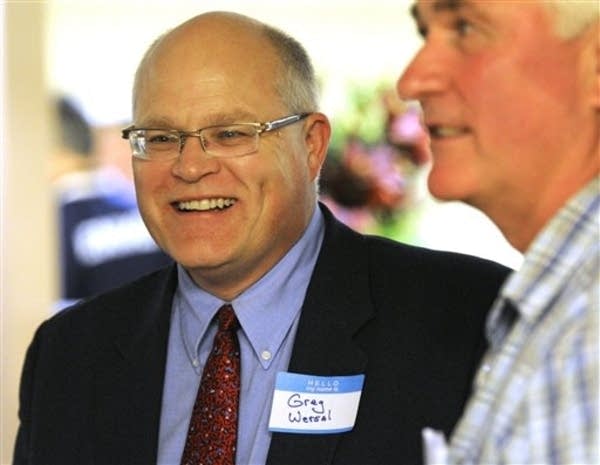 In what's officially a nonpartisan race, Minnesota Supreme Court candidate Greg Wersal appears at as many Republican events as he can. He goes to tea party gatherings. He's shaken hands at the State Fair, county fairs and retirement homes.
And the conservative activist has spent much of the past few weeks asking for donations, something Minnesota's judicial candidates weren't allowed to do until Wersal won his latest court victory in July.
That triumph gave Minnesota judicial candidates more latitude than ever to state their views, seek endorsements and raise money. Yet despite the legal establishment's frequent warnings that partisan, big-money campaigns would result, Wersal is one of only a handful of candidates making aggressive use of the new freedoms.
"The sky isn't falling," said Wersal, who has fought for years to open up Minnesota's judicial races to the politicking seen in some other states.
The Belle Plaine attorney said judges ought to be accountable to the public, and that the best way to ensure that is with truly free elections.
So as Wersal challenges Justice Helen Meyer, he's campaigning against proposals that aim to keep politics out of the judiciary, including switching to retention elections - in which governors would appoint judges, and then citizens would vote yes or no periodically on whether to keep them.
Meyer campaign co-chair George Soule, who led the state's merit judicial selection panel under Gov. Jesse Ventura, said it's just a matter of time before Minnesota judicial races become politicized and expensive, too. He said it would just require the right issues or candidates to come to the forefront.
In some states, business or trial lawyers' groups have pushed their agendas in judicial campaigns. In others, social issues such as abortion or gay marriage have fueled the money wars. That hasn't happened yet in Minnesota.
Truly competitive judicial elections are rare in Minnesota. Judges usually time their retirements so governors can appoint their successors.
In contrast to staid Minnesota, a national study released in August by the Brennan Center for Justice at the New York University School of Law and two other groups documented a flood of money into judicial campaigns nationwide. It found that fundraising for elections to the country's highest state courts doubled to $206.9 million between 2000 to 2009, compared with $83.3 million in the 1990s.
The "tort reform wars" and big donations from business-funded groups, plaintiffs' lawyers and wealthy individuals drove the trend, the study said. Among other things, it noted:
- Alabama's partisan judicial races easily lead the country in spending, the report found. Forty candidates raised nearly $41 million from 2000 to 2009.
- In Iowa, conservative activist Bob Vander Plaats is leading an effort to remove three Supreme Court justices who found Iowa's ban on same-sex marriages unconstitutional last year.
- In Wisconsin, spending on the bitter 2008 Supreme Court race when conservative Michael Gableman beat incumbent Louis Butler, the state's first black justice, totaled about $6 million.
It's difficult to gauge the fundraising in Minnesota's current judicial campaigns. Disclosures filed in late September showed just a trickle of donations by groups through Sept. 14. The candidates themselves won't file their reports until Oct. 25.
In Minnesota, Wersal is one of five GOP-endorsed candidates for the bench in the November election. Bemidji magistrate Tim Tingelstad is challenging Supreme Court Justice and NFL Hall of Famer Alan Page on a Christian values platform for a second time. International Falls attorney Dan Griffith, who says every judge should believe in God, is making his fourth bid for the Minnesota Court of Appeals, this time against Judge Larry Stauber.
Republicans have also endorsed two candidates for district judgeships.
Truly competitive judicial elections are rare in Minnesota. Judges usually time their retirements so governors can appoint their successors. Few ever face serious re-election challenges.
The infrequent open seats can draw plenty of jobseekers, though. Twenty-four candidates are on the ballot for an open seat in the 10th Judicial District, which includes Anoka, Chisago, Isanti, Kanabec, Pine, Sherburne, Washington and Wright counties.
Wersal has led the charge against Minnesota's restrictions since 1996, winning several appellate court rulings that have taken the muzzles off candidates, including a landmark 2002 U.S. Supreme Court ruing that loosened the restrictions on judicial campaign speech.
Wersal got another boost in July, when a three-judge panel of the 8th U.S. Circuit Court of Appeals peeled back more state rules, including some restrictions on fundraising.
But Minnesota's legal and political establishment has pushed back against Wersal. A commission led by former Republican Gov. Al Quie recommended a switch to retention elections. A proposed constitutional amendment to make the change stalled in the last legislative session but is expected to come up again.
And former GOP Gov. Arne Carlson and four former Minnesota chief justices recently filed a brief with the 8th Circuit urging the full federal appeals court to reconsider the July decision, saying face-to-face solicitations would undermine judges' independence.
Minnesota judicial candidates are also under heavy peer pressure. A bar association committee urges candidates not to seek or accept political endorsements, or speak out on issues that might come before the courts. David Stowman, who chairs the panel, acknowledged some candidates won't take the pledge.
Wersal said he'll buy whatever advertising he can in the final weeks. He wouldn't say how much he has raised or hopes to raise, but he said he's doing well despite restrictions that still make fundraising complicated. While he can now ask for money face-to-face, the state's rules still bar judicial candidates from personally accepting checks or knowing who donates.
Meyer was out of the country and unavailable for an interview, but Soule said her committee probably would spend about $100,000, mostly on newspaper, radio or billboard ads. He said Meyer hasn't personally done any fundraising.
"Would I like to have more? Yes, as co-chair," Soule said. "But I think it will be a lot more than our opponent."
---
Online: Brennan Center study on judicial elections: http://bit.ly/cXDTQx Minnesotans for Impartial Courts: http://www.impartialcourts.org Greg Wersal campaign website: http://wersalforjustice.com Justice Helen Meyer campaign website http://www.helenmeyer.org
(Copyright 2010 by The Associated Press. All Rights Reserved.)