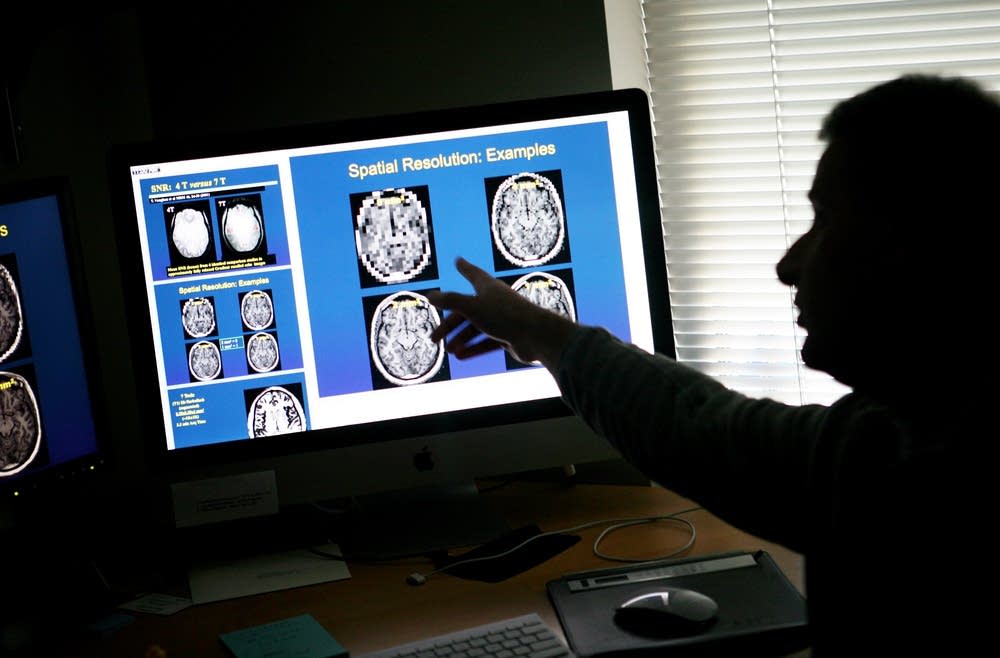 The human brain can be a mysterious place, misfiring or missing connections in ways that continue to leave doctors and scientists scratching their heads.
Researchers at the University of Minnesota and eight other research centers this fall started work on the biggest effort yet to map the brain's connections. The hope is that by knowing where the connections are and what they look like in detail, they'll then be able to figure out what's gone awry in a brain affected by a disease like Alzheimer's or a mental disorder like schizophrenia.
The National Institutes of Health is spending $30 million on the five-year study to achieve a more complete understanding of normal brains using the latest scanning, detection and image analysis technology.
The 1,200 study participants are all twins so that researchers are able to compare and contrast any variations they see within the brain's connections on the way to declaring what's normal. "Not every single brain is identical," said Kamil Ugurbil, director of the U of M's Center for Magnetic Resonance Research.
The role of Ugurbil's team will be to alter some of the most powerful magnets available for magnetic resonance imaging in ways that will help them retrieve the exact data needed for the study.
Researchers in the U of M's Department of Electrical and Computer Engineering will combine different types of imaging to put together 3-D pictures of the brain's connections.
EXPLORING NEW TERRITORY -- WITHOUT A SCALPEL
Scientists for decades have been able to determine chemical levels in the brain and use drugs to treat people with abnormal levels of certain chemicals. But until about 20 years ago, the study of the brain was mostly limited to post-mortem exploration.
Noninvasive technology, including magnetic resonance imaging (MRI) and functional magnetic resonance imaging (fMRI) has improved to the point that it can now be used to generate missing data on the human brain, said Michael Huerta, who directs the NIH Human Connectome project, of which the $30 million study is a part.
Plenty of brain studies have been conducted using MRI and fMRI, but many of those focused on specific areas of the brain or on specific diseases. What's missing, Huerta said, is the big picture.
For now, Huerta said scientists' knowledge of the human brain could be compared to having a limited understanding of a car -- you know what the body looks like, how the tires turn and doors open and close, but little else.
"Wouldn't it be neat to know about the engine?" Huerta asked. "This is really fundamental to how the brain works, and until this (study) we will not have had a comprehensive or systematic set of data that speaks to it."
HOPE FOR THE ABNORMAL BRAIN
Scientists don't know the exact causes of Alzheimer's disease, multiple sclerosis, schizophrenia and other conditions, but they're looking for answers in the brain's connections.
Dr. Nancy Andreasen, a neuroscience professor at the University of Iowa, has been studying schizophrenia using magnetic resonance.
"Schizophrenia is a disease of what we call distributed circuits -- it's a disease of connectivity," she said. "One of the questions now is how much of that disruption in connectivity is in structure and how much is in functional connectivity."
Andreasen said the NIH project, which will result in a public database, will allow researchers like her to use it as a control group for follow-up studies on specific diseases or disorders.
"You get the opportunity to see how the brain works from a whole bunch of different perspectives," she said of the project.
Many families who have coped with schizophrenia have followed the research.
Sue Hanson, whose 36-year-old son Joel was diagnosed with schizophrenia when he was in his early 20s, is hopeful the NIH project will give schizophrenia research a boost.
"It would be a path for possible medications, possible treatments and a possible understanding of when and where the brain misfires," said Hanson, a board member for the Minnesota chapter of the National Alliance on Mental Illness.
With the help of medication, Hanson's son is able to live in an assisted living facility and do things he enjoys. But some of the drugs he takes come with bad side effects, and he still occasionally needs to be hospitalized, making life unpredictable and difficult, Hanson said.
"It's still very unclear to people how schizophrenia works. I think it's still unclear to the psychiatrists," she said.
BUILDING THE DATABASE
Collecting the data, analyzing it and compiling it into something that can be used by researchers in the future will be a complicated process. The University of Minnesota will lead the project along with Washington University in St. Louis.
One of the first steps will be for researchers at the U of M's Center for Magnetic Resonance Research to test and re-jigger a 3-tesla magnet that will be used in the study. It will take two years to get the magnet in top shape to produce the data the researchers want.
When it's ready, the magnet will be shipped to Washington University, where all of the twins who are part of the study will have their brains scanned. In addition, about 200 of the twins will travel to Minnesota to have their brains scanned by a magnet more than twice as powerful as the first instrument.
"What is exciting about this is in the last decade and a half, magnetic resonance imaging techniques have exploded in their capabilities in terms of what kind of information they can provide on the brain," said Ugurbil, the U of M Center for Magnetic Resonance Research director.
With the various scans as well as results from other brain detection technology, another University of Minnesota researcher, Guillermo Sapiro, will analyze the data from the 1,200 individuals. The images will show different types of connections within the brain from different angles.
"We're going to have multiple modalities of the same people that we have to put together and try to infer information from all of them at once," said Sapiro, an electrical and computer engineering professor. "That will be one of the fun parts of this project."