University of Minnesota students' prize-winning solar house has no buyers
University of Minnesota students have spent months trying to sell their prize-winning solar-powered house but so far no one is buying it.
The 550 square-foot house is on display across the street from the Bell Museum in Minneapolis as part of its "Sustainable Shelter" exhibit. The house, with a gabled roof, is shaped like a typical Minnesota family home. But the roof is covered in solar panels, making it look futuristic.
The house placed fifth internationally in the Department of Energy's Solar Decathlon last year. Although building costs reached $1 million, including a $100,000 Department of Energy grant and many donations, the house's market value has been set at $550,000 based on the cost of materials and labor.
Project coordinators put the home up for auction at a $200,000 minimum bid in the spring -- slightly higher than the median value of a single-family home in the metro area at about $185,000.
But the house has languished on the market since last spring. Those involved with the project say the weak housing market is partly to blame, but another factor is that the house requires self-assembly. The real estate market is driven by location, and the solar house doesn't have one.
Dean Carlson, capital planning and project management coordinator of the house, said the price tag is reasonable for its quality.
Before you keep reading ...
MPR News is made by Members. Gifts from individuals fuel the programs that you and your neighbors rely on. Donate today to power news, analysis, and community conversations for all.
Carlson said he thinks shipping and reassembly fees, and a small buyer pool kept the house from selling. The house attracted about seven interested buyers, who didn't put in offers after finding out moving its five assembled parts demanded hard work -- even though up to about $20,000 in moving expenses were already included in the purchase price.
"The parts aren't things you can haul in a truck," Carlson said.
Project coordinators hope the Bell Museum exhibit, which features the house and several interactive models that highlight natural history and sustainability, will restore buyer interest.
Before now, interested buyers were unable to see the assembled house, relying on small models and videos. The actual house spent months stored in a university warehouse.
Project manager Ann Johnson said without a real-size model of the home for buyers to tour, it was hard to grasp just how it looked and what it offered. It became too big of a move for interested out-of-state buyers.
"People need that physicality to get the whole experience," she said.
Four Solar Decathlon teams have sold their houses since last year's competition. Many of the houses have been featured in exhibits like "Sustainable Shelter," and others have been donated. Team Ontario/BC was showcased in the 2010 Olympic Winter Games in Vancouver.
Johnson said project debt, including house costs, has kept a university team from competing in 2011, but she hopes to form a team for the 2013 decathlon.
Daniel Handeen, who is a research fellow at the Center for Sustainable Building Research at the university and served as assistant project manager for the house, said he hopes to see a "For Sale" sign in front of the house by the end of the exhibit.
"It'd be a waste of [the team's] talent, effort and ingenuity if it wasn't sold or on display," he said.
Energy efficient homes similar to the solar-powered house, which feature energy and water conversation products and use natural light to cut long-term costs, are gaining popularity across the country.
Rachel Wagner, a partner at Wagner Zaun Architecture based in Duluth, Minn., said the eco-friendly houses are part of a specialized market that is young and growing.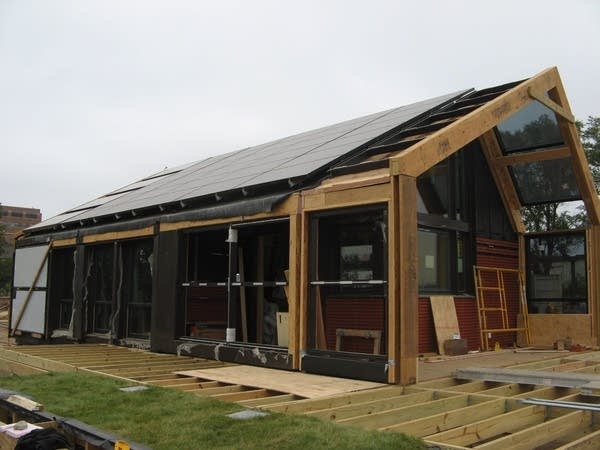 "We're a small slice of the pie," she said.
Wagner Zaun specializes in homes that start at around $320,000, a price point investors are willing to spend based on quality of design, features, location and square footage.
Current eco-friendly housing trends have opened up options for homeowners and buyers in a flat market. Renovation often becomes a more affordable way to go green.
Duluth, Minn.-based eco-broker and real estate agent Beverly VanAlstine said the city has had an increase in energy efficient home renovation in the last few years.
Homeowners see benefits in green renovation and buying. Construction quality and buyback rates appeal to buyers looking to spend several years in a home, VanAlstine said.
She said the eco-friendly housing market isn't catered to buyers who plan to sell a home within a few years after purchasing.
"But if someone is looking at a purchase as a long term investment the numbers are staggering," VanAlstine said.
Those numbers include low utility costs and heating that pays for itself over time.
"People are willing to spend a little more initially to save in the long run," she said.
A shift toward more sustainable housing models enables buyers and homeowners to make sound investments, but VanAlstine said she feels there is still a gap.
Homeowners are renovating properties with such features as geothermal and better insulation hoping to see a return. But new properties aren't easily sold.
Federal and local grants also enable buyers get the most bang for their buck. In St. Paul, Neighborhood Energy Connection offers loans at fixed interest rates for renewable energy improvements for homes across the state.
"The demand for green homes is growing, but not many people are buying up," she said. "I tell them the value of the investment and its longevity will even out over time."
The Bell exhibit opened Oct. 16 and will run until May 15.
Gallery
1 of 1